UK austerity ending, as long as Brexit deal gets done: Hammond
By William Schomberg, David Milliken and Andy Bruce LONDON (Reuters) - British finance minister Philip Hammond held out the prospect on Monday of an end to austerity provided the government secures a Brexit deal with the EU, putting pressure on rebels in the ruling Conservative Party to back Prime Minister Theresa May. Delivering his annual budget speech to parliament, Hammond announced a fall in Britain's expected borrowing needs between now and the mid-2020s, as well as a series of measures to increase public spending and cut taxes for households. 'When our EU negotiations deliver a deal, as I am confident they will, I expect that the 'Deal Dividend' will allow us to provide further funding,' Hammond said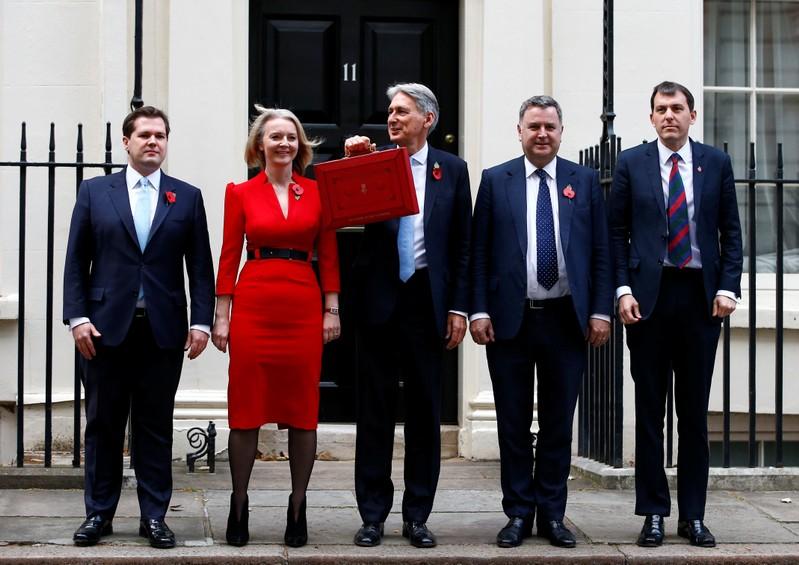 By William Schomberg, David Milliken and Andy Bruce
LONDON (Reuters) - British finance minister Philip Hammond held out the prospect on Monday of an end to austerity provided the government secures a Brexit deal with the EU, putting pressure on rebels in the ruling Conservative Party to back Prime Minister Theresa May.
Delivering his annual budget speech to parliament, Hammond announced a fall in Britain's expected borrowing needs between now and the mid-2020s, as well as a series of measures to increase public spending and cut taxes for households.
"When our EU negotiations deliver a deal, as I am confident they will, I expect that the 'Deal Dividend' will allow us to provide further funding," Hammond said.
"The hard work of the British people is paying off. Austerity is coming to an end."
May said earlier this month that the government's austerity push was coming to an end.
Hammond said a deal would lift uncertainty about Britain's ties to the European Union and he would be able to use money he has set aside to help the economy through the shock of a no-deal Brexit.
"We are confident that we will secure a deal which delivers that dividend," he said. "Confident, but not complacent. So we will continue to plan for all eventualities."
Hammond -- who routinely angers many Conservative lawmakers by calling for close ties with the EU -- said on Sunday he would have to reverse the plan for higher spending in the event of an economically damaging no-deal Brexit in March.
May has so far failed to rally the Conservatives behind her Brexit strategy, raising concerns that Britain could leave the EU without a transition deal.
Britain's economy has slowed since the 2016 referendum when Britons voted to leave the EU, but not as much as many economists had feared. However, debt levels remain high, limiting how much Hammond can relax his spending squeeze.
He has said the biggest increase in spending in his budget was announced when May said four months ago that more money would go to the health service.
HELP FOR RETAILERS, TAX FOR BIG TECH FIRMS
On Monday, Hammond announced a new digital services tax on the revenues of large tech firms which would raise 400 million pounds ($510 million) a year from 2020 as well as measures to help small retailers.
He also said he was taking measures to ease the hit on working households from a reform of welfare payments.
The budget deficit was set to stand at 1.2 percent of gross domestic product in the current financial year, down from a forecast in March of 1.8 percent, he said.
In total, borrowing was forecast to be 18.5 billion pounds lower between now and the 2022/23 financial year than in the March forecasts by the independent Office for Budget Responsibility which underpin the budget..
Hammond and his predecessor George Osborne have made fixing the public finances their priority.
The deficit has fallen from almost 10 percent of GDP in 2010, thanks largely to big cuts to spending for a range of government departments and a squeeze on welfare.
But Hammond is likely to struggle to meet his target of wiping out the deficit altogether by the mid-2020s if he does not raise taxes, economists have said.
He told parliament that by the 2023/24 financial year, the deficit was expected to be 0.8 percent of GDP.
Hammond has also set himself a target of bringing down public debt, which has doubled as a share of GDP from before the global financial crisis as the government borrowed heavily.
Hammond said the OBR's forecasts showed debt as a ratio of GDP was due to fall each year.
The OBR raised its forecasts for economic growth for next year to 1.6 percent, compared with its forecast of 1.3 percent made in March. The 2020 growth forecast was raised less sharply to 1.4 percent and maintained at 1.4 percent for 2021.
($1 = 0.7815 pounds)
(editing by David Stamp)
This story has not been edited by Firstpost staff and is generated by auto-feed.
Find latest and upcoming tech gadgets online on Tech2 Gadgets. Get technology news, gadgets reviews & ratings. Popular gadgets including laptop, tablet and mobile specifications, features, prices, comparison.
Business
By Howard Schneider WASHINGTON (Reuters) - A rebounding stock market and massive federal aid payments pushed the net worth of U.S. households back to pre-coronavirus levels in the second quarter, the Federal Reserve reported on Monday, with savings accounts and equity portfolios both rising sharply despite the pandemic
Business
By Rodrigo Campos NEW YORK (Reuters) - Stocks across the world hit their lowest in seven weeks and other risk assets sold off on Monday on concerns over renewed lockdown measures in Europe and Britain, as well as the United States' inability to agree on fiscal stimulus that would support millions of unemployed. Oil prices fell nearly 5%, the dollar rallied and an index of emerging market currencies fell by the most in six months. The MSCI world equity index , which tracks shares in 49 countries, touched its lowest since Aug.
Business
By Rodrigo Campos NEW YORK (Reuters) - Stocks across the world hit their lowest in seven weeks and other risk assets also sold off on Monday on concerns over renewed lockdown measures in Europe and Britain, as well as the United States' inability to agree on fiscal stimulus that would support millions of unemployed. Oil prices fell more than 3%, the dollar rose against a basket of peers and an index of emerging market currencies fell by the most in six months. The MSCI world equity index , which tracks shares in 49 countries, ended at its lowest since Aug