Uber lands $1 billion from SoftBank, Toyota for self-driving unit
By Heather Somerville SAN FRANCISCO (Reuters) - Uber's autonomous vehicle unit has raised $1 billion from a consortium of investors including SoftBank Group Corp , giving the company a much-needed funding boost for its pricey self-driving ambitions on the eve of its public stock offering. Uber Technologies Inc said on Thursday that the investment valued its Advanced Technologies Group, which works to develop autonomous driving technology, at $7.25 billion. SoftBank will invest $333 million from its $100 billion Vision Fund, while Toyota Motor Corp and automotive company Denso Corp will combined invest $667 million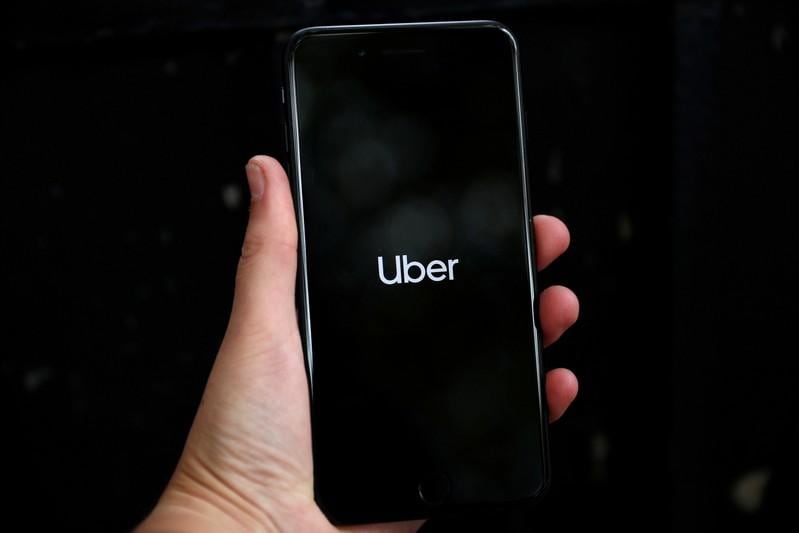 By Heather Somerville
SAN FRANCISCO (Reuters) - Uber's autonomous vehicle unit has raised $1 billion from a consortium of investors including SoftBank Group Corp , giving the company a much-needed funding boost for its pricey self-driving ambitions on the eve of its public stock offering.
Uber Technologies Inc said on Thursday that the investment valued its Advanced Technologies Group, which works to develop autonomous driving technology, at $7.25 billion. SoftBank will invest $333 million from its $100 billion Vision Fund, while Toyota Motor Corp and automotive company Denso Corp will combined invest $667 million.
Reuters had reported in March talks of the investment in ATG, which has locations in Pittsburgh, San Francisco and Toronto.
The funding allows Uber to transfer some of the substantial cost of developing self-driving cars onto outside investors. That is likely to appease some investor concerns over Uber's spending on the autonomous unit, which has topped $1 billion since the programme started in 2016.
The business unit brings in no meaningful revenue for Uber, which last year lost $3.03 billion. The company is not even offering free rides in the robot cars to passengers, like some of its rivals are, following a fatal crash last year in Arizona involving an Uber self-driving SUV.
Uber released its IPO filing this month and is preparing to launch is "roadshow," when it will pitch its company prospective investors, the week of April 29, setting up for an early May debut on the New York Stock Exchange.
Uber is expected to raise $10 billion at a $90 billion to $100 billion valuation, at least an 18 percent jump from its current $76 billion valuation.
As part of the deal, ATG becomes its own legal entity but remains under the control of Uber with its financial performance folded into Uber's. A new ATG board will be formed, with six seats from Uber, one from SoftBank and one from Toyota. Eric Meyhofer, currently the head of ATG, will take the title of CEO and report to the new board.
Such sizeable deals are unusual for companies so close to an IPO, because bringing in large new investors changes the company's capital structure. The deal, however, will almost certainly require approval from the inter-agency regulatory group called the Committee on Foreign Investment in the United States (CFIUS).
A law enacted last year expands that group's powers to review minority stakes by foreign investors in startups with certain sensitive technologies, and self-driving technology is widely considered to have defence applications.
SoftBank's investment in General Motors Co's self-driving car unit Cruise is still under CFIUS review and is likely weeks away from a decision, even though that investment was announced more than a year ago.
(Reporting by Heather Somerville; Editing by Lisa Shumaker)
This story has not been edited by Firstpost staff and is generated by auto-feed.
Find latest and upcoming tech gadgets online on Tech2 Gadgets. Get technology news, gadgets reviews & ratings. Popular gadgets including laptop, tablet and mobile specifications, features, prices, comparison.
World
By Tim Hepher and David Ljunggren PARIS/OTTAWA (Reuters) - France said on Friday it would download the black boxes from a Ukrainian airliner downed by an Iranian missile in January, easing a stand-off over where they should be read. France's BEA crash investigation agency said it was acting at the request of Iran, which remains responsible under global rules for conducting a formal accident probe after acknowledging that the Boeing 737 was downed by its forces
World
By Brad Brooks LUBBOCK, Texas (Reuters) - With new coronavirus cases surging in Texas and Florida, officials in both states on Friday ordered bars to close again and imposed tighter restrictions on restaurants, setting back efforts to reopen their economies. Governor Greg Abbott gave bars in Texas until midday Friday to shut, while Florida's Department of Business and Professional Regulation told bars to immediately stop serving alcohol on their premises
World
By Patricia Zengerle WASHINGTON (Reuters) - The U.S. Senate passed legislation on Thursday that would impose mandatory sanctions on people or companies that back efforts by China to restrict Hong Kong's autonomy, pushing back against Beijing's new security law for the city. The measure also includes secondary sanctions on banks that do business with anyone found to be backing any crackdown on the territory's autonomy, potentially cutting them off from American counterparts and limiting access to U.S.