UAW calls Thursday meeting to update union leaders on GM strike talks - sources
DETROIT (Reuters) - The union representing the 48,000 workers who have been striking General Motors Co for about a month have scheduled a meeting on Thursday to update the leaders of the various union locals from around the country on the status of the talks, several people familiar with the plans said on Monday. The sides have not reached a tentative agreement that would end the strike, but progress has been made and the United Auto Workers leadership will give an update at 10:30 a.m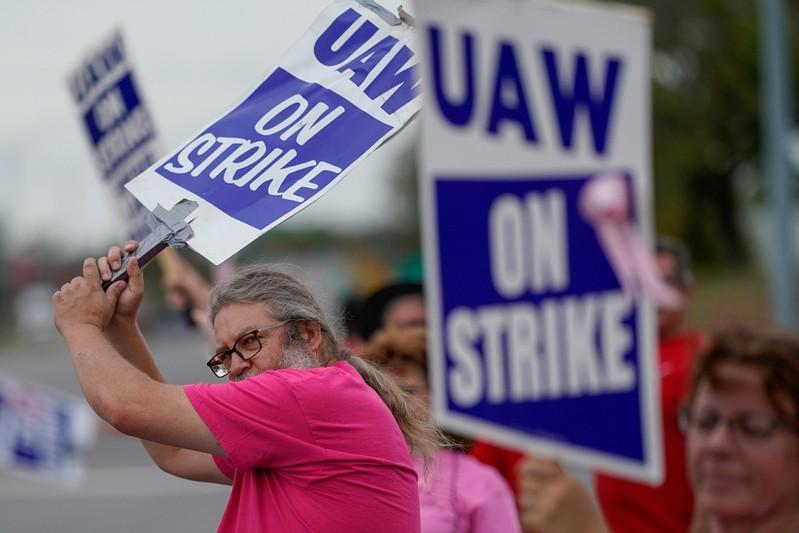 DETROIT (Reuters) - The union representing the 48,000 workers who have been striking General Motors Co for about a month have scheduled a meeting on Thursday to update the leaders of the various union locals from around the country on the status of the talks, several people familiar with the plans said on Monday.
The sides have not reached a tentative agreement that would end the strike, but progress has been made and the United Auto Workers leadership will give an update at 10:30 a.m. ET (1430 GMT) on Thursday, said the people, who asked not to be identified because the talks continue.
"It's time to have a conversation one way or the other," one person said.
UAW and GM representatives said talks are scheduled again for Tuesday but declined further comment.
The UAW strike began on Sept. 16, with the union's members at GM seeking higher pay, greater job security, a bigger share of profit and protection of healthcare benefits.
After GM angered the UAW negotiators last week by appealing directly to workers and revealing details of the No. 1 U.S. automaker's latest offer, the sides have continued talking. The UAW made a counter offer to GM on Friday.
(Reporting by Ben Klayman in Detroit; Editing by Lisa Shumaker)
This story has not been edited by Firstpost staff and is generated by auto-feed.
Find latest and upcoming tech gadgets online on Tech2 Gadgets. Get technology news, gadgets reviews & ratings. Popular gadgets including laptop, tablet and mobile specifications, features, prices, comparison.
Business
RIYADH/ISTANBUL (Reuters) - The head of Saudi Arabia's Chambers of Commerce has called for a boycott of Turkish products amid reports from merchants that animosity between Ankara and Riyadh is hindering the flow of goods between the two regional powers. Saudi Arabia and Turkey have been at odds for some years over foreign policy and attitudes towards political Islamist groups. The murder of Saudi journalist Jamal Khashoggi in Saudi's Istanbul consulate in 2018 escalated tensions sharply
World
By Nailia Bagirova and Nvard Hovhannisyan BAKU/YEREVAN (Reuters) - Azerbaijan's President Ilham Aliyev demanded on Sunday that Armenia set a timetable for withdrawing from the enclave of Nagorno-Karabakh and surrounding Azeri territories, and said Azerbaijan would not cease military action until that happened.
World
ROME (Reuters) - Five bodies were discovered in northwestern Italy on Sunday, including four washed up on the shore close to the border with France, officials said, in deaths thought to be caused by severe storms in the region. At least some of the corpses might have been swept down the coast from France.