U.S. Steel to idle Indiana plant, 150 jobs at risk
CHICAGO (Reuters) - U.S. Steel said on Friday it will idle a plant in Indiana by mid-November as part of the consolidation of its till mill operations in the United States, a move which could result in lay-offs for nearly 150 employees. The news comes days after the Pittsburgh-based company revealed its plans to let go of up to 200 workers at its Great Lakes facility in Michigan
CHICAGO (Reuters) - U.S. Steel said on Friday it will idle a plant in Indiana by mid-November as part of the consolidation of its till mill operations in the United States, a move which could result in lay-offs for nearly 150 employees.
The news comes days after the Pittsburgh-based company revealed its plans to let go of up to 200 workers at its Great Lakes facility in Michigan.
The steelmaker blamed high levels of low-priced imports for its decision to consolidate work at East Chicago Tin facility into the ones at Gary Works and the Midwest Plant in Northwest Indiana.
The East Chicago facility currently employs 297 workers. A U.S. Steel spokeswoman said the company expects to offer half of the employees positions at the two Northwest Indiana plants.
"Decisions around employee impacts have not been finalised," Meghan Cox, the company's spokeswoman, told Reuters. "Our goal is to place as many East Chicago Tin employees as possible at other nearby U. S. Steel facilities."
U.S. Steel's shares closed down 5.3% at $11.17 on Friday. Its stock price has plunged 76% since March 1, 2018, when President Donald Trump announced his decision to impose 25% tariffs on foreign steel imports to help revive U.S. steelmakers.
(Reporting by Rajesh Kumar Singh; Editing by Sandra Maler)
This story has not been edited by Firstpost staff and is generated by auto-feed.
Find latest and upcoming tech gadgets online on Tech2 Gadgets. Get technology news, gadgets reviews & ratings. Popular gadgets including laptop, tablet and mobile specifications, features, prices, comparison.
Business
SHANGHAI (Reuters) - Tesla is planning to export Model 3 vehicles made in China to Asian and European markets, two sources familiar with the matter told Reuters on Friday. The U.S.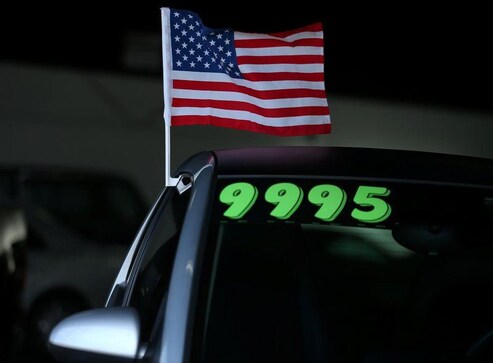 Business
By Lucia Mutikani WASHINGTON (Reuters) - U.S. consumer prices rose solidly in August, with the cost of used cars and trucks accelerating by the most in more than 51 years likely as Americans shunned public transportation because of fears of contracting COVID-19
Business
By Tanishaa Nadkar and Pushkala Aripaka (Reuters) - Life and general insurer Aviva is offloading its Singapore business to a consortium led by Singapore Life, for S$2.7 billion ($1.98 billion), as the London-listed firm sharpens its focus on Britain, Ireland and Canada.