U.S. sets new March 2 date for China tariff increases amid talks
WASHINGTON (Reuters) - The U.S. Trade Representative's office on Friday officially changed the scheduled date of a tariff rate increase on $200 billion worth of Chinese goods to 12:01 a.m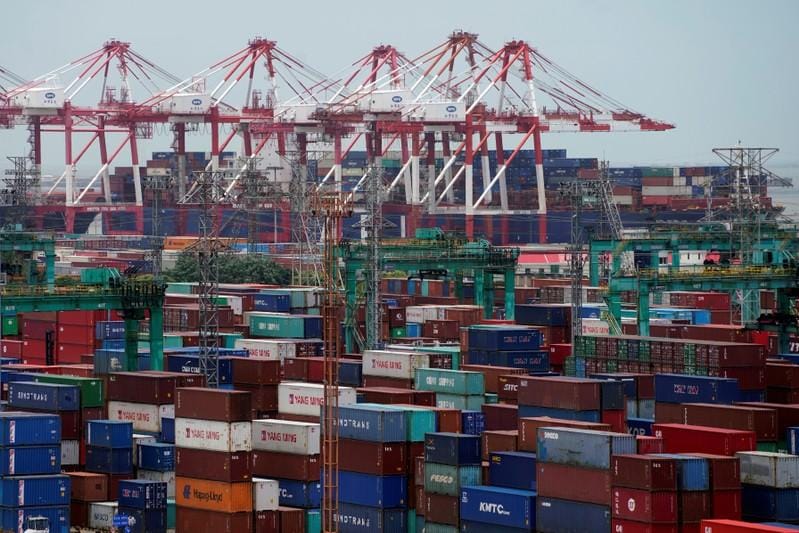 WASHINGTON (Reuters) - The U.S. Trade Representative's office on Friday officially changed the scheduled date of a tariff rate increase on $200 billion worth of Chinese goods to 12:01 a.m. EST (0501 GMT) on March 2, 2019 as the United States and China pursue talks on trade and intellectual property.
The change was made in a Federal Register filing from a previously scheduled effective date of Jan. 1, 2019 for the increase to 25 percent from 10 percent.
The notice does not affect the 25 percent tariff rate already in place on $50 billion worth of Chinese technology items, including semiconductors, printed circuit boards and other electronic components, machinery and vehicles.
The filing was added to documents associated with USTR's "Section 301" investigation into China's intellectual property practices, which has been the basis of U.S. tariffs on Chinese goods that led to tit-for-tat retaliation from Beijing.
It attributed the change to new U.S.-Chinese engagement "with the goal of obtaining the elimination of the acts, policies, and practices covered in the investigation" following a Dec. 1 meeting between U.S. President Donald Trump and Chinese President Xi Jinping in Buenos Aires.
The USTR statement did not specify any expected outcomes of the negotiation. It made reference to goals set forth in a statement issued by the White House to negotiate over a 90-day period structural changes by China on forced technology transfer, intellectual property protection, non-tariff barriers, cyber intrusions and theft, services and agriculture.
USTR's notice made no mention of China's steps this week to resume suspended purchases of U.S. soybeans or suspend a punitive 25 percent tariff on American-made vehicles and auto parts.
The official delay of the tariff rate increase was of little comfort to the U.S. tech sector.
The Consumer Technology Association said on Friday that U.S. tariffs on technology-related imports from China were now costing $1 billion per month, with duties on fifth-generation mobile technology goods reaching $122 million in October, compared with $65,000 a year earlier.
(Reporting by David Lawder; editing by Grant McCool)
This story has not been edited by Firstpost staff and is generated by auto-feed.
Find latest and upcoming tech gadgets online on Tech2 Gadgets. Get technology news, gadgets reviews & ratings. Popular gadgets including laptop, tablet and mobile specifications, features, prices, comparison.
World
RIYADH (Reuters) - Saudi Arabia's former intelligence chief and ambassador to the United States, Prince Bandar bin Sultan bin Abdulaziz, slammed the Palestinian leadership for criticizing the decision of some Gulf states to normalise ties with Israel. In an interview with Saudi-owned Al Arabiya television aired on Monday, the prince labelled the Palestinian authorities' criticism a "transgression" and "reprehensible discourse".
World
By Marina Lammertyn and Miguel Lobianco BUENOS AIRES (Reuters) - Argentina has the world's highest rate of positive COVID-19 tests, according to Oxford-linked tracker Our World In Data, with nearly six out of 10 yielding an infection, a reflection of low testing levels and loose enforcement of lockdown rules. Argentina hit 809,728 confirmed cases on Monday, with an seven-day rolling average of around 12,500 new daily infections
World
LONDON (Reuters) - A combination of antiviral drugs usually used to treat HIV has no beneficial effect in patients hospitalised with COVID-19, a peer-reviewed study said on Monday, confirming the initial results of a large-scale randomised trial of the drug. British scientists running the RECOVERY trial at the University of Oxford in June said interim results had convincingly ruled out any meaningful benefit of lopinavir-ritonavir in lowering mortality among hospitalised patients