U.S. senators seek 'painful' punishment if China's ZTE violates deal
WASHINGTON (Reuters) - Republican and Democratic U.S.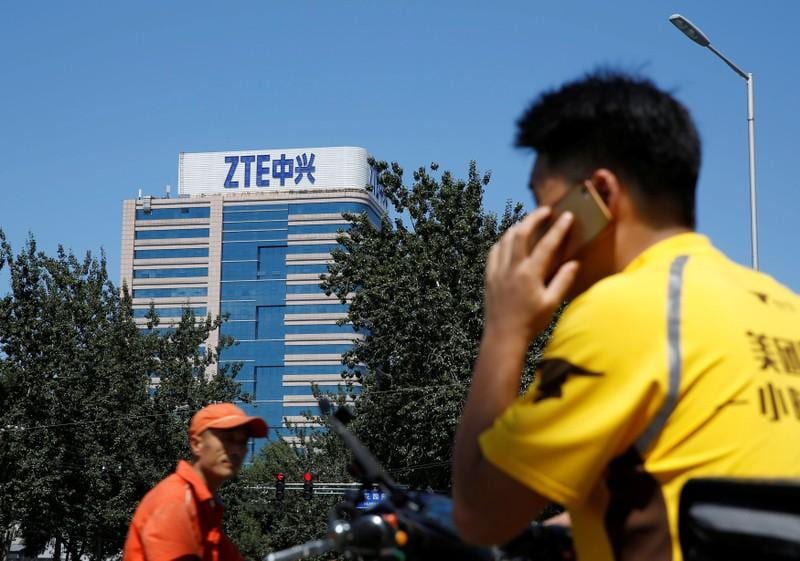 WASHINGTON (Reuters) - Republican and Democratic U.S. senators introduced a bill on Tuesday that would reimpose sanctions on China's ZTE Corp <0763.HK> <000063.SZ> if it does not fully comply with U.S. laws and an agreement with the Trump administration that ended stiff restrictions on the telecommunications equipment company.
President Donald Trump angered many members of Congress, including some of his fellow Republicans, in July when he decided to lift a ban on U.S. companies selling to ZTE, allowing the giant company to resume business.
Lawmakers have introduced several pieces of legislation since then that seek to clamp down on the company, China's second largest telecommunications equipment maker. Most have failed to advance in the face of administration opposition.
Senate aides said they thought this measure - focused on adherence to an agreement reached by Trump's Commerce Department - would get support from congressional leadership.
Among other things, the latest measure, introduced by three Republicans and three Democrats, would require reports from the Commerce Department every 90 days on ZTE's compliance with the agreement and sharing with congressional committees ZTE audits conducted under the agreement.
If ZTE is not in compliance, it would face stiff penalties, including paying $400 million now held in escrow.
"This bipartisan legislation would ensure that if ZTE once again violates trade restrictions or its agreement with the U.S., it will be held accountable in a significant, painful way," said Senator Mark Warner, the top Democrat on the Senate Intelligence Committee and a lead sponsor of the bill.
(Reporting by Patricia Zengerle; editing by Jonathan Oatis)
This story has not been edited by Firstpost staff and is generated by auto-feed.
World
ATHENS (Reuters) - Greek police used teargas and water cannon to disperse people who had gathered in central Athens on Saturday to protest against mandatory COVID-19 vaccinations. More than 4,000 people rallied outside the Greek parliament for a third time this month to oppose mandatory inoculations for some workers, such as healthcare and nursing staff.
World
ISTANBUL (Reuters) - Two Turkish soldiers were killed and two were wounded in an attack on their armoured vehicle in northern Syria, and Turkish forces immediately launched retaliatory fire, Turkey's defence ministry said on Saturday. "Our punitive fire against terrorist positions is continuing," the statement on Twitter on said. It did not specify where the attack occurred, but media reports said it was in the al-Bab area.
World
By Marcelo Rochabrun SAO PAULO (Reuters) - Protesters took to the streets in several Brazilian cities on Saturday to demand the impeachment of far-right President Jair Bolsonaro, whose popularity has fallen in recent weeks amid corruption scandals against the backdrop of the pandemic. This week, news broke that Brazil's defense ministry told congressional leadership that next year's elections would not take place without amending the country's electronic voting system to include a paper trail of each vote. Bolsonaro has suggested several times without evidence that the current system is prone to fraud, allegations that Brazil's government has denied