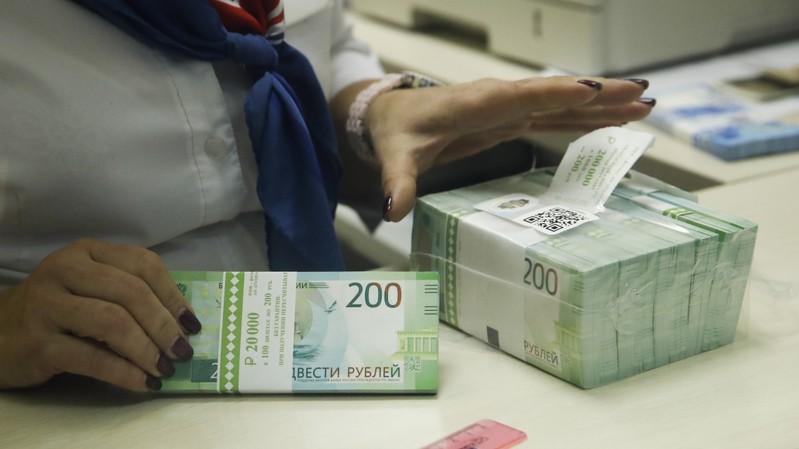 By Andrey Ostroukh
MOSCOW (Reuters) - The rouble weakened towards its lowest in more than two years on Wednesday as traders priced in the risk of more U.S. sanctions and foreign currency purchases by the Russian central bank took their toll.
The rouble has shed more than 8 percent of its value against the dollar so far this month, vulnerable to risk aversion and volatility that was fuelled by jitters in other emerging markets and threats of further U.S. sanctions.
The U.S. Treasury imposed sanctions on various Russian entities on Tuesday, and a new tranche of sanctions announced by the U.S. State Department earlier this month was expected to take effect later on Wednesday.
"The rouble is falling helplessly, shrugging off all positive (developments)," BCS brokerage analysts said.
"The sanctions theme remains in focus for Russian market players," said Rosbank, a subsidiary of Societe Generale.
U.S. lawmakers are now pushing for yet more aggressive steps against Russia, although Donald Trump's administration insists current sanctions are already having an effect.
The rouble hit 68.07 versus the dollar, a step away from its weakest level since April 2016, the 68.66 it touched earlier this month.
As of 1410 GMT, the Russian currency was 0.9 percent weaker at 67.87.
The weaker rouble usually spurs inflation and curtails economic activity but boosts Russia's budget revenues, since commodities are sold abroad for dollars.
The Kremlin played down a fall in the rouble last week, saying there was a "certain volatility" in the market but that Russia's economic and financial systems were entirely stable.
The rouble is ignoring rising oil prices and the dip in the dollar index, BCS said, adding that technical analysis suggests the dollar-rouble pair will keep on climbing higher.
Against the euro, the rouble weakened 1.2 percent to 78.77, a level last seen on April 11 amid a previous round of market volatility driven by U.S. sanctions.
After claiming it has all necessary tools to address possible financial risks from the weaker rouble, the central resuming its daily purchases of foreign currency for the state reserves, further weakening the rouble.
The central bank said it bought 17.5 billion roubles ($261.30 million) worth of foreign currency on Aug. 20 on behalf of the finance ministry.
"If massive currency purchases continue, the rate may go up to 70 or more (roubles per dollar)," said Kirill Tremasov, former head of the economy ministry's macroeconomic forecasting department and now head of research at Loko-Invest.
Contemplating the falling rouble and a sell-off in the government bonds market, the finance ministry decided to put weekly auctions of treasury bonds on hold for the first time since April.
Russian stocks took a hit as well. The dollar-denominated RTS index was down 0.83 percent at 1,063.14 points, while the rouble-based MOEX Russian index was 0.03 percent lower at 2,291.4 points, boosted by the weaker rouble.
($1 = 66.9725 roubles)
(Additional reporting by Polina Nikolskaya, editing by Larry King)
This story has not been edited by Firstpost staff and is generated by auto-feed.
Firstpost is now on WhatsApp. For the latest analysis, commentary and news updates, sign up for our WhatsApp services. Just go to Firstpost.com/Whatsapp and hit the Subscribe button.
Updated Date: Aug 23, 2018 00:05:45 IST