U.S. regulators sue Tesla's Musk for fraud, seek to bar him as officer
By Jonathan Stempel NEW YORK (Reuters) - U.S. securities regulators on Thursday accused Tesla Inc Chief Executive Elon Musk of fraud and sought to ban him as an officer of a public company, saying he made a series of 'false and misleading' tweets about potentially taking the electric car company private last month. Musk, 47, is one of the highest-profile tech executives to be accused of fraud by the Securities and Exchange Commission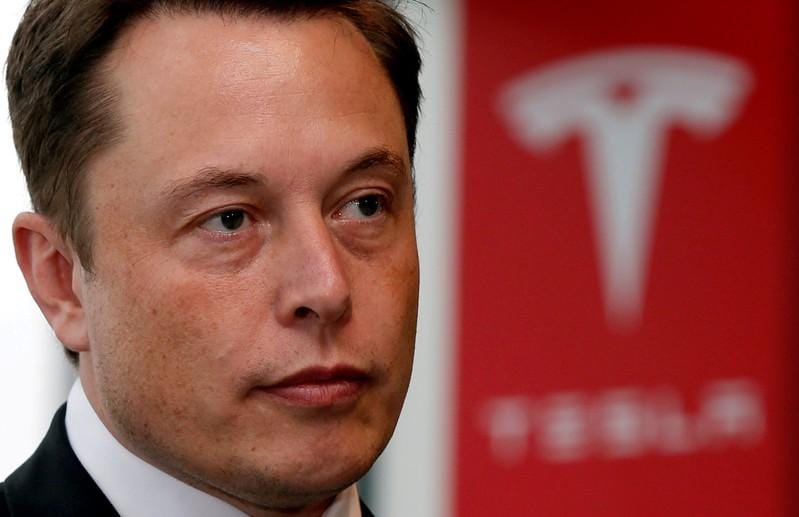 By Jonathan Stempel
NEW YORK (Reuters) - U.S. securities regulators on Thursday accused Tesla Inc Chief Executive Elon Musk of fraud and sought to ban him as an officer of a public company, saying he made a series of "false and misleading" tweets about potentially taking the electric car company private last month.
Musk, 47, is one of the highest-profile tech executives to be accused of fraud by the Securities and Exchange Commission. Losing its public face and guiding force would be a big blow for money-losing Tesla, which has a market value of more than $50 billion, chiefly because of investors' belief in Musk's leadership.
Tesla shares tumbled 12 percent in after-hours trading. Tesla was not immediately available for comment.
The SEC's lawsuit, filed in Manhattan federal court, comes less than two months after Musk told his more than 22 million Twitter followers on Aug. 7 that he might take Tesla private at $420 per share, and that there was "funding secured."
"Neither celebrity status nor reputation as a technological innovator provides an exemption from federal securities laws," Stephanie Avakian, co-director of enforcement at the SEC, told a news conference https://bit.ly/2xT7vzV announcing its charges against Musk.
Musk has long used Twitter to criticise short-sellers betting against his company, and already faced several investor lawsuits over the Aug. 7 tweets, which caused Tesla's share price to gyrate.
According to the SEC, Musk "knew or was reckless in not knowing" that his tweets about taking Tesla private at $420 a share were false and misleading, given that he had never discussed such a transaction with any funding source.
The SEC said he also knew he had not satisfied other contingencies when he declared unequivocally that only a shareholder vote would be needed.
Thursday's complaint also seeks to impose a civil fine and other remedies. The SEC does not have criminal enforcement power.
On Aug. 24, after news of the SEC probe had become known, Musk blogged that Tesla would remain public, citing investor resistance.
(Reporting by Jonathan Stempel in New York; Additional reporting by Pete Schroeder in Washington; Editing by Bill Rigby and Lisa Shumaker)
This story has not been edited by Firstpost staff and is generated by auto-feed.
World
ATHENS (Reuters) - Greek police used teargas and water cannon to disperse people who had gathered in central Athens on Saturday to protest against mandatory COVID-19 vaccinations. More than 4,000 people rallied outside the Greek parliament for a third time this month to oppose mandatory inoculations for some workers, such as healthcare and nursing staff.
World
ISTANBUL (Reuters) - Two Turkish soldiers were killed and two were wounded in an attack on their armoured vehicle in northern Syria, and Turkish forces immediately launched retaliatory fire, Turkey's defence ministry said on Saturday. "Our punitive fire against terrorist positions is continuing," the statement on Twitter on said. It did not specify where the attack occurred, but media reports said it was in the al-Bab area.
World
By Marcelo Rochabrun SAO PAULO (Reuters) - Protesters took to the streets in several Brazilian cities on Saturday to demand the impeachment of far-right President Jair Bolsonaro, whose popularity has fallen in recent weeks amid corruption scandals against the backdrop of the pandemic. This week, news broke that Brazil's defense ministry told congressional leadership that next year's elections would not take place without amending the country's electronic voting system to include a paper trail of each vote. Bolsonaro has suggested several times without evidence that the current system is prone to fraud, allegations that Brazil's government has denied