U.S. regulators sue Musk for fraud, seek to remove him from Tesla
By Jonathan Stempel and Alexandria Sage NEW YORK/SAN FRANCISCO (Reuters) - U.S. securities regulators on Thursday accused Tesla Inc Chief Executive Elon Musk of fraud and sought to remove him from his role in charge of the electric car company, saying he made a series of 'false and misleading' tweets about potentially taking Tesla private last month. Musk, 47, is one of the highest-profile tech executives to be accused of fraud by the Securities and Exchange Commission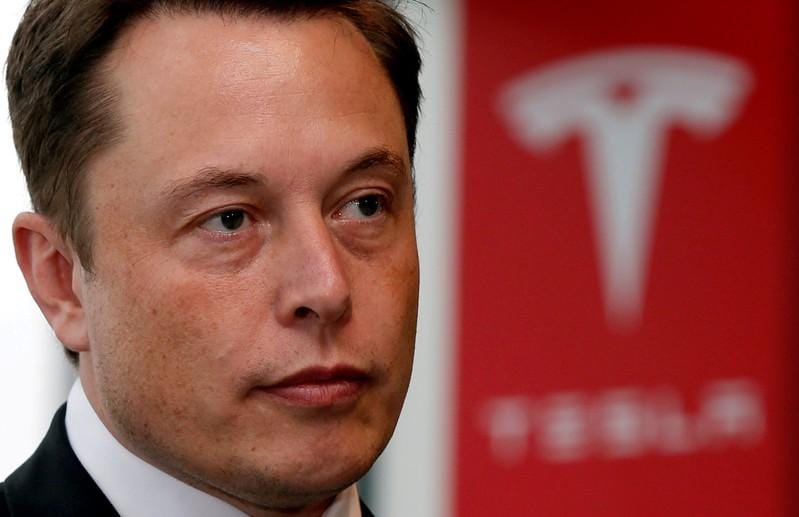 By Jonathan Stempel and Alexandria Sage
NEW YORK/SAN FRANCISCO (Reuters) - U.S. securities regulators on Thursday accused Tesla Inc Chief Executive Elon Musk of fraud and sought to remove him from his role in charge of the electric car company, saying he made a series of "false and misleading" tweets about potentially taking Tesla private last month.
Musk, 47, is one of the highest-profile tech executives to be accused of fraud by the Securities and Exchange Commission. Losing its public face and guiding force would be a big blow for money-losing Tesla, which has a market value of more than $50 billion, chiefly because of investors' belief in Musk's leadership.
Tesla shares tumbled 12 percent in after-hours trading.
"Elon is Tesla and Tesla is Elon and that's great when Elon is scoring touchdowns and grand slams but not so great when there are negative things tied to him," said Karl Brauer, executive publisher at Kelley Blue Book. "I don't know how you spin an SEC lawsuit that seeks to remove you from leadership of your own company."
Musk said he had done nothing wrong. "This unjustified action by the SEC leaves me deeply saddened and disappointed," he said in a statement. "I have always taken action in the best interests of truth, transparency and investors. Integrity is the most important value in my life and the facts will show I never compromised this in any way."
The SEC's lawsuit, filed in Manhattan federal court, comes less than two months after Musk told his more than 22 million Twitter followers on Aug. 7 that he might take Tesla private at $420 per share, and that there was "funding secured."
In its lawsuit, the SEC said Musk calculated the $420 price per share based on a 20 percent premium over that day's closing share price and because of the number's slang reference to marijuana. It quoted Musk as saying he thought his girlfriend would find it funny.
The move to bar Musk as an officer of any public company was a rare move for the SEC against the CEO of a well-known firm. Earlier this year it barred blood-testing company Theranos CEO Elizabeth Holmes after she and the company settled fraud charges with the SEC.
She and former Chief Operating Officer Sunny Balwani were subsequently criminally charged by the San Francisco U.S. attorney's office for fraud.
"The lesson for CEOs is that the rules apply to everyone including highly successful visionaries," said Charles Elson, director of the Weinberg Center for Corporate Governance at the University of Delaware. "This is an outlier. Very few CEOs have ever or would ever engage in this kind of action... That's why the SEC reacted, to make sure it never becomes a trend."
Musk has long used Twitter to criticise short-sellers betting against his company, and already faced several investor lawsuits over the Aug. 7 tweets, which caused Tesla's share price to gyrate.
According to the SEC, Musk "knew or was reckless in not knowing" that his tweets about taking Tesla private at $420 a share were false and misleading, given that he had never discussed such a transaction with any funding source.
The SEC said Musk met for less than an hour with three representatives of Public Investment Fund, at the company's Fremont, California, plant on July 31 during which the lead representative for the Saudi Arabian sovereign wealth fund expressed interest in taking Tesla private if the terms were "reasonable," according to the lawsuit.
Musk acknowledged the meeting lacked discussion of "even the most fundamental terms" of the deal and nothing was set in writing, according to the lawsuit. Musk then did not communicate with the fund representatives again until three days after his tweets.
On Aug. 24, after news of the SEC probe had become known, Musk blogged https://www.tesla.com/blog/staying-public that Tesla would remain public, citing investor resistance.
Thursday's lawsuit also seeks to impose a civil fine and other remedies. The SEC does not have criminal enforcement power. It said Musk would remain as Tesla's CEO until the matter was settled legally.
The lawsuit does not preclude action by the Department of Justice, according to one person with knowledge of the SEC's thinking. Tesla disclosed earlier this month that it was answering questions from the Justice Department.
"This sucks," said Ross Gerber, president and CEO at Gerber Kawasaki Inc, which owns 41,000 Tesla shares. "Don't think this has ever happened to a CEO before. Have no idea where this will go."
(Reporting by Jonathan Stempel in New York and Alexandria Sage in San Francisco; Additional reporting by Pete Schroeder in Washington, Ben Klayman in Detroit, Noel Randewich in San Francisco and Jennifer Ablan in New York; Editing by Bill Rigby and Lisa Shumaker)
This story has not been edited by Firstpost staff and is generated by auto-feed.
World
ATHENS (Reuters) - Greek police used teargas and water cannon to disperse people who had gathered in central Athens on Saturday to protest against mandatory COVID-19 vaccinations. More than 4,000 people rallied outside the Greek parliament for a third time this month to oppose mandatory inoculations for some workers, such as healthcare and nursing staff.
World
ISTANBUL (Reuters) - Two Turkish soldiers were killed and two were wounded in an attack on their armoured vehicle in northern Syria, and Turkish forces immediately launched retaliatory fire, Turkey's defence ministry said on Saturday. "Our punitive fire against terrorist positions is continuing," the statement on Twitter on said. It did not specify where the attack occurred, but media reports said it was in the al-Bab area.
World
By Marcelo Rochabrun SAO PAULO (Reuters) - Protesters took to the streets in several Brazilian cities on Saturday to demand the impeachment of far-right President Jair Bolsonaro, whose popularity has fallen in recent weeks amid corruption scandals against the backdrop of the pandemic. This week, news broke that Brazil's defense ministry told congressional leadership that next year's elections would not take place without amending the country's electronic voting system to include a paper trail of each vote. Bolsonaro has suggested several times without evidence that the current system is prone to fraud, allegations that Brazil's government has denied