U.S. oil prices jump as fifth weekly stock draw adds to supply concerns
By Jessica Resnick-Ault NEW YORK (Reuters) - U.S. oil futures rose more than $1 a barrel on Wednesday, bolstered by a fifth weekly crude inventory drawdown and strong domestic gasoline demand, amid ongoing supply concerns over U.S. sanctions on Iran that come into force in November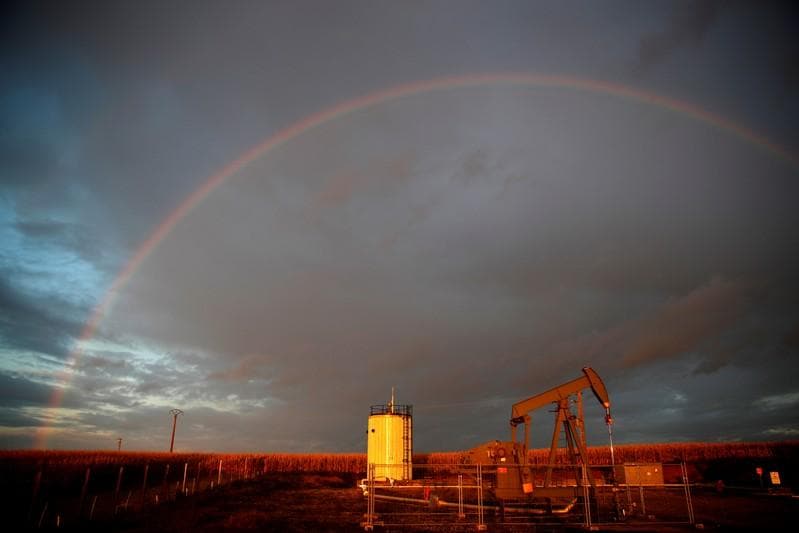 By Jessica Resnick-Ault
NEW YORK (Reuters) - U.S. oil futures rose more than $1 a barrel on Wednesday, bolstered by a fifth weekly crude inventory drawdown and strong domestic gasoline demand, amid ongoing supply concerns over U.S. sanctions on Iran that come into force in November.
U.S. crude futures were up $1.08 at $70.93 a barrel by 11:15 a.m. [1515 GMT], after the U.S. Energy Information Administration said crude and gasoline stockpiles fell last week.
Crude inventories fell 2.1 million barrels last week to 394.1 million barrels, the lowest level since February 2015, EIA data showed. Gasoline stocks fell 1.7 million barrels versus forecasts for a 100,000-barrel drop.
"It was a squarely bullish report," said John Kilduff, a partner at Again Capital Management in New York. "The summer-like demand from drivers is proving unrelenting."
Gasoline consumption usually picks up in the summer and wanes in autumn, but demand remained strong in the latest week, estimated at 9.5 million barrels per day.
Brent futures gained 36 cents a barrel to $79.39. On Tuesday, the global oil benchmark rose 1.3 percent on a media report that Saudi Arabia, the world's largest oil exporter, was comfortable with prices above $80, indicating the producer would not try to increase output to drive prices lower.
Reuters reported on Sept. 5 that Saudi Arabia wanted oil to stay between $70 and $80 to keep a balance between maximising revenue and keeping a lid on prices until U.S. congressional elections.
The focus on oil supply has been reflected in the options market this week, where investors have scooped up large amounts of buy or call options, suggesting they see prices rising.
Data from the InterContinental Exchange showed open interest in calls that give the owner the right to buy Brent futures at $80 and $85 by next week grew by nearly 45 percent on Monday and Tuesday to an equivalent of 54 million barrels of oil.
The Organization of the Petroleum Exporting Countries and other producers including Russia meet on Sept. 23 in Algeria to discuss how to allocate supply increases within their quota framework to offset the loss of Iranian supply.
U.S. sanctions affecting Iran's oil exports come into force on Nov. 4 and many buyers have already scaled back Iranian purchases. But it is unclear how easily other producers can compensate for any lost supply.
(Additional reporting by Meng Meng and Aizhu Chen in Beijing; Editing by Marguerita Choy and Edmund Blair)
This story has not been edited by Firstpost staff and is generated by auto-feed.
World
ATHENS (Reuters) - Greek police used teargas and water cannon to disperse people who had gathered in central Athens on Saturday to protest against mandatory COVID-19 vaccinations. More than 4,000 people rallied outside the Greek parliament for a third time this month to oppose mandatory inoculations for some workers, such as healthcare and nursing staff.
World
ISTANBUL (Reuters) - Two Turkish soldiers were killed and two were wounded in an attack on their armoured vehicle in northern Syria, and Turkish forces immediately launched retaliatory fire, Turkey's defence ministry said on Saturday. "Our punitive fire against terrorist positions is continuing," the statement on Twitter on said. It did not specify where the attack occurred, but media reports said it was in the al-Bab area.
World
By Marcelo Rochabrun SAO PAULO (Reuters) - Protesters took to the streets in several Brazilian cities on Saturday to demand the impeachment of far-right President Jair Bolsonaro, whose popularity has fallen in recent weeks amid corruption scandals against the backdrop of the pandemic. This week, news broke that Brazil's defense ministry told congressional leadership that next year's elections would not take place without amending the country's electronic voting system to include a paper trail of each vote. Bolsonaro has suggested several times without evidence that the current system is prone to fraud, allegations that Brazil's government has denied