U.S. loan to Kodak will not proceed unless allegations cleared - White House
WASHINGTON (Reuters) - The U.S. government will not proceed with a $765 million (£586.5 million) loan to Eastman Kodak Co to make drugs at its U.S. factories unless the company is cleared of alleged wrongdoing in circumstances surrounding the announcement of the loan, the White House said on Monday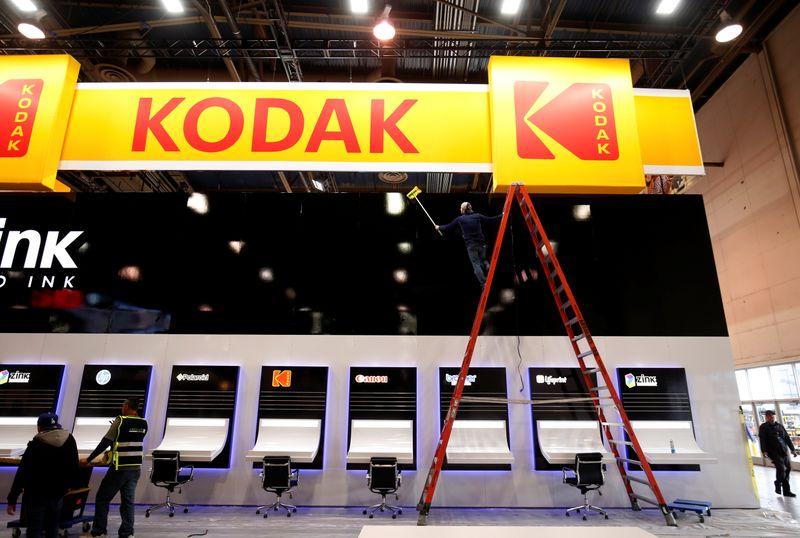 WASHINGTON (Reuters) - The U.S. government will not proceed with a $765 million (£586.5 million) loan to Eastman Kodak Co to make drugs at its U.S. factories unless the company is cleared of alleged wrongdoing in circumstances surrounding the announcement of the loan, the White House said on Monday.
White House Press Secretary Kayleigh McEnany made the remarks to reporters after U.S. President Trump said last week the federal government would quickly investigate the issue.
The U.S. International Development Finance Corp on Friday said the loan, aimed at helping the photographic equipment maker shift to making ingredients for pharmaceuticals, was on hold due to "recent allegations of wrongdoing."
McEnany said the president took the allegations seriously but declined to say if the loan could be canceled outright.
"We will not proceed any further unless these allegations are cleared," she said at a regular briefing, adding that the investigation was still underway.
She said the case had not shaken the president's faith in using the Defense Production Act to increase U.S. stockpiles of ventilators and other equipment to respond to the pandemic.
News of the investigation and a halt in the loan weighed heavily on Kodak shares, which were trading down 28% at $10.70 on the New York Stock Exchange on Monday afternoon.
Initial news of the loan had driven the shares 1,000% higher, generating a windfall for executives, some of whom had received options one day earlier.
Senior Democratic lawmakers last week asked federal regulators to investigate securities transactions made by the company and its executives around the time it learned it could receive the government loan.
Lawmakers said they had "serious concerns" about the transactions and asked the Securities and Exchange Commission to investigate the circumstances surrounding the matter. They cited growing concerns about insider trading.
The company said it had appointed a special committee of independent directors of its board to conduct an internal review.
(Reporting by Jeff Mason and Andrea Shalal; editing by Jonathan Oatis; Editing by Chris Reese)
This story has not been edited by Firstpost staff and is generated by auto-feed.
Find latest and upcoming tech gadgets online on Tech2 Gadgets. Get technology news, gadgets reviews & ratings. Popular gadgets including laptop, tablet and mobile specifications, features, prices, comparison.
Business
By James Davey LONDON (Reuters) - Distribution of several British newspapers was disrupted on Saturday after climate change activists blockaded printworks used by Rupert Murdoch's News UK, publisher of The Times and The Sun, drawing condemnation from Prime Minister Boris Johnson.
Business
PARIS (Reuters) - France denied the European Union's Brexit negotiator Michel Barnier was about to be sidelined by EU leaders in a bid to break the deadlock in trade talks, as reported by British newspaper the Daily Telegraph. Twisting a famous British war slogan, European affairs minister Clement Beaune tweeted on Saturday: "Keep calm and support Michel Barnier".
World
MEXICO CITY (Reuters) - Mexico's National Electoral Institute (INE) has denied former President Felipe Calderon's bid to register his Free Mexico movement as a new political party, saying some of its funding was questionable.