U.S. labor market remains tight, economy continues to grow: Fed Beige Book
By Pete Schroeder WASHINGTON, April 17 (Reuters) - Labor markets remained tight across the United States as businesses struggled to find skilled workers and wages grew modestly, the Federal Reserve said on Wednesday in its latest report on the economy. The U.S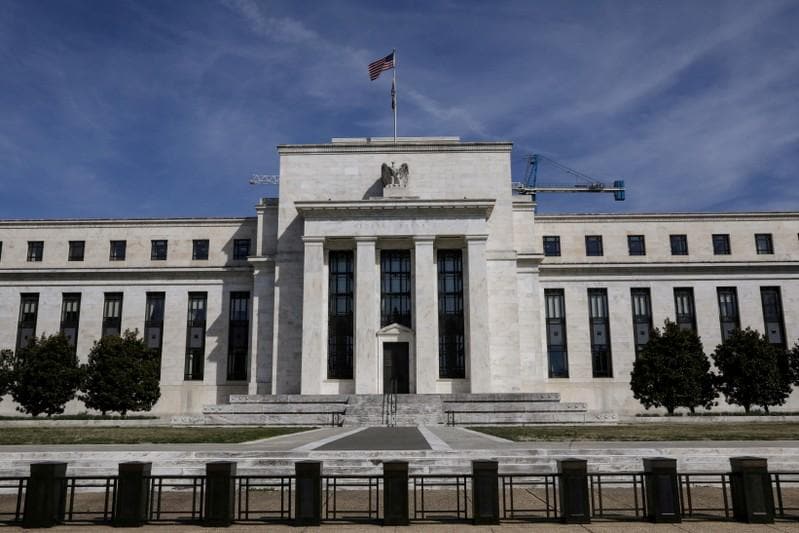 By Pete Schroeder
WASHINGTON, April 17 (Reuters) - Labor markets remained tight across the United States as businesses struggled to find skilled workers and wages grew modestly, the Federal Reserve said on Wednesday in its latest report on the economy.
The U.S. central bank's "Beige Book" report, a glimpse of the economy based on conversations with business contacts across all 12 of the Fed's districts, found economic activity grew at a slight-to-moderate pace in March and early April. A few districts reported some strengthening in economic growth.
Prices have risen modestly since the last Beige Book, with tariffs, freight costs and rising wages often cited as key factors, the Fed said. It added that consumer spending was mixed but suggested sluggish sales for both general retailers and auto dealers.
Wages grew moderately in most districts for both skilled and unskilled workers, with only three reporting slight growth in workers' pay, the Fed said.
Businesses in most districts reported shortages of skilled workers, mainly in manufacturing and construction, but also in technical and professional roles. Companies have responded to the tight labor market by boosting bonuses and benefits packages, along with raising wages moderately, according to the report.
Employment increases were most highly concentrated in highly-skilled jobs.
In terms of the manufacturing sector, the Fed said contacts in many districts reported that trade-related uncertainty was weighing on activity.
Several Fed districts said flooding and severe weather in the Midwest was affecting agricultural production. The Kansas City Fed reported that recent blizzards and flooding could weigh on the farming sector in the coming months, as it had resulted in damaged infrastructure and losses of cattle and crops.
The impact of the 35-day U.S. government shutdown that began in late December appeared muted. The Richmond Fed reported a few federal contractors saw business starting to return to normal and the San Francisco Fed saw higher-than-expected retail sales once the government reopened.
The Fed held interest rates steady at its last policy meeting in March, sticking with the "patient" approach adopted by policymakers in January, given little sign of rising inflation and the growing concerns about trade tensions and slowing global growth.
The Beige Book gives the Fed a sense of what central bank officials are hearing in their own districts, which in turn could inform their thinking when it comes to the economy and the Fed's stance on rates.
The latest Beige Book was prepared by the St. Louis Fed based on information collected on or before April 8, 2019.
(Reporting by Pete Schroeder Editing by Paul Simao)
This story has not been edited by Firstpost staff and is generated by auto-feed.
Find latest and upcoming tech gadgets online on Tech2 Gadgets. Get technology news, gadgets reviews & ratings. Popular gadgets including laptop, tablet and mobile specifications, features, prices, comparison.
World
By Tim Hepher and David Ljunggren PARIS/OTTAWA (Reuters) - France said on Friday it would download the black boxes from a Ukrainian airliner downed by an Iranian missile in January, easing a stand-off over where they should be read. France's BEA crash investigation agency said it was acting at the request of Iran, which remains responsible under global rules for conducting a formal accident probe after acknowledging that the Boeing 737 was downed by its forces
World
By Brad Brooks LUBBOCK, Texas (Reuters) - With new coronavirus cases surging in Texas and Florida, officials in both states on Friday ordered bars to close again and imposed tighter restrictions on restaurants, setting back efforts to reopen their economies. Governor Greg Abbott gave bars in Texas until midday Friday to shut, while Florida's Department of Business and Professional Regulation told bars to immediately stop serving alcohol on their premises
World
By Patricia Zengerle WASHINGTON (Reuters) - The U.S. Senate passed legislation on Thursday that would impose mandatory sanctions on people or companies that back efforts by China to restrict Hong Kong's autonomy, pushing back against Beijing's new security law for the city. The measure also includes secondary sanctions on banks that do business with anyone found to be backing any crackdown on the territory's autonomy, potentially cutting them off from American counterparts and limiting access to U.S.