U.S. judge rules for Regeneron, Sanofi in Amgen cholesterol drug patent fight
By Jan Wolfe (Reuters) - A U.S.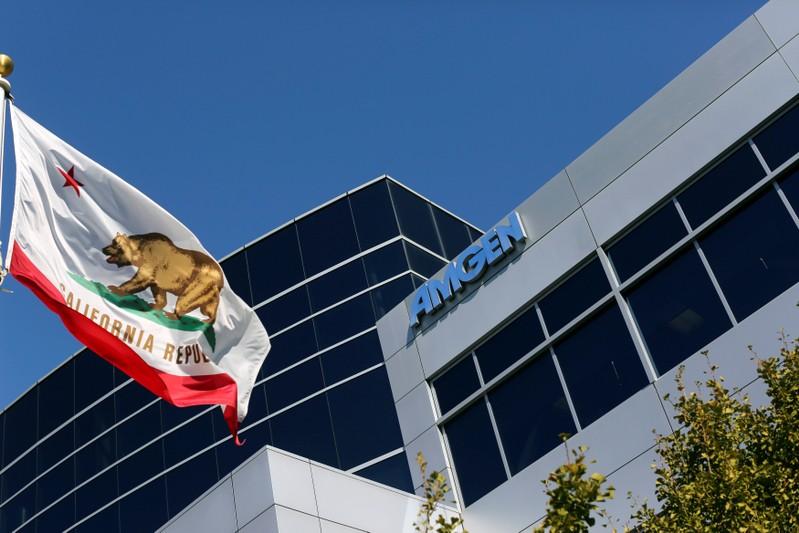 By Jan Wolfe
(Reuters) - A U.S. judge on Wednesday set aside a jury verdict that found Amgen Inc patents on its cholesterol drug Repatha were valid, handing a victory to Regeneron Pharmaceuticals Inc and Sanofi SA , which sells a rival drug.
The ruling from U.S. District Judge Richard Andrews in Wilmington, Delaware was the latest reversal of fortune in a long-running lawsuit in which Amgen is seeking to stop French drugmaker Sanofi and U.S. biotech Regeneron from selling their drug Praluent.
Repatha and Praluent won U.S. approval about two weeks apart in July of 2016. Both drugs dramatically lower "bad" LDL cholesterol by blocking a protein known as PCSK9 that prevents LDL removal from the blood. The injected drugs were later shown to also cut the risk of heart attacks.
The judge, in setting aside the jury's verdict reached in February, said some patent claims by Amgen relating to antibodies targeting PCSK9 were invalid because they did not sufficiently disclose the Thousand Oaks, California-based company's claimed innovations.
"It has been our longstanding belief that all of Amgen's asserted U.S. PCSK9 patent claims are invalid, and we are pleased that today's decision reaffirms this," Sanofi and Regeneron said in a statement.
California-based Amgen said in a statement that it disagreed with aspects of the court's decision and will seek review by the appellate court.
"Protecting intellectual property is critical to our business since it allows for our investment in the research and development of new medicines," Amgen said. "Consequently, we are disappointed with today's decision, and we look forward to presenting our case to uphold the jury's verdict."
Despite initial forecasts for multibillion-dollar sales, restrictions placed by insurers on use of the potent but expensive drugs have severely limited patient access and sales.
Repatha had worldwide sales of $152 million in the second quarter of 2019, while Regeneron reported Praluent sales of $73.7 million for the period.
(Reporting by Jan Wolfe; Editing by Jonathan Oatis, Will Dunham and Bill Berkrot)
This story has not been edited by Firstpost staff and is generated by auto-feed.
Find latest and upcoming tech gadgets online on Tech2 Gadgets. Get technology news, gadgets reviews & ratings. Popular gadgets including laptop, tablet and mobile specifications, features, prices, comparison.
World
MOSCOW (Reuters) - Russian President Vladimir Putin said on Wednesday he had noted what he called "sharp anti-Russian rhetoric" from U.S. Democratic presidential candidate Joe Biden, but that he had been encouraged by Biden's comments on arms control. Putin, in comments on state television ahead of the U.S.
World
By John Irish and Robin Emmott PARIS/BRUSSELS (Reuters) - France and Germany said on Wednesday they would propose European Union sanctions against Russian individuals after receiving no credible answers from Moscow over the poisoning of Kremlin critic Alexei Navalny with a nerve agent. Several Western governments have said Russia, which has denied accusations by Navalny that it was involved in the poisoning, must help in investigations or face consequences. The decision and speed with which Europe's two main powers agreed to push ahead with sanctions suggests a hardening of the bloc's diplomacy towards Moscow.
World
By Steve Holland WASHINGTON (Reuters) - U.S. President Donald Trump, under coronavirus quarantine in the White House and restricted from traveling, is seeking ways to put a spark back in his struggling re-election bid and get behind his desk in the Oval Office with four weeks left until Election Day.