U.S. House panel sets Google CEO hearing for Dec. 5
WASHINGTON (Reuters) - The U.S. House Judiciary Committee will hold a hearing with Google Chief Executive Sundar Pichai on the Alphabet Inc unit's social media practices on Dec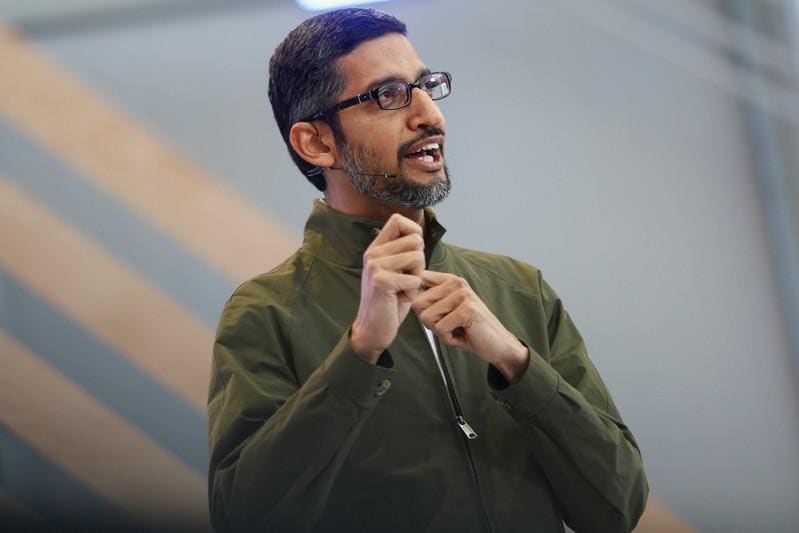 WASHINGTON (Reuters) - The U.S. House Judiciary Committee will hold a hearing with Google Chief Executive Sundar Pichai on the Alphabet Inc unit's social media practices on Dec. 5, the committee said on Wednesday.
Pichai in September had agreed to testify at a future date before the panel over Republican concerns that the company is biased against conservatives after it skipped a high-profile Senate hearing. Google has denied it is biased toward conservatives.
Google confirmed on Wednesday that Pichai will testify.
House Majority Leader Kevin McCarthy, a Republican, noted that the company accounts for nearly 90 percent of worldwide search traffic.
"Its business practices may have been affected by political bias," McCarthy said. "For months, House Republicans have called for greater transparency and openness from Google.... Mr. Pichai's scheduled appearance in front of the House Judiciary Committee is another important step to restoring public trust in Google and all the companies that shape the Internet."
McCarthy also said Congress wants to review Google's potential new investments in China.
Google previously told U.S. lawmakers it was considering "a variety of options" to offer additional services in China, but declined to detail plans for addressing Chinese censorship.
The company has come under criticism after reports it was considering re-entering China's search engine market and would comply with its internet censorship and surveillance policies.
On Tuesday, more than 200 Google engineers, designers and managers demanded in an open letter that the company end development of a censored search engine for Chinese users, escalating earlier protests against the project.
In September, a bipartisan group of 16 U.S. House lawmakers asked Google to disclose precautions it would take to protect the safety of its users if Chinese regulators allow its search engine to operate.
Pichai may also face questions about why it delayed disclosing vulnerabilities with its Google+ social network. The company has received inquiries from Congress over the issue.
(Reporting by David Shepardson; Editing by Susan Thomas)
This story has not been edited by Firstpost staff and is generated by auto-feed.
World
BAGHDAD (Reuters) - Rockets hit near U.S. forces and contractors in Iraq on Wednesday, including an air base north of Baghdad and a military base at Baghdad International Airport, the Iraqi army and security officials said. The army reported at least three rockets hit Balad air base, where U.S
World
By Silvia Ognibene and Silvia Aloisi FLORENCE, Italy (Reuters) -Italian police have arrested a Chinese couple accused of running a leather goods business which exploited immigrant workers it employed to make handbags for a Burberry supplier, according to an arrest warrant seen by Reuters. Tax police in Florence said in a statement that the two Chinese nationals were arrested on Wednesday as part of an investigation into alleged labour exploitation and tax fraud and that restrictive measures had been imposed on two other family members, including a ban on them leaving Italy
World
WASHINGTON (Reuters) - The United States on Wednesday blacklisted four Nicaraguans, including a daughter of President Daniel Ortega, as Washington warned it would continue to use diplomatic and economic tools against members of the leftist government engaged in repression. The U.S. State Department called on Ortega to release detained presidential candidates as well as other civil society and opposition leaders arrested over the past week in what Washington called "an increasing wave of repression." "There are costs for those who are complicit in the regime's repression.