U.S. group urges Biden to use financial regulation to control climate change
By Valerie Volcovici WASHINGTON (Reuters) - A climate advocacy group comprised of high-profile backers of Democratic presidential candidate Joe Biden on Tuesday urged the former vice president to consider using U.S. financial regulation as a tool to fight global warming if he is elected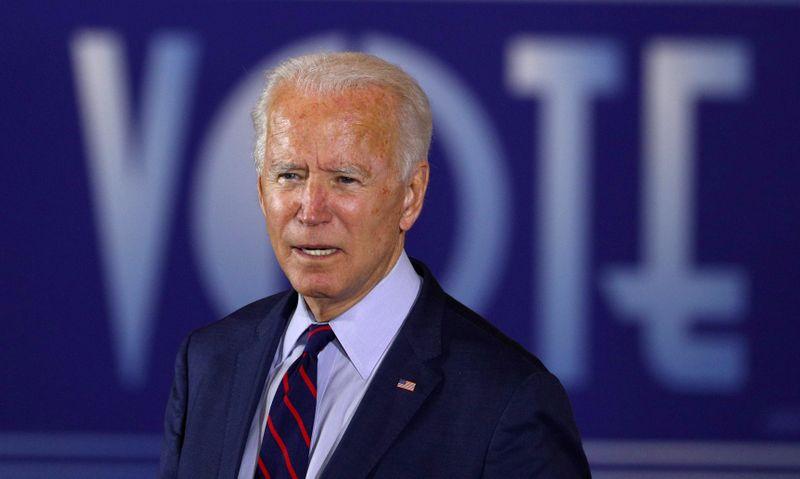 By Valerie Volcovici
WASHINGTON (Reuters) - A climate advocacy group comprised of high-profile backers of Democratic presidential candidate Joe Biden on Tuesday urged the former vice president to consider using U.S. financial regulation as a tool to fight global warming if he is elected.
Evergreen Action, a group of former staffers of Washington Governor Jay Inslee and Senator Elizabeth Warren who have advised the Biden campaign on a range of issues, handed the campaign a policy memo detailing how he could use the U.S. financial system to counter climate change within his first 100 days in office if he defeats Republican President Donald Trump.
The U.S. election is on Nov. 3.
"We can't just focus on the Environmental Protection Agency or the Interior Department. We really need to start thinking more expansively about tackling climate change," said Maggie Thomas, political director of Evergreen Action.
The recommendations http://www.evergreenaction.com/climatecrash include appointing nominees to key posts like the Treasury secretary, a new Federal Reserve chair in 2022, and others, who prioritize climate action and are likely to support measures to increase transparency around the financial risks posed by global warming.
Progressive policy groups have pushed for Warren or Sarah Bloom Raskin, former deputy Treasury secretary under Democratic President Barack Obama, as candidates for Treasury secretary under a possible Biden administration. Raskin consulted on the Evergreen Action memo.
The memo also calls on the next administration to catch up with other countries whose central banks have taken action to measure and mitigate climate risks to financial markets. It also recommends creating a climate "stress test" for large financial institutions, and urges the financial sector to prioritize clean investments in communities of color.
The Federal Reserve has only recently begun to acknowledge the potential for climate change to destabilize the financial system and consider possible responses.
Meanwhile, the Trump administration has sought to discourage institutional investors from favoring clean energy over fossil fuels, calling it discriminatory, stymie investor pressure to address climate change, and limit required environmental risk disclosures.
(Reporting by Valerie Volcovici)
This story has not been edited by Firstpost staff and is generated by auto-feed.
Find latest and upcoming tech gadgets online on Tech2 Gadgets. Get technology news, gadgets reviews & ratings. Popular gadgets including laptop, tablet and mobile specifications, features, prices, comparison.
World
By Shaina Ahluwalia and Geert De Clercq PARIS (Reuters) - France reported 35,879 new coronavirus cases on Wednesday, taking the total to 1.86 million, overtaking Russia and making France the worst affected country in the European region. With a total of 1,865,538 confirmed cases, France is the fourth-worst affected country in the world for novel coronavirus infections, according to a Reuters tally.
World
By Jessie Pang and Sharon Tam HONG KONG (Reuters) - Hong Kong's pro-democracy opposition lawmakers said on Wednesday they would resign in protest against the dismissal of four of their colleagues from the city assembly after Beijing gave local authorities new powers to further curb dissent. The Chinese parliament earlier adopted a resolution allowing the city's executive to expel lawmakers deemed to be advocating Hong Kong independence, colluding with foreign forces or threatening national security, without having to go through the courts
World
SANTIAGO (Reuters) - Chilean authorities have accused a Colombian man of murdering at least seven people, including several who were homeless on the streets of the capital Santiago. Police arrested Diego Ruiz Restrepo, 30, on Monday after using surveillance camera images to identify him, the regional prosecutor's office said on Twitter.