U.S. court urged to throw out 'Pharma Bro' Martin Shkreli's conviction
By Brendan Pierson NEW YORK (Reuters) - A lawyer for former pharmaceutical executive Martin Shkreli on Friday urged a federal appeals court to overturn Shkreli's criminal conviction for defrauding investors in hedge funds he founded. The lawyer, Mark Baker, argued that the jury that convicted Shkreli was given incorrect instructions about securities fraud. Baker faced a barrage of skeptical questions from a three-judge panel during a brief proceeding in the 2nd U.S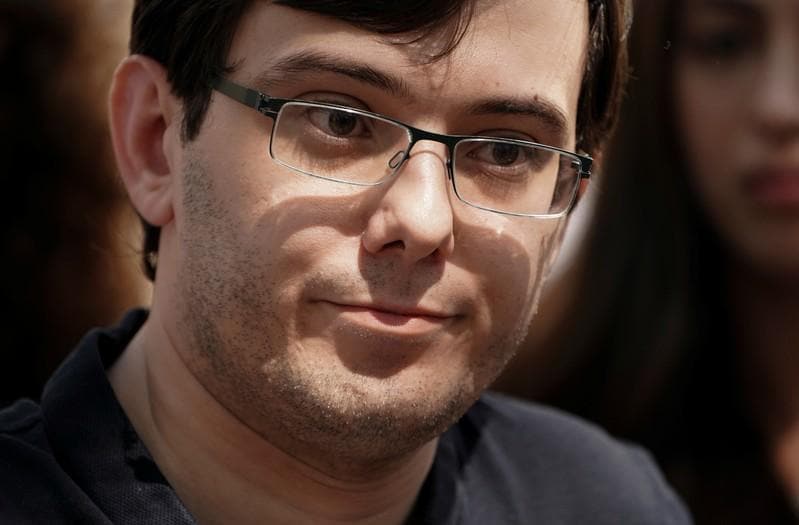 By Brendan Pierson
NEW YORK (Reuters) - A lawyer for former pharmaceutical executive Martin Shkreli on Friday urged a federal appeals court to overturn Shkreli's criminal conviction for defrauding investors in hedge funds he founded.
The lawyer, Mark Baker, argued that the jury that convicted Shkreli was given incorrect instructions about securities fraud. Baker faced a barrage of skeptical questions from a three-judge panel during a brief proceeding in the 2nd U.S. Circuit Court of Appeals in Manhattan.
Shkreli, 36, gained notoriety as the "Pharma Bro" after founding Turing Pharmaceuticals, buying the anti-parasitic drug Daraprim and raising its price by 5,000 percent, to $750 per pill in 2015.
He was charged with securities fraud and conspiracy in December 2015, convicted by a federal jury in Brooklyn in August 2017 and sentenced to seven years in prison last year. He was also ordered to forfeit more than $7 million.
His criminal case stemmed from two hedge funds and a drug company he had founded years before Turing. The jury found that he defrauded investors in the funds, MSMB Capital and MSMB Healthcare, by sending them fake account statements and concealing huge losses, and schemed to prop up the stock price of the drug company, Retrophin Inc.
The jury acquitted him of related wire fraud conspiracy charges, for which it received slightly different instructions. Baker argued on Friday that the split verdict showed the instructions had made the difference.
"The split verdict in this case speaks volumes as to the care the jury took," he said.
Circuit Judge Joseph Bianco, however, said the jury instructions appeared necessary after Shkreli's lawyer at trial suggested that Shkreli could not be guilty because he eventually paid his investors back.
Circuit Judge Debra Ann Livingston pressed Baker on that point: "A belief that ultimately no one will be harmed is not a defense to a securities fraud case, correct?"
Baker conceded that it was not.
Assistant U.S. Attorney Alixandra Smith, arguing for the prosecution, said the different instructions for securities fraud and wire fraud reflected a difference in the laws on those crimes.
In a brief rebuttal, Baker said that even if Shkreli's conviction stands, the fact that he eventually paid back investors should "wipe out" his obligation to forfeit cash.
The Brooklyn-born Shkreli, the son of Albanian immigrants, is scheduled to be released from prison in October 2023 if he fails to get his conviction tossed out.
(Reporting by Brendan Pierson in New York; Editing by Jonathan Oatis and Matthew Lewis)
This story has not been edited by Firstpost staff and is generated by auto-feed.
Find latest and upcoming tech gadgets online on Tech2 Gadgets. Get technology news, gadgets reviews & ratings. Popular gadgets including laptop, tablet and mobile specifications, features, prices, comparison.
Business
(Reuters) - Gilead Sciences Inc is nearing a deal to buy biopharmaceutical company Immunomedics Inc for more than $20 billion, the Wall Street Journal reported on Saturday, citing people familiar with the matter. A deal for Immunomedics, which last month reported positive data from a late-stage study for its breast-cancer drug, could be announced Monday if not sooner, the Journal said https://www.wsj.com/articles/gilead-nears-deal-to-buy-immunomedics-for-more-than-20-billion-11599936777?mod=hp_lead_pos2. Gilead and Immunomedics did not respond immediately to emailed requests from Reuters for comment
Business
SHANGHAI (Reuters) - China banned pork imports from Germany on Saturday after it confirmed its first case of African swine fever last week, in a move set to hit German producers and push up global prices as China's meat supplies tighten. China's ban on imports from its third largest supplier comes as the world's top meat buyer deals with an unprecedented pork shortage after its own epidemic of the deadly hog disease. The ban on Germany, which has supplied about 14% of China's pork imports so far this year, will push up demand for meat from other major suppliers like the United States and Spain, boosting global prices.
Business
CAIRO (Reuters) - Libyan commander Khalifa Haftar has committed to ending a months-long blockade of oil facilities, the U.S.