U.S. asks judge to give final approval to settlement with CVS to buy Aetna
WASHINGTON (Reuters) - The U.S. Justice Department formally asked a judge on Monday to approve its deal to allow CVS Health Corp to merge with insurer Aetna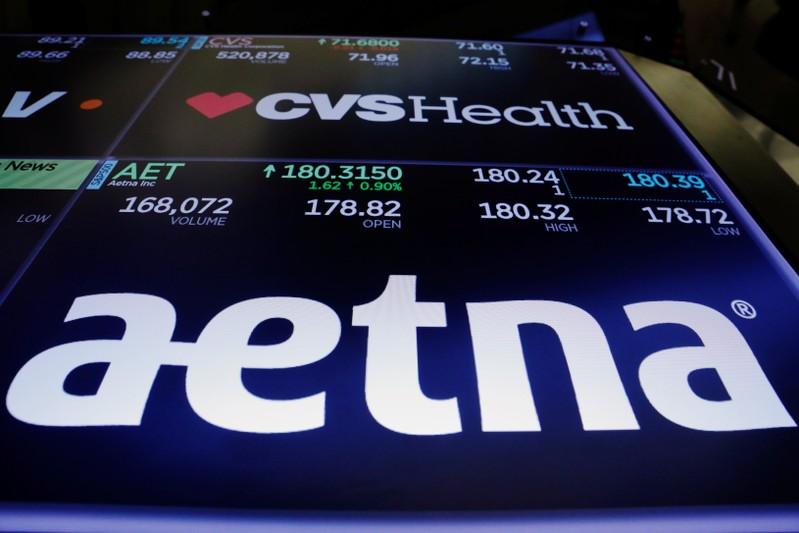 WASHINGTON (Reuters) - The U.S. Justice Department formally asked a judge on Monday to approve its deal to allow CVS Health Corp to merge with insurer Aetna.
Judge Richard Leon of the U.S. District Court for the District of Columbia scolded the government and parties late last year for closing the $69 billion dollar merger before the consent order was approved by the court. In response, CVS offered to halt some integration of the two companies.
With the government's request for final approval of the merger, Leon may sign off on the deal with no further ado or may decide to hold a hearing to allow critics to raise their concerns, said Andre Barlow of the law firm Doyle, Barlow and Mazard PLLC, an antitrust expert who has been following the case.
The Justice Department approved the merger of CVS, a U.S. pharmacy chain and benefits manager, and Aetna in October on condition that Aetna sell its Medicare prescription drug plan business to WellCare Health Plans Inc. Both deals have closed.
CVS declined comment for this story.
(Reporting by Diane Bartz; Editing by Peter Cooney)
This story has not been edited by Firstpost staff and is generated by auto-feed.
India
Danish's photographs were not just documentation, but the work of someone who went down to eye-level, as they say in photographic parlance.
World
ATHENS (Reuters) - Greek police used teargas and water cannon to disperse people who had gathered in central Athens on Saturday to protest against mandatory COVID-19 vaccinations. More than 4,000 people rallied outside the Greek parliament for a third time this month to oppose mandatory inoculations for some workers, such as healthcare and nursing staff.
World
ISTANBUL (Reuters) - Two Turkish soldiers were killed and two were wounded in an attack on their armoured vehicle in northern Syria, and Turkish forces immediately launched retaliatory fire, Turkey's defence ministry said on Saturday. "Our punitive fire against terrorist positions is continuing," the statement on Twitter on said. It did not specify where the attack occurred, but media reports said it was in the al-Bab area.