U.S. and China clash at WTO over ideology, state's role
By Tom Miles GENEVA (Reuters) - Chinese and U.S. envoys presented radically differing visions of Beijing's economic model at the World Trade Organization on Thursday, a choice between 'the world's most protectionist economy' and a growth story that has benefited all countries.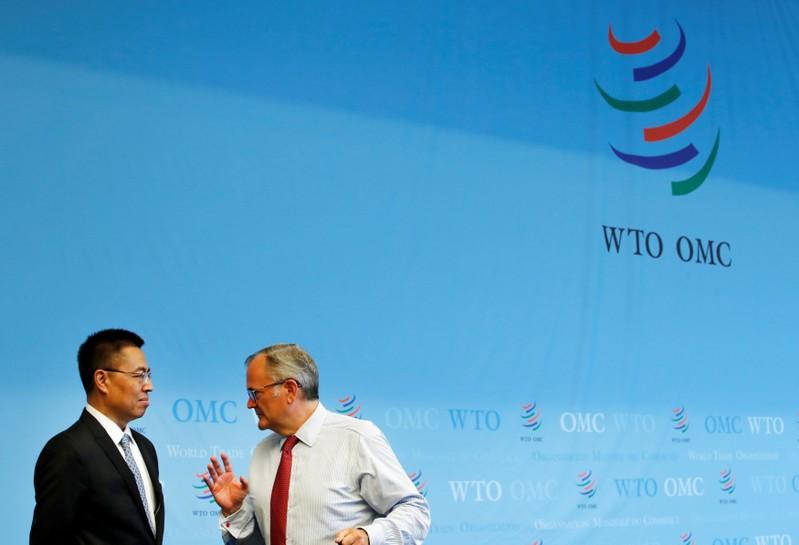 By Tom Miles
GENEVA (Reuters) - Chinese and U.S. envoys presented radically differing visions of Beijing's economic model at the World Trade Organization on Thursday, a choice between "the world's most protectionist economy" and a growth story that has benefited all countries.
The clash came as the two face off in a multi-billion dollar trade war - U.S. President Donald Trump has launched a barrage of tariffs, accusing China of unfair practices and stealing innovation. China has targeted U.S. farm produce.
U.S. Ambassador Dennis Shea was presenting a paper entitled "China's trade-disruptive economic model" to the last WTO meeting before a summer break.
"Despite China's repeated portrayal of itself as a staunch defender of free trade and the global trading system, China is in fact the most protectionist, mercantilist economy in the world," Shea said.
Aside from the tariffs, the two sides are wrestling to get the WTO to see things their way: Washington says China cheats by having an economy run by the state, Beijing says it plays by the rules agreed when it joined the WTO in 2001.
Shea said the harm done by China's state-led approach to trade and investment "can no longer be tolerated", and it was not enough to assert that it was following WTO rules.
State-owned enterprises play an outsized role in China, with control exercised by the government and Communist Party, which appoint top executives and hold the keys to crucial inputs such as land and capital, Shea said.
GUNPOWDER
He said the law was an instrument of the state, and courts were structured to respond to the Communist Party's direction.
"For China, economic reform means perfecting the government's and the Communist Party's management of the economy and strengthening the state sector, particularly state-owned enterprises." 
China's Ambassador Zhang Xiangchen said Shea's remarks had a whiff of gunpowder about them and his report was "half-cooked", with no evidence to support its assertion that the Chinese state "controls" enterprises.
In a statement to Reuters, Zhang said the United States was trying to demonise China to take the heat off itself, but it was an illusion to think China would bow down and accept a tailor-made set of rules that sought to tie its hands.
Zhang told the WTO meeting that Shea wanted WTO members to believe that enterprises controlled by the government were "public bodies" subject to WTO subsidy rules. But WTO judges had definitively thrown out that argument, he added.
Beijing's industrial policies were "guidance" and state-owned enterprises were autonomous market entities responsible for their own profits or losses, he said. Overcapacity in some industries was due not to the state but to contraction of global demand following the financial crisis, he added.
The U.S. paper had misleadingly edited China's official policy, cutting out references to the "decisive role" of the market in allocating resources, he said.
"A fiction repeated enough times may become a belief," he said, adding that he had read Shea's paper very carefully, including its 88 footnotes.
"For some footnotes, I could not find the sources as referred," he said. "But as we all know, the devil is in the details. If a paper has flaws in its footnote, then its evidence may be called into question and its arguments will be put into doubt."
(Reporting by Tom Miles; Editing by Stephanie Nebehay and Andrew Heavens)
This story has not been edited by Firstpost staff and is generated by auto-feed.
Find latest and upcoming tech gadgets online on Tech2 Gadgets. Get technology news, gadgets reviews & ratings. Popular gadgets including laptop, tablet and mobile specifications, features, prices, comparison.
World
By Andy Sullivan (Reuters) - Wednesday night's matchup between Vice President Mike Pence and Democratic challenger Senator Kamala Harris unfolded largely free of the chaos that marred last week's debate between President Donald Trump and former Vice President Joe Biden. Here are a few standout moments from the debate: PACKING THE COURT?
World
WASHINGTON (Reuters) - The United States on Thursday slapped fresh sanctions on Iran's financial sector, targeting 18 Iranian banks in an effort to further shut Iran out of the global banking system as Washington ramps up pressure on Tehran weeks ahead of the U.S. election. In an announcement posted on its website, the U.S
Business
ZURICH (Reuters) - Swiss drugs and diagnostics group Roche is shipping supplies from Germany to help Britain's National Health Service (NHS) fill gaps caused by a logistics glitch at a Roche warehouse in southern England, it said on Thursday. Roche, a main supplier of COVID-19 and other diagnostic tests to the NHS, told UK customers on Wednesday that a switch from an old warehouse to a new automated distribution centre had caused an unforeseen technical issue that hit processing capacity. "We are confident that the plans we have put in place will deliver significant improvements by the weekend to the supply of the tests affected by these logistical issues," Roche said on Thursday, reiterating its timetable from Wednesday.