U.S. agency votes to refer Sinclair Tribune merger to administrative judge
By David Shepardson WASHINGTON (Reuters) - The U.S. Federal Communications Commission said late on Wednesday it had voted unanimously to refer Sinclair Broadcast Group Inc's $3.9 billion acquisition of Tribune Media Co to an administrative law judge, a blow to the firms' chances of winning approval. The decision came despite the company's announcement it would not divest three television stations currently owned by Tribune in hopes of winning approval after FCC Chairman Ajit Pai raised 'serious concerns' on Monday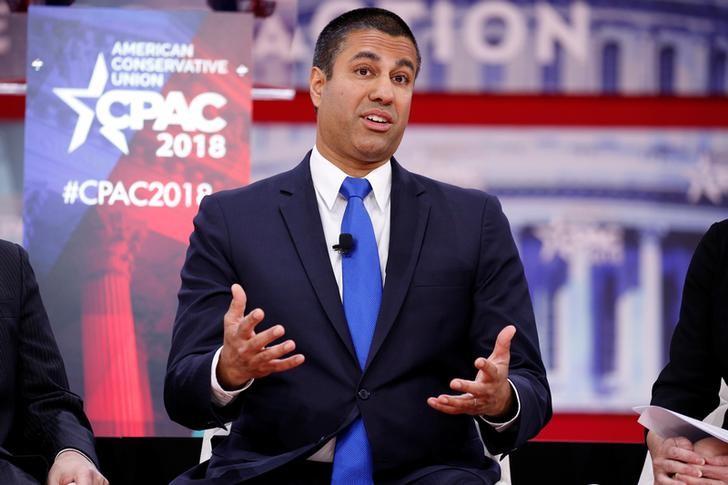 By David Shepardson
WASHINGTON (Reuters) - The U.S. Federal Communications Commission said late on Wednesday it had voted unanimously to refer Sinclair Broadcast Group Inc's $3.9 billion acquisition of Tribune Media Co to an administrative law judge, a blow to the firms' chances of winning approval.
The decision came despite the company's announcement it would not divest three television stations currently owned by Tribune in hopes of winning approval after FCC Chairman Ajit Pai raised "serious concerns" on Monday.
A hearing is likely to result in a significant delay and could effectively kill the deal, as has happened in other mergers referred for administrative proceedings. Two FCC officials who did not wish to be identified said Wednesday they believe the merger will not be able to proceed.
Sinclair, which owns the largest number of local TV stations in the U.S., had said it will drop plans to divest stations in Dallas, Chicago and Houston to "expedite" the transaction after the FCC suggested the company would still control the stations.
The Justice Department is also still reviewing the deal and the FCC may have other concerns.
The FCC said late Wednesday the commission had voted unanimously to adopt the hearing designation order regarding the deal and said it expected to release the order on Thursday.
Pai, whom Democrats have accused of making a string of decisions benefiting Sinclair, said Monday evidence suggested "certain station divestitures that have been proposed to the FCC would allow Sinclair to control those stations in practice, even if not in name, in violation of the law."
Sinclair, which owns 192 stations, said it was "shocked and disappointed" by the FCC's order and denied it was not in compliance with FCC rules or that it had engaged in misleading conduct.
It did not immediately comment on the FCC vote.
The draft order circulated by Pai's office, part of which was seen by Reuters, said Sinclair's actions around the divestiture of TV station WGN in Chicago "includes a potential element of misrepresentation or lack of candour."
The revised order now raises questions about Sinclair's representations about all three stations and its compliance with FCC broadcast ownership limits, a person briefed on the matter said.
The company had proposed to sell WGN in Chicago to a Maryland auto dealer who is a longtime business associate of Sinclair Executive Chairman David Smith, and would largely continue to operate the station under a services agreement.
Sinclair also said it was withdrawing plans to sell stations in Dallas and Houston to Cunningham Broadcasting Corp, a company controlled by the estate of Smith's mother. Sinclair said Wednesday it now wants to put the two Texas stations into a divestiture trust to be sold and operated by an independent trustee.
Pai's statement raising questions about whether Sinclair would continue to control some of the stations it proposes to divest followed similar questions raised in separate filings with the FCC last month by the American Civil Liberties Union and conservative news outlet Newsmax Media.
Newsmax CEO Chris Ruddy said the "FCC and public shouldn't be fooled by this last-minute effort by Sinclair. They must reject it. Sinclair has already demonstrated contempt for FCC rules and proper public disclosure."
Tribune shares rose 2.3 percent on Wednesday while Sinclair closed down 2.3 percent.
Sinclair said in May 2017 it planned to acquire Chicago-based Tribune's 42 TV stations in 33 markets.
In April, Sinclair said it would sell 23 TV stations to obtain regulatory approval. It needs FCC permission to own more than one station in some markets.
(Reporting by David Shepardson; Editing by Jeffrey Benkoe and Chris Reese)
This story has not been edited by Firstpost staff and is generated by auto-feed.
Find latest and upcoming tech gadgets online on Tech2 Gadgets. Get technology news, gadgets reviews & ratings. Popular gadgets including laptop, tablet and mobile specifications, features, prices, comparison.
Business
By Jessica Resnick-Ault NEW YORK (Reuters) - Oil prices strengthened on Wednesday, as OPEC and its allies were seen complying with a pact to cut oil supply in September, even as concerns loomed that recovery in fuel demand will be stalled by soaring global coronavirus cases. Early in the day crude was boosted by a bullish stock market. Even as equities whipsawed on pandemic worries, oil stayed higher, buoyed by expectations that OPEC could staunch a supply glut
Business
By Tina Bellon and C Nivedita (Reuters) - Tesla Inc will further cut the price of its Model S "Long Range" sedan in the United States to $69,420, the electric carmaker's chief executive, Elon Musk, announced in a tweet https://bit.ly/2H0JCP0 on Wednesday. The anticipated drop marks the second time this week Tesla has cut the price for the high-end sedan, following a 4% cut of the Model S's price in the United States on Tuesday to $71,990.
World
By Jeff Mason DES MOINES, Iowa (Reuters) - Under siege over his handling of the novel coronavirus pandemic, President Donald Trump on Wednesday cited what he said was his son's mild bout of the virus as a reason why American schools should reopen as soon as possible. Trump made the comment about his son, Barron, as the president swept into Iowa on a mission to shore up support in battleground states that he won in 2016 but is in danger of losing to Democrat Joe Biden barely three weeks before the election. First lady Melania Trump announced in a statement earlier in the day that the virus that struck both her and her husband had also infected their 14-year-old son