Twist in tale: New heroes in Indian two-wheeler market
The top three players - Hero MotoCorp, Bajaj Auto and TVS Motor Co - have lost market share To new entrants like Honda Motor and Scooters India (HMSI) and Suzuki Motorcycle India.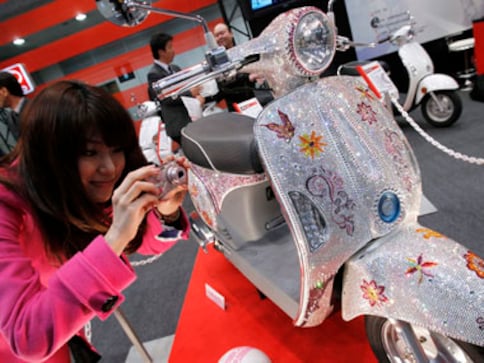 New Delhi: An interesting story is in the making in the two-wheeler segment. The top three players - Hero MotoCorp, Bajaj Auto and TVS Motor Co - have lost market share in recent months to relatively new players. And the fight for the two-wheeler market pie is no longer restricted to motorcycles, but has spilled over to the scooter segment also.
According to Gaurav Bang of Nirmal Bang Institutional Equities, Hero has been the worst-hit in terms of market share followed by TVS while Bajaj's market share loss is marginal. All these companies lost share to new entrants like Honda Motor and Scooters India (HMSI) and Suzuki Motorcycle India.
Bang's own research pegs Hero's loss to be the biggest at 300 basis points (or 3 percent) between April and December over a year ago period, followed by TVS' loss at 1.1 percent and Bajaj's 0.6 percent.
Bang terms HMSI a "major threat" to other players as it gained maximum market share in motorcycle as well as scooter segments in this nine-month period.
Market share loss for leaders has happened due to various factors: aggressive new launches in both scooters and motorcycles by the new players, decline in sales of the Hero Splendor for a few months when brand transition was happening and an overall slowdown in the two wheeler market.
To make matters worse for the top three players, December is anyway a sluggish month. So when Hero reported dispatch of 5,41,615 units last month, a slight increase over 540,276 units it dispatched to dealers in December last year, Edelweiss Research pointed out this was probably because the company was aggressively on promotions and raised dealer discounts to push sales.
Today, Bajaj reported the highest ever motorcycle dispatches in December at 298,350 units (263,699 units), a growth of 13 percent.
The dispatch numbers of Hero and Bajaj, which together account for more than half the two-wheeler market, do not portray a slowdown in December. Is it a case of overenthusiastic companies flooding dealerships with vehicles or is buying sentiment returning to the two-wheeler market slowly?
TVS Motor did not see growth even in dispatches to dealers; its dispatches fell to 151,735 units against 167,905 units in December 2011.
TVS said that though overall dispatches were down year on year, motorcycle dispatches grew by 6 percent to 60,210 units (56,662 units). Its scooter sales suffered the most, at 30,398 units (44,804 units).
Bang said decline in the scooter market share for TVS was on the back of new launches by Hero, Suzuki Motorcycle India,Yamaha India and Piaggio India. He said these launches were well accepted by the market and led to market share gains for all these companies at the cost of TVS and Mahindra Two-wheelers.
"Yamaha India's Ray scooter, launched in September, has been a big success as the model has already gained almost 4% market share since its launch," Bang said.
Bang also noted that though HMSI maintained its dominance in the scooter segment it witnessed pressure on market share over the past three-four months, primarily due to the launch of new products by Yamaha and Piaggio Bang says HMSI gained almost 4 percent share in the motorcycle market between April and December.
Politics
Clearly the impact of demonetisation is more pronounced on those categories where a large number of units are not financed and those where a majority of sales happen in the rural areas
Corporate
Seeking to cash in on the fast growing scooter segment in the domestic market, the country's largest two-wheeler maker Hero MotoCorp plans to launch two new models in next one year.
Business
The warranty will be of five years or 70,000 km on motorcycles, whichever is earlier and five years or 50,000 km on scooters, whichever is earlier. Hero MotoCorp is the first manufacturer in the country to offer this benefit