Turkey's lira firms after Pompeo says he expects talks on U.S. pastor
By Sarah Dadouch and Ezgi Erkoyun ISTANBUL (Reuters) - Turkey's lira firmed more than 3 percent on Monday after U.S.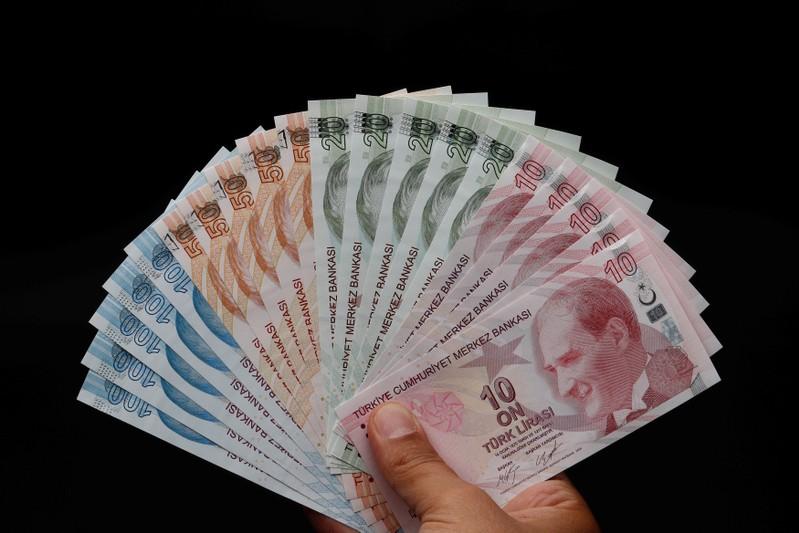 By Sarah Dadouch and Ezgi Erkoyun
ISTANBUL (Reuters) - Turkey's lira firmed more than 3 percent on Monday after U.S. Secretary of State Mike Pompeo said he expected discussions with Turkish officials this week over the fate of a U.S. pastor whose trial has strained relations.
The lira has tumbled 40 percent against the dollar this year, hit by concerns about President Tayyip Erdogan's influence on monetary policy and the diplomatic row with Washington.
U.S. President Donald Trump has slapped tariffs on Turkey over its trial of Andrew Brunson, an evangelical Christian pastor from North Carolina, who has lived in Turkey for more than two decades. He is facing terrorism charges, which he denies.
Pompeo told reporters in New York he expected talks with Turkish officials to take place this week to discuss Brunson's fate. Erdogan is visiting the United States this week for a United Nations meeting.
"Yes he could be released this month. He should have been released last month. And he should be released today in fact. We have talked to the Turks. They know the expectations," Pompeo told reporters in New York.
"Pastor Brunson and the other U.S. persons that are being held by Turkey all need to be released by Turkey and that needs to be done immediately," he added.
The lira firmed as far as 6.0575 against the dollar as of 1607 GMT, compared with Friday's close of 6.2900. It later weakened to 6.15 to the dollar at 1831 GMT.
Speaking to reporters in New York, Turkish presidential spokesman Ibrahim Kalin said the decision on Brunson would be made by the judiciary and urged everyone to respect the court's ruling.
"Obviously we want to have good relations with every country, including the United States, but we have to resolve the issues between the two countries through diplomacy," Kalin said.
"It's not just about Pastor Brunson, but a number of other issues, including the American support for the YPG in Syria, which is a concern for our national security."
Turkey considers the YPG militia a terrorist organisation linked to Kurdish militants on its soil.
REBOUND SUSTAINABLE?
The sell-off in the lira has raised concerns about the impact on the broader economy and put particular focus on Turkey's banks. Ratings agency Fitch said on Monday that banks' foreign-currency liquidity risk had heightened significantly amid volatility and currency weakness.
The central bank this month hiked interest rates by 6.25 percent to stem inflation and put a floor under the currency. Last week the government rolled out a new economic programme with lower growth estimates, although many investors have given it a lukewarm reception.
"If there is an attempt to improve relations with the U.S. then this would be the third important component that we need to expect this rebound in the lira to prove sustainable," said Piotr Matys, an emerging markets forex strategist at Rabobank.
"The other two important components are already in place. The central bank raised interest rate decisively and this was followed by the new economy programme, which includes more realistic macroeconomic assumptions."
Brunson is one of several U.S. citizens who have been detained in Turkey in the aftermath of a failed coup in 2016, which Ankara blames on a U.S.-based cleric. Turkey has sought the extradition of the cleric, Fethullah Gulen. The United States has said it is a matter for the courts.
Among those jailed is a Turkish-U.S. citizen and former NASA scientist. Serkan Golge was visiting family in southern Turkey when he was arrested in the crackdown that followed the coup.
He plans to file an appeal to Turkey's top court after a lower appeals court reduced his sentence, his lawyer said last week.
(Additional reporting by Steve Holland, Lesley Wroughton and David Brunnstrom in U.S. and Ali Kucukgocmen in Istanbul; Writing by David Dolan and Tuvan Gumrukcu; Editing by Janet Lawrence)
This story has not been edited by Firstpost staff and is generated by auto-feed.
Business
(Reuters) - Alphabet Inc's self-driving unit Waymo said on Thursday it had partnered with Google's Maps to let users book fully autonomous ride-hailing services through the app.
Business
FRANKFURT (Reuters) - Tesla on Thursday revised its application for a planned gigafactory in Europe to include details for plans to produce battery cells on site and an expansion of other production lines, German officials said. It also includes plans to reduce water consumption so that usage remains constant compared to earlier proposals despite the expansion. Tesla has sharply criticised the lengthy regulatory processes in Germany and has pushed back the factory's opening date.
Business
By Mathieu Rosemain PARIS (Reuters) - U.S. social media giant Facebook has offered to commit to providing its partners with clear and objective conditions of access to advertising inventories and ad campaign data, France's antitrust authority said on Thursday following an investigation.