Trump says EU officials want to negotiate trade deal in Washington visit
By David Lawder WASHINGTON (Reuters) - U.S. President Donald Trump said on Wednesday that European leaders were coming to Washington next week to try to hammer out a deal focused largely on car tariffs, while his top economic adviser accused Chinese President Xi Jinping of holding up a U.S.-China trade deal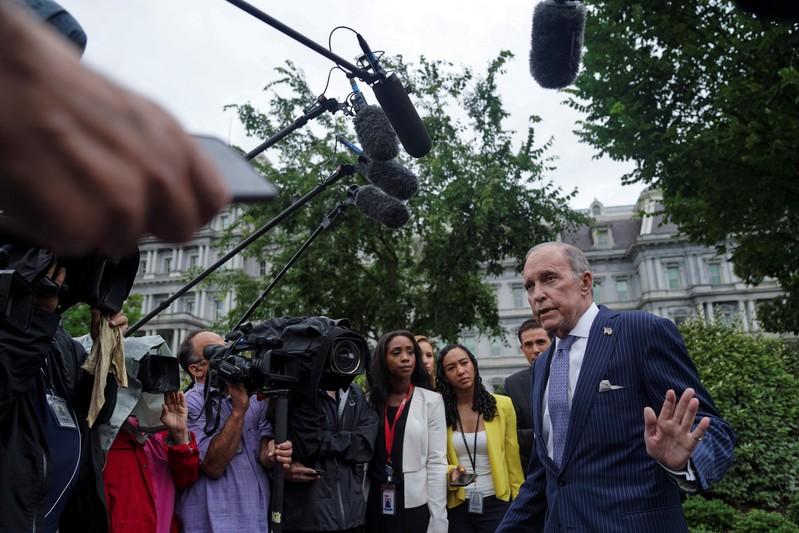 By David Lawder
WASHINGTON (Reuters) - U.S. President Donald Trump said on Wednesday that European leaders were coming to Washington next week to try to hammer out a deal focused largely on car tariffs, while his top economic adviser accused Chinese President Xi Jinping of holding up a U.S.-China trade deal.
Trump, speaking to reporters at the White House, said that European Commission President Jean-Claude Juncker's visit will discuss car tariffs, which he cited as "the big one" among U.S.-EU trade irritants.
Trump considers the EU's 10 percent tariff on cars to be unfair compared to the U.S. 2.5 percent tariff, although the United States maintains a 25 percent tariff on pickup trucks.
"They're going to be coming on July 25th to negotiate with us. We said if we don't negotiate something fair, then we have tremendous retribution. Which we don't want to use, but we have tremendous powers," Trump said.
Trump has threatened to levy higher tariffs, as much as 25 percent on imported cars, and his Commerce secretary, Wilbur Ross, is conducting a study on whether vehicle and parts imports threaten national security.
Larry Kudlow, who heads the White House Economic Council, said separately at an investment forum in New York that he has been told that Juncker would be "bringing a very important free trade offer" to Trump on his visit.
Kudlow said he believed Xi has blocked progress on a deal to end duelling U.S. and Chinese tariffs. He added that lower-ranking officials want a deal, including Xi's top economic adviser Liu He, but Xi has refused to make changes to China's technology transfer and other trade policies.
"So far as we know, President Xi, at the moment, does not want to make a deal," Kudlow said at the Delivering Alpha conference sponsored by CNBC and Institutional Investor magazine.
"I think Xi is holding the game up. I think Liu He and others would like to move but haven't," Kudlow said. "We are waiting for him (Xi). The ball is in his court."
China could end U.S. tariffs "this afternoon by providing a more satisfactory approach" and taking steps that other countries are also calling for, he said.
These included cutting tariff and non-tariff barriers to imports, ending the "theft" of intellectual property and allowing full foreign ownership of companies operating in China, Kudlow said.
(Reporting by David Lawder, Roberta Rampton and Lindsay; Editing by Bernadette Baum and Chizu Nomiyama)
This story has not been edited by Firstpost staff and is generated by auto-feed.
Find latest and upcoming tech gadgets online on Tech2 Gadgets. Get technology news, gadgets reviews & ratings. Popular gadgets including laptop, tablet and mobile specifications, features, prices, comparison.
World
By Paul Carrel BERLIN (Reuters) - European Union sanctions against 40 officials in Belarus are "a small victory" but should be widened, opposition leader Sviatlana Tsikhanouskaya said on Monday, adding she would press Germany's Angela Merkel to do more at a meeting on Tuesday. Tsikhanouskaya fled her homeland for Lithuania amid a police crackdown in Belarus following an Aug. 9 presidential election, which official results said incumbent Alexander Lukashenko won, but which Tsikhanouskaya's supporters say was rigged
World
WASHINGTON (Reuters) - White House Press Secretary Kayleigh McEnany said on Monday she tested positive for COVID-19, while several U.S. media outlets reported that a number of other White House staff members also were confirmed to have been infected with the novel coronavirus
World
WASHINGTON (Reuters) - U.S.