Trump regrets not raising tariffs on China higher, White House says
By Jeff Mason BIARRITZ, France (Reuters) - President Donald Trump wishes he had raised tariffs on Beijing even higher, the White House said on Sunday, seeking to clarify earlier remarks that suggested Trump regretted his decision on Friday to escalate his trade war with China. Trump raised eyebrows during a meeting with British Prime Minister Boris Johnson on the sidelines of a G7 summit, when he responded in the affirmative to questions from reporters on whether he had had any second thoughts about raising tariffs on Chinese goods by 5%. 'President Trump responded in the affirmative - because he regrets not raising the tariffs higher,' White House spokeswoman Stephanie Grisham said in a statement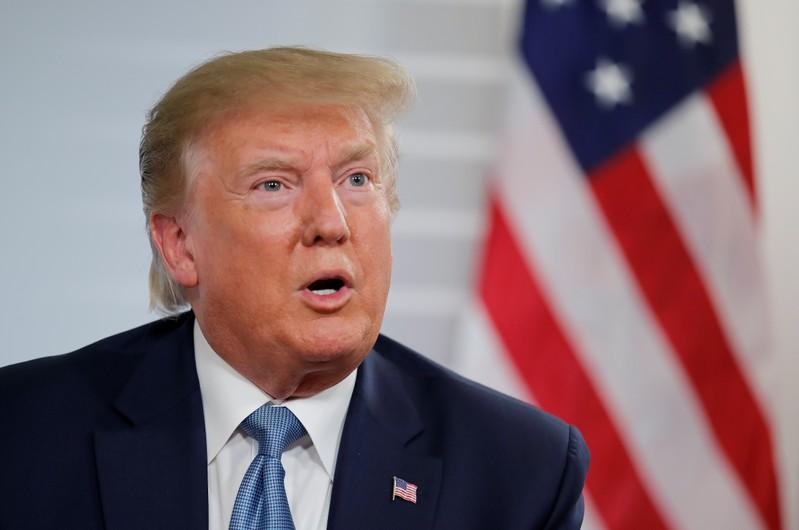 By Jeff Mason
BIARRITZ, France (Reuters) - President Donald Trump wishes he had raised tariffs on Beijing even higher, the White House said on Sunday, seeking to clarify earlier remarks that suggested Trump regretted his decision on Friday to escalate his trade war with China.
Trump raised eyebrows during a meeting with British Prime Minister Boris Johnson on the sidelines of a G7 summit, when he responded in the affirmative to questions from reporters on whether he had had any second thoughts about raising tariffs on Chinese goods by 5%.
"President Trump responded in the affirmative - because he regrets not raising the tariffs higher," White House spokeswoman Stephanie Grisham said in a statement.
Trump announced the additional duty on some $550 billion in targeted Chinese goods on Friday, hours after China unveiled retaliatory tariffs on $75 billion worth of U.S. goods.
The moves were the latest round in a tit-for-tat trade war between the world's two largest economies that has damaged global growth, upset allies, and raised market fears that the world economy will tip into a recession.
White House economic adviser Larry Kudlow said on Sunday he did not expect China to retaliate further.
"I think his was an action to respond to their action. So I doubt whether they're going to take another step," he said on CBS' "Face the Nation" program. "We'll have to wait and see."
In a separate appearance on Sunday, U.S. Treasury Secretary Steven Mnuchin said that Trump and Chinese President Xi Jinping had become "enemies" on trade, despite a good relationship in other areas.
"President Xi is still his friend," he said on the "Fox News Sunday" program.
"But as it relates to financial issues and trade, we have become enemies. We're not making progress," said Mnuchin, who has been helping lead trade talks with China.
'SECOND THOUGHTS ABOUT EVERYTHING'
During his meeting with Johnson on Sunday in France, Trump was asked if he had second thoughts about his latest escalation.
"Yeah, sure. Why not?" he said.
The reporter repeated the question and Trump replied: "Might as well. Might as well."
A second reporter followed up again, asking if he had second thoughts about escalating the trade war with China.
"I have second thoughts about everything," Trump responded.
In addition to his decision to jack up tariffs, Trump said he was ordering U.S. companies to find alternatives to doing business in China and move operations back to the United States.
Mnuchin said Trump would have the authority to order companies out of China under the International Emergency Economic Powers Act if he declared a national emergency.
Trump said he was not considering taking that action at this time, however.
"I could declare a national emergency. I think when they steal and take out, and -- intellectual property theft, anywhere from $300 billion to $500 billion a year, and where we have a total loss of almost a trillion dollars a year ... in many ways, that's an emergency," he said.
"I have no plan right now. Actually, we're getting along very well with China right now. We're talking," Trump said.
Still, Mnuchin and Kudlow said Trump wanted U.S. businesses to start looking to shift investments away from China.
"We want them to be in places where they're trading partners that respect us and trade with us fairly," Mnuchin said, saying U.S. businesses would be better off relying less on China in the event the trade war lasts for a long time.
(Reporting by Jeff Mason in Biarritz; Additional reporting by David Morgan and Ginger Gibson in Washington; Editing by Toby Chopra, Tim Ahmann and Sonya Hepinstall)
This story has not been edited by Firstpost staff and is generated by auto-feed.
Find latest and upcoming tech gadgets online on Tech2 Gadgets. Get technology news, gadgets reviews & ratings. Popular gadgets including laptop, tablet and mobile specifications, features, prices, comparison.
Business
By Howard Schneider WASHINGTON (Reuters) - A rebounding stock market and massive federal aid payments pushed the net worth of U.S. households back to pre-coronavirus levels in the second quarter, the Federal Reserve reported on Monday, with savings accounts and equity portfolios both rising sharply despite the pandemic
Business
By Rodrigo Campos NEW YORK (Reuters) - Stocks across the world hit their lowest in seven weeks and other risk assets sold off on Monday on concerns over renewed lockdown measures in Europe and Britain, as well as the United States' inability to agree on fiscal stimulus that would support millions of unemployed. Oil prices fell nearly 5%, the dollar rallied and an index of emerging market currencies fell by the most in six months. The MSCI world equity index , which tracks shares in 49 countries, touched its lowest since Aug.
Business
By Rodrigo Campos NEW YORK (Reuters) - Stocks across the world hit their lowest in seven weeks and other risk assets also sold off on Monday on concerns over renewed lockdown measures in Europe and Britain, as well as the United States' inability to agree on fiscal stimulus that would support millions of unemployed. Oil prices fell more than 3%, the dollar rose against a basket of peers and an index of emerging market currencies fell by the most in six months. The MSCI world equity index , which tracks shares in 49 countries, ended at its lowest since Aug