Trump has 'very good' trade talks with Europe, keeps tariff threat on table
By Alexandra Alper DAVOS, Switzerland (Reuters) - U.S.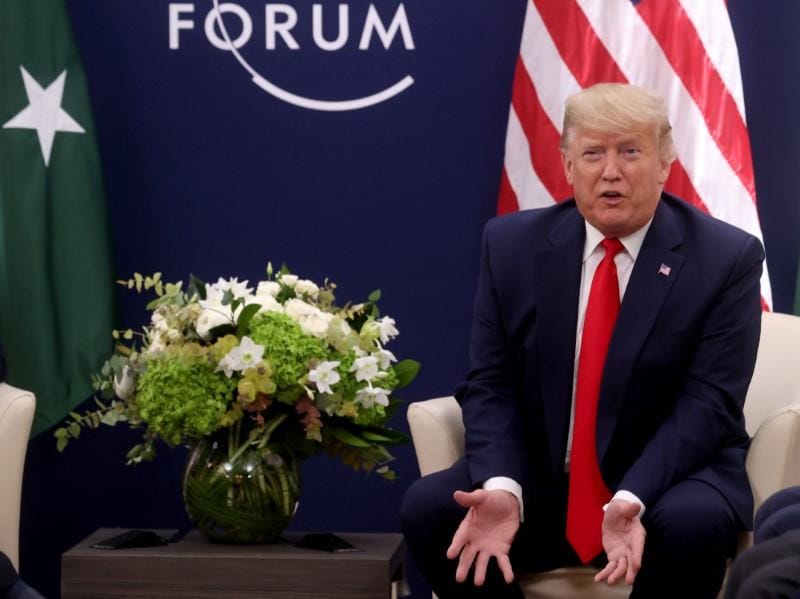 By Alexandra Alper
DAVOS, Switzerland (Reuters) - U.S. President Donald Trump struck a cautiously optimistic tone on trade talks with Europe on Tuesday, but kept the threat of new car tariffs firmly on the table.
Having long accused the European Union (EU) of gaining an unfair trade advantage, Trump has threatened to slap new tariffs on European cars and car parts, a vital export product, particularly for Germany, the euro zone's biggest economy.
After a meeting with European Commission President Ursula von der Leyen in Davos, Trump said he had "very good" talks but maintained that if a deal was not struck, Washington would strongly consider auto tariffs.
"We expect to be able to make a deal with Europe. And if they don't make a deal we'll certainly give that very strong consideration," Trump said on the sidelines of the annual meeting of the World Economic Forum, referring to tariffs.
The United States this month concluded fresh trade deals with China, Mexico and Canada, revising earlier agreements long claimed by Trump to be unfair.
Treasury Secretary Steven Mnuchin said these deals could boost the U.S. economy this year and that growth would outperform projections, including those by the International Monetary Fund.
The White House has repeatedly delayed a decision on whether to impose tariffs of as much as 25% on cars and car parts from Europe, using these threats as leverage in negotiations.
Europe's vast manufacturing sector sank into recession last year, mostly on waning export demand for cars, raising pressure on EU officials to agree to a deal.
"The American people and the European people are good friends, and this is what we're going to build on. And, indeed, we have issues to discuss — and we will negotiate," von der Leyen told Trump.
Trump's threat to put tariffs on a key European export has triggered a strong rebuke from European officials and companies, which are major employers in the EU bloc.
Earlier this month, the Washington Post reported that the Trump administration had threatened to impose a 25% tariff on European automobile imports if Britain, France and Germany did not formally accuse Iran of breaking a 2015 nuclear deal.
(Reporting by Alexandra Alper; Writing by Balazs Koranyi; Editing by Anne Marie Roantree and Alexander Smith)
This story has not been edited by Firstpost staff and is generated by auto-feed.
Business
By Stephen Nellis (Reuters) -Apple Inc on Monday said it will offer the ability to store state-issued identification cards digitally on iPhones and that it is working with the U.S. Transportation Security Administration to accept the digital IDs at airports, one of several updates to the software that runs on its devices. It also showed updates to its FaceTime video chat app, adding the ability to schedule calls with multiple attendees and making the software compatible with Android and Windows devices.
Business
LONDON (Reuters) - The bosses of all airlines flying passenger services between Britain and the United States called on Monday for the countries' governments to relax COVID-19 restrictions to reopen travel routes between the two countries. After more than a year of restrictions, the CEOs of American Airlines, IAG unit British Airways, Delta Air Lines, United Airlines and JetBlue Airways Corp said high vaccination rates in both countries meant travel could restart safely. The push for reopening trans-Atlantic routes on Monday comes ahead of meetings between U.S.
Business
BRUSSELS (Reuters) - The European Union's patience towards Britain over Brexit arrangements in Northern Ireland is wearing thin and the bloc will consider its options should Britain continue its "confrontational path", an EU official said on Monday.