Trump economic adviser says U.S. wants serious trade talks with China
NEW YORK (Reuters) - The United States is ready to negotiate a trade deal with China whenever Beijing is prepared for serious talks that will reduce tariffs and eliminate non-tariff trade barriers, top White House economic adviser Larry Kudlow said on Monday. Kudlow, speaking at the Economic Club of New York, also said China's economic reforms were moving in the wrong direction and that he expected the United States would soon announce tariffs on an additional $200 billion worth of Chinese goods. 'We are ready to negotiate and talk with China any time that they are ready for serious and substantive negotiations towards free trade to reduce tariffs and non-tariff barriers, to open markets, to allow the most competitive economy in the world, ours, to export more and more goods and services to China,' Kudlow said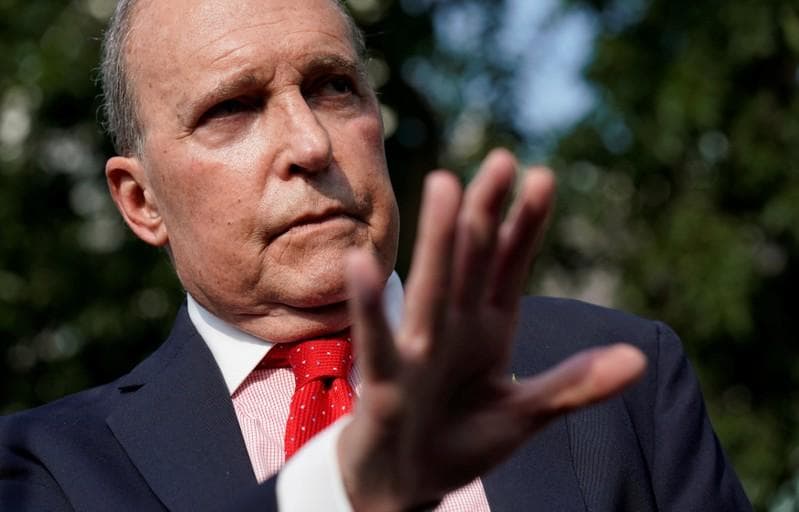 NEW YORK (Reuters) - The United States is ready to negotiate a trade deal with China whenever Beijing is prepared for serious talks that will reduce tariffs and eliminate non-tariff trade barriers, top White House economic adviser Larry Kudlow said on Monday.
Kudlow, speaking at the Economic Club of New York, also said China's economic reforms were moving in the wrong direction and that he expected the United States would soon announce tariffs on an additional $200 billion worth of Chinese goods.
"We are ready to negotiate and talk with China any time that they are ready for serious and substantive negotiations towards free trade to reduce tariffs and non-tariff barriers, to open markets, to allow the most competitive economy in the world, ours, to export more and more goods and services to China," Kudlow said.
Administration officials said on Saturday that President Donald Trump was likely to announce the new tariffs on about $200 billion of Chinese imports as early as Monday.
The tariff level will probably be about 10 percent, the Wall Street Journal reported, quoting people familiar with the matter. That is below the 25 percent the administration said it was considering for this possible round of tariffs.
The upcoming tariffs will be on a list of items that included internet technology products and other electronics, printed circuit boards and consumer goods, including Chinese seafood, furniture and lighting products, tires, chemicals, plastics, bicycles and car seats for babies.
It was unclear if the administration will exempt any of the
products that were on the list, which was announced in July.
(Reporting by Chris Prentice; Writing by David Alexander; Editing by Tim Ahmann and Bill Berkrot)
This story has not been edited by Firstpost staff and is generated by auto-feed.
India
The Pulitzer prize winner, who was in Kandahar covering operations against Taliban, was killed when he was riding along with the Afghan Special Forces
India
Siddiqui had also covered the 2020 Delhi riots, COVID-19 pandemic, Nepal earthquake in 2015 and the protests in Hong Kong
India
Danish's photographs were not just documentation, but the work of someone who went down to eye-level, as they say in photographic parlance.