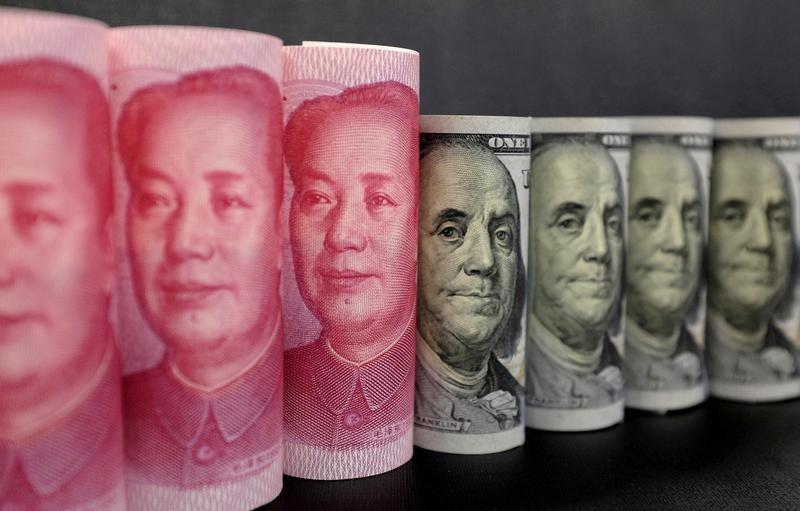 By David Lawder and Steve Holland
WASHINGTON (Reuters) - President Donald Trump said on Thursday that China had become "very spoiled" on trade with the United States and cast doubt on the success of his efforts to rebalance the relationship with Beijing as high-stakes U.S.-China negotiations opened in Washington.
Trump, speaking to reporters at the White House, said China had "ripped off" the United States for too long and that he told Chinese President Xi Jinping that "we just can't do that anymore."
But he praised the efforts of U.S. and Chinese officials to try to rebalance the relationship through trade talks.
"Will that be successful? I tend to doubt it. The reason I doubt it is because China has become very spoiled" with getting its way on trade with the United States, he said.
A second round of talks between senior Trump administration officials and their Chinese counterparts started at the U.S. Treasury on Thursday morning, focused on cutting China's U.S. trade surplus and improving intellectual property protections.
Trump has threatened to impose up to $150 billion in punitive tariffs to combat what he says is Beijing's misappropriation of U.S. technology through joint venture requirements and other policies. Beijing has threatened equal retaliation, including tariffs on some of its largest U.S. imports, including aircraft, soybeans and autos.
White House spokeswoman Sarah Sanders said Trump would meet with the head of the Chinese delegation, Vice Premier Liu He, later on Thursday.
At the Treasury, next door to the White House, there was little outward sign of the negotiations under way in the building. The ornate Cash Room, where a high-profile U.S.-China economic dialogue meeting was held last July, hosted a different event instead.
At trade talks in Beijing two weeks ago, both sides presented lengthy lists of demands, agreeing only to keep talking.
The Trump administration sought a $200 billion reduction in China's $375 billion U.S. goods trade surplus, an end to joint venture requirements that it says coerce technology transfers from American companies and an end to subsidies for advanced technology industries under the "Made in China" 2025 program.
China demanded that Trump relax crushing restrictions imposed on Chinese telecommunications equipment maker ZTE Corp <000063.SZ><0763.HK>, and end restrictions on Chinese investments in the United States and sales of high-technology goods to China.
Trump on Sunday wrote on Twitter he would help put ZTE back in business after a Commerce Department ban cut off its supply of U.S. components, forcing it to suspend operations.
Trump told reporters on Thursday that Xi had asked him to look into the ZTE situation and he agreed to do so, adding that ZTE buys a lot of parts from U.S. companies. "That's a lot of business.
"Anything we do with ZTE, it's just a small component of the overall deal. I can only tell you this: We're going to come out fine with China. Hopefully, China will be happy, I think we'll be happy," Trump said.
Earlier, top White House economic adviser Larry Kudlow told Fox Business Network that the discussion over ZTE was about re-examining the U.S. penalties, not waiving the enforcement action altogether.
CHINA PROPOSAL, TRUMP TEAM RIFT
Kudlow said the White House expected China to bring a proposal to the talks that would "extend the conversation and permit additional negotiations."
Derek Scissors, a China scholar at the American Enterprise Institute in Washington, said he anticipated that Liu would offer a package of increased purchases of American agricultural goods and other products to help reduce China's trade surplus.
"My understanding is that, as of Sunday, he was coming here to say, 'We'll buy more U.S. stuff,'" Scissors said, adding that it was unclear whether the package would include new structural reforms such as opening more Chinese business sectors to foreign investment.
But U.S. receptiveness to such an offer could be affected by a growing rift in the administration between Treasury Secretary Steven Mnuchin and Trump trade adviser Peter Navarro.
Navarro, the White House's harshest China critic, was relegated to a supporting role in recent days, administration officials said. The talks are being led by Mnuchin, Commerce Secretary Wilbur Ross and U.S. Trade Representative Robert Lighthizer.
Navarro, author of the book "Death by China," has been a major advocate of punitive tariffs on Chinese goods, while Mnuchin has favored a pragmatic approach of deals to cut the trade deficit and to open China's economy to U.S. companies.
The Washington talks will start as the U.S. trade representative finishes up public hearings on the first batch of U.S. tariffs on $50 billion worth of Chinese goods proposed as punishment for alleged violations of U.S. intellectual rights.
The tariffs, which target Chinese electrical and machinery parts, autos and flat-screen television sets, could take effect in early June, and may be followed by an additional round targeting $100 billion worth of goods yet to be identified.
(Additional reporting by Steve Holland and Doina Chiacu; Editing by Steve Orlofsky and Jonathan Oatis)
This story has not been edited by Firstpost staff and is generated by auto-feed.
Your guide to the latest election news, analysis, commentary, live updates and schedule for Lok Sabha Elections 2019 on firstpost.com/elections. Follow us on Twitter and Instagram or like our Facebook page for updates from all 543 constituencies for the upcoming general elections.
Updated Date: May 18, 2018 02:05:08 IST