Trump determined to hit China as tit-for-tat tariff war erupts
By David Lawder and Michael Martina WASHINGTON/BEIJING (Reuters) - China has underestimated President Donald Trump's resolve to press ahead with tariffs unless Beijing changes its 'predatory' trade practices, a top U.S. trade advisor said on Tuesday, in comments that undercut the chances of a negotiated settlement to a looming trade war between the world's economic superpowers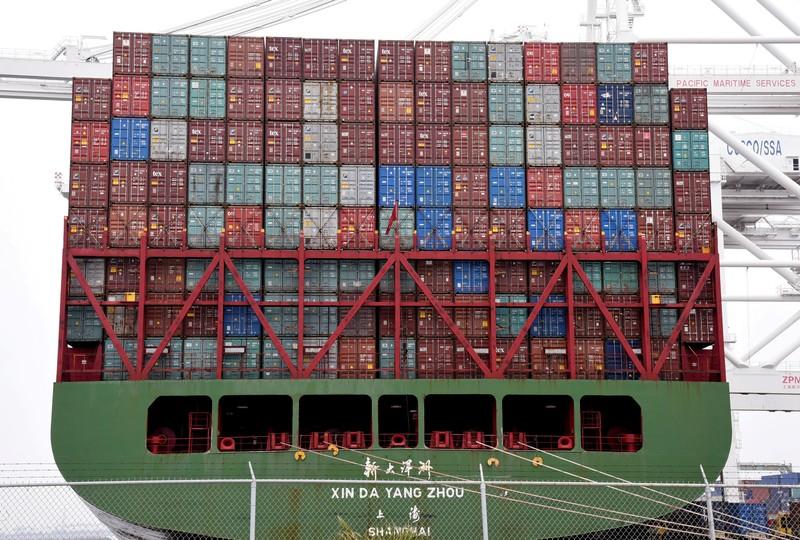 By David Lawder and Michael Martina
WASHINGTON/BEIJING (Reuters) - China has underestimated President Donald Trump's resolve to press ahead with tariffs unless Beijing changes its "predatory" trade practices, a top U.S. trade advisor said on Tuesday, in comments that undercut the chances of a negotiated settlement to a looming trade war between the world's economic superpowers.
The threat of a growing trade conflict with China hit financial markets hard, with Beijing vowing a firm response after Trump on Monday said he would implement tariffs on an additional $200 billion of imports from China if Beijing went ahead with reprisals over an initial set of U.S. tariffs.
White House trade adviser Peter Navarro, a sharp critic of Chinese trade actions, said China has more to lose from any trade war.
"The fundamental reality is that talk is cheap," Navarro told reporters on a conference call, again accusing China of "predatory" trade policies.
"I think that the other side may have underestimated the strong resolve of President Donald J. Trump," Navarro added. "If they thought that they could buy us off cheap with a few extra products sold and allow them to continue to steal our intellectual property and crown jewels, that was a miscalculation."
The threat of new tariffs against China pits the world's two largest economies against each other and looks set to disrupt global supply chains for the tech and auto industries, two sectors that rely heavily on outsourced components.
In total, Trump has now threatened up to $450 billion in Chinese imports with tariffs, including another $200 billion in Chinese goods if Beijing retaliates after the step Trump announced on Monday.
Mounting concerns over the U.S.-China dispute sent global stock markets skidding and weakened both the dollar and the Chinese yuan on Tuesday. Shanghai stocks plunged to two-year lows. The Dow Jones Industrial Average and the S&P 500 also fell along with commodities. U.S. bond yields fell in a flight to safety.
China accused the United States on Tuesday of "extreme pressure and blackmailing" and vowed to retaliate after U.S. Trump threatened to impose a 10 percent tariff on $200 billion of Chinese goods in addition to $50 billion of import duties that had already been announced.
China's commerce ministry said Beijing will fight back with "qualitative" and "quantitative" measures if the United States publishes an additional list of tariffs on Chinese goods.
"The United States has initiated a trade war and violated market regulations, and is harming the interests of not just the people of China and the U.S., but of the world," the ministry said in a statement.
Even as the U.S. trade conflict with China deepens, Trump has raised trade tensions on other fronts. Trump slapped tariffs on steel and aluminum from Canada, Mexico and the European Union, threatened to kill the North American Free Trade Agreement and is studying new tariffs on car imports.
ZTE SHARES
Also caught in the crossfire was Chinese telecoms company ZTE Corp, whose rescue by Trump in a deal with Chinese President Xi Jinping appeared in doubt after a U.S. Senate vote on Monday. ZTE shares were down 10 percent at 11:30 a.m. ET.
U.S. business groups said members were bracing for a backlash that would affect all American firms in China, not just in sectors facing tariffs. Jacob Parker, vice president of China operations at the U.S.-China Business Council in Beijing, said China would "begin looking at other ways to enforce action against U.S companies that are operating in the market."
Some companies have reported Beijing is meeting with Chinese businesses to discuss shifting contracts for U.S. goods and services to suppliers from Europe or Japan, or to local Chinese firms, Parker said.
The intensifying trade dispute threatens to put more pressure on the already cooling Chinese economy. China's central bank unexpectedly injected 200 billion yuan ($31 billion) in medium-term funds into the banking system on Tuesday in a move analysts said reflected concerns about liquidity but also the potential economic drag from a full-blown trade war.
China imported $129.89 billion of U.S. goods last year, while the United States purchased $505.47 billion of Chinese products, according to U.S. data.
Even with tariffs on an additional $200 billion in Chinese goods, the impact on both China's and the U.S. economy is set to be small, most economists say. The risk of contagion comes from financial markets, they believe, as sharp selloffs could hit consumer and business confidence.
($1 = 6.4462 Chinese yuan)
(Reporting by Eric Beech and David Lawder in WASHINGTON; Michael Martina and Ben Blanchard in BEIJING; Additional reporting by Lee Chyen Yee in Singapore and Jeff Mason in WASHINGTON; Editing by Kim Coghill and Will Dunham)
This story has not been edited by Firstpost staff and is generated by auto-feed.
Find latest and upcoming tech gadgets online on Tech2 Gadgets. Get technology news, gadgets reviews & ratings. Popular gadgets including laptop, tablet and mobile specifications, features, prices, comparison.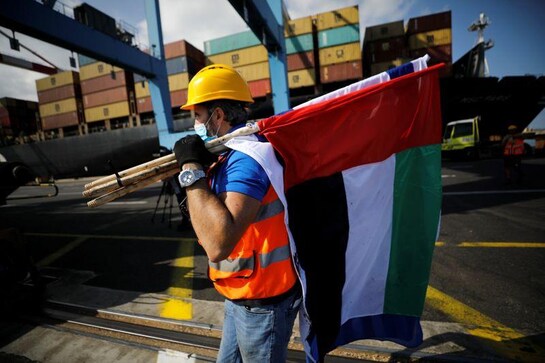 Business
By Rami Amichay HAIFA, Israel (Reuters) - The ship-to-shore crane paused above the cargo ship just arrived from Dubai, then set its load down on the pier in Israel.
Business
By Noor Zainab Hussain, Carolyn Cohn and Ludwig Burger LONDON/FRANKFURT (Reuters) - The world is racing towards a vaccine in record time, stirring public concerns about safety to the extent that nine leading developers have felt compelled to issue a pledge to uphold scientific standards and testing rigour. Yet, while more than 40 experimental COVID-19 vaccines are being tested on humans, the insurance companies with decades of experience in assessing the risks of clinical trials don't see anything to be unduly concerned about.
Business
By Huw Jones LONDON (Reuters) - The European Union's securities watchdog said it expects to make a statement soon on where shares listed in the bloc must be traded after Britain's full departure from the European Union in December.