Trump again hits Fed on rate rises; says U.S. firms present buying opportunity
WASHINGTON (Reuters) - President Donald Trump on Tuesday reiterated that the U.S.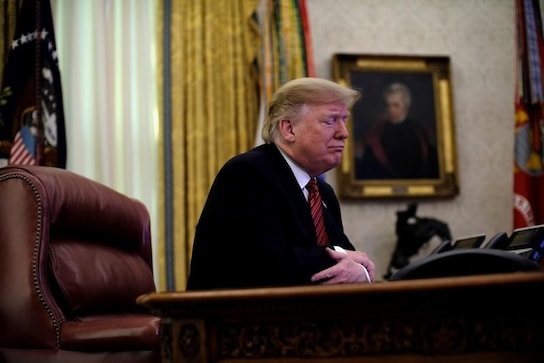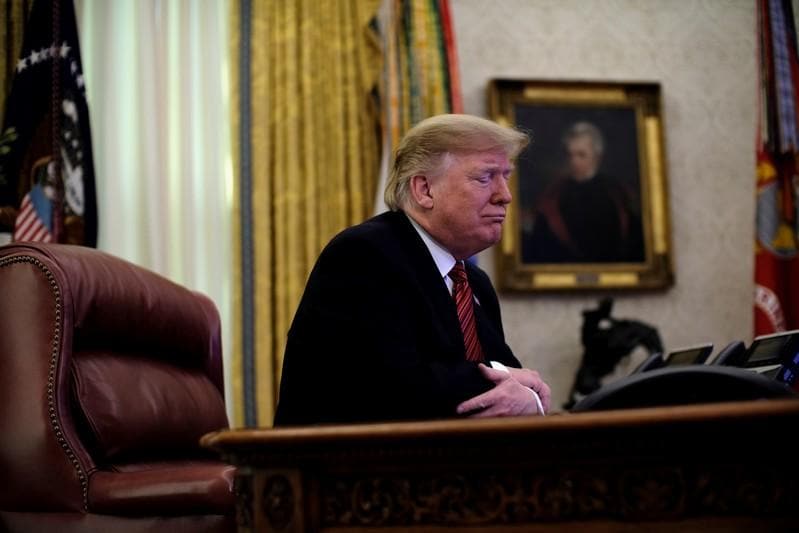 WASHINGTON (Reuters) - President Donald Trump on Tuesday reiterated that the U.S. Federal Reserve was raising interest rates too quickly but added that U.S. companies were "the greatest in the world" and presented a "tremendous" buying opportunity for investors.
"They're raising interest rates too fast because they think the economy is so good. But I think that they will get it pretty soon," Trump told reporters in the Oval Office, referring to the U.S. central bank.
"I have great confidence in our companies. We have companies, the greatest in the world, and they're doing really well. They have record kinds of numbers. So I think it's a tremendous opportunity to buy," Trump said after speaking with U.S. troops deployed abroad via video conference.
U.S. stocks have dropped sharply in recent weeks on concerns over weaker economic growth. Trump has largely laid the blame for economic headwinds on the Fed, openly criticizing its chairman, Jerome Powell, whom he appointed.
Media reports have suggested Trump has gone as far as discussing firing Powell, and he told Reuters in August that he was "not thrilled" with the chairman.
On Monday, Trump said "The only problem our economy has is the Fed."
All three major U.S. stock indexes ended down more than 2 percent on the day before the Christmas holiday. The S&P 500 has lost about 19.8 percent from its Sept. 20 closing high, just shy of the 20 percent threshold that commonly defines a bear market.
The Fed hiked interest rates again last week, as had been widely expected.
Treasury Secretary Steven Mnuchin on Monday hosted a call with the president's Working Group on Financial Markets, a body known colloquially as the "Plunge Protection team," which normally convenes only during times of heavy market volatility.
But the call did more to rattle markets than to assure them. Regulators on the call said they were not seeing anything out of the ordinary in financial markets during the recent selloff, according to two sources familiar with the matter.
(Reporting by Makini Brice; Writing by Humeyra Pamuk; Editing by Dan Grebler)
This story has not been edited by Firstpost staff and is generated by auto-feed.
Find latest and upcoming tech gadgets online on Tech2 Gadgets. Get technology news, gadgets reviews & ratings. Popular gadgets including laptop, tablet and mobile specifications, features, prices, comparison.
World
OTTAWA (Reuters) - Canadian Prime Minister Justin Trudeau on Friday said he will continue to stand up against China's "coercive diplomacy" and its human rights abuses in Hong Kong and Xinjiang after being rebuked by Beijing for similar comments earlier this week. "We will stand up loudly and clearly for human rights all around the world, whether it is talking about the situation faced by the Uighurs, whether it is talking about the very concerning situation in Hong Kong, whether it's calling out China for its coercive diplomacy," Trudeau said in a news conference. (Reporting by Steve Scherer and Julie Gordon, Editing by Franklin Paul)
World
By Caroline Pailliez PARIS (Reuters) - Solene Tissot, a 19-year-old student in Paris, will obey the curfew imposed to fight COVID-19, but she has one request for her country's leaders: don't blame young people for the second wave of the virus. "There's been this kind of assigning guilt to young people," she said on Friday, hours before the new curfew was to come into force in Paris and major French cities. "I reject that." After a lull over the summer, the rates of transmission of coronavirus are going up in many parts of Europe and officials have identified social interactions between young people as a source of the resurgence.
World
By Adrian Portugal and Eloisa Lopez MANILA (Reuters) - Jailed Philippine activist Reina Mae Nasino wanted to hold her three-month-old daughter for the last time before she was laid to rest on Friday but she could not. Heavily armed prison officials guarding her refused to uncuff her despite pleas from her family and human rights supporters, who have decried what they described as inhumane treatment of Nasino and other mothers in Philippine jails.