Trouble for govt: Coal strike stops output at over 60% mines; unions want PM to step in
The 5-day strike call has been given by all five leading trade unions of the country, including the BJP-backed Bharatiya Mazdoor Sangh (BMS)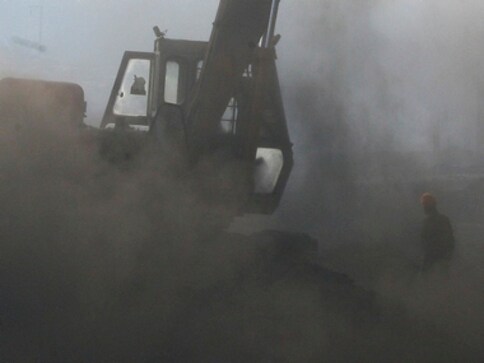 Kolkata/New Delhi - Coal industry employees across the country yesterday went on a five-day strike, halting production at over 60 percent of state-run Coal India units that may also severely hit fuel supply to power plants, while talks failed late tonight to end the industrial action.
The government officials held hours-long negotiations with union representatives, but failed to convince them to call off the strike, which is being billed as the biggest industrial action since 1977.
Claiming that over 5 lakh coal industry workers across the country have gone off-work, the union leaders said they are open to negotiations at 'political' level, including with Prime Minister Narendra Modi and Coal Minister Piyush Goyal.
On its first day itself, the strike is estimated to have caused production losses to the tune of Rs 70 crore in first two shifts yesterday, officials told PTI.
The strike call has been given by all five leading trade unions of the country, including the BJP-backed Bharatiya Mazdoor Sangh (BMS).
The industrial action is in protest against 'disinvestment and restructuring of state-run Coal India' and to press for demands including the roll-back of what they call as "process of denationalising of coal sector".
The Labour Ministry said in a statement that the strike has affected the working of CIL and its subsidiaries, as also the mines of Singareni Collieries Co Ltd.
The strike, joined by all five major trade unions - BMS, INTUC, AITUC, CITU and HMS -- is likely to affect production of up to 1.5 million tonnes (MT) of the dry-fuel per day besides fuel supply to power plants which are already grappling with fuel shortages.
Coming out of late-night talks, INTUC Secretary General S Q Zama told PTI, "Negotiations at the secretary-level have failed, but we are open for discussions at political level, at the level of Prime Minister or Coal Minister.
"We did our best to arrive at an amicable solution, but the (Coal) Secretary has his own limitations. Around five lakh workers, including 3.5 lakh from CIL, are on strike."
CIL Chairman Sutirtha Bhattacharya, who assumed charge yesterday itself, said that he was hopeful that the situation would be resolved in an amicable manner.
According to a senior official, "Out of 438 units of CIL, 271 have been completely impacted by the strike. There is only partial production from 57 units. The PSU had suffered losses to the tune of Rs 35 crore in the first shift itself."
According to union leaders, the strike was being observed by almost all employees of CIL and around 70-80 percent of SCCL (Singareni Collieries Company Ltd) workers, while 5-10 percent of staff engaged in essential services like water supply were working at some CIL subsidiaries.
All India Coal Workers Federation leader Jibon Roy claimed that about 7 lakh workers have joined the strike.
CIL, which accounts for over 80 per cent of domestic coal production, itself has a workforce of about 3.5 lakh.
The trade unions had boycotted the earlier two meetings called by the government.
To face emergency situation, CIL has sought 20 additional rakes from Railways for supply of coal, while normally about 200 rakes are supplied a day on an average.
The company has stepped up supplies to power plants to tide over the likely disruption of supplies due to the strike.
All five major trade unions of the coal PSU had boycotted a meeting called by Coal Minister Piyush Goyal last week.
Meanwhile, electricity workers' union EEFI has also extended its support to the strike call.
Separately, employee unions had called for a one-day strike at public sector banks tomorrow, to be followed by another four-day strike later this month but deferred their action after talks between employee and management representatives earlier this evening.
Besides, petrol pump owners in Rajasthan will go on a single-day strike tomorrow to press for rollback of recent hike in VAT on petrol.
PTI
Explainers
Purnesh Modi is a BJP MLA and ex-Gujarat minister. The 57-year-old, who, joined the BJP in 1984, has held several positions within the party including its Surat city chief. Purnesh was in December 2022 among a slew of big names dropped from the Bhupendra Patel cabinet
World
Kishida will meet Prime Minister Narendra Modi and also deliver a speech on Japan's Indo-Pacific strategy and its new defence posture. Fifteen years ago PM Shinzo Abe first spoke about Indo-Pacific cooperation during his visit to Delhi