Timeline: Trump aims to end half century of California regulating car pollution
(Reuters) - The Trump administration said on Thursday it was revoking California's power to set its own fuel efficiency laws, a move that could lead to legal battles over environmental policy issues that will affect the auto industry and consumers. Here is a snapshot of California's history of setting car pollution rules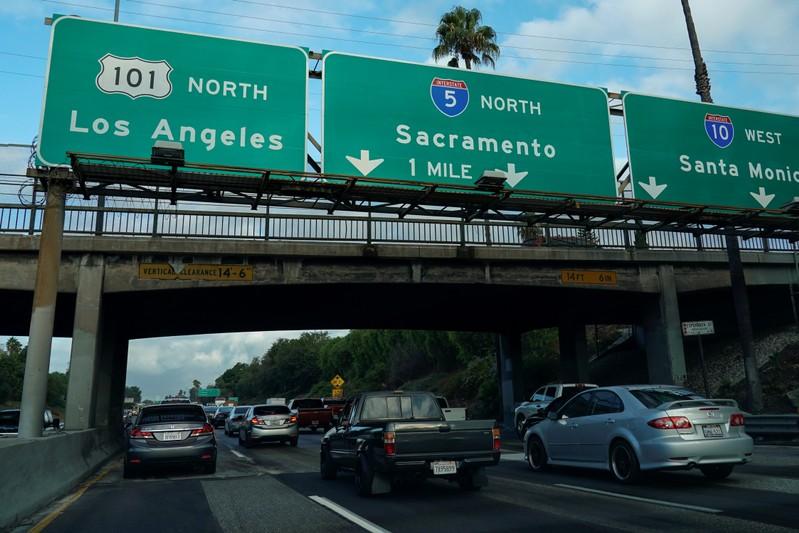 (Reuters) - The Trump administration said on Thursday it was revoking California's power to set its own fuel efficiency laws, a move that could lead to legal battles over environmental policy issues that will affect the auto industry and consumers.
Here is a snapshot of California's history of setting car pollution rules.
1966/67 - California sets the first U.S. rules for car pollution, or tailpipe emissions, after scientists reveal cars causing smog. U.S. Federal Air Quality Act allows California to set emissions standards more stringent than federal levels.
2000s - California adds greenhouse gas emissions to pollutants it regulates for vehicles. Other states follow California.
June 2009 - The Obama administration approves an Environmental Protection Agency waiver, allowing the state to set its own standards for fuel emissions, stricter than the federal limit on fuel efficiency.
August 2018 - The Trump administration proposes a roll-back on the Obama-era fuel efficiency standards, particularly looking to strip California of its power to set its own standard.
July 2019 - California reached an agreement with Ford Motor Co, BMW AG, Volkswagen AG and Honda Motor Co Ltd on fuel efficiency, a deal that bypasses the federal government's attempt to strip California's power.
September 2019 - Trump administration confirms that the Environmental Protection Agency, a federal pollution regulator, will revoke California's power to set its own standards for fuel efficiency.
Source: Government websites, Reuters data
(Reporting by Neha Malara in Bengaluru; Editing by Maju Samuel)
This story has not been edited by Firstpost staff and is generated by auto-feed.
Find latest and upcoming tech gadgets online on Tech2 Gadgets. Get technology news, gadgets reviews & ratings. Popular gadgets including laptop, tablet and mobile specifications, features, prices, comparison.
World
By Tim Hepher and David Ljunggren PARIS/OTTAWA (Reuters) - France said on Friday it would download the black boxes from a Ukrainian airliner downed by an Iranian missile in January, easing a stand-off over where they should be read. France's BEA crash investigation agency said it was acting at the request of Iran, which remains responsible under global rules for conducting a formal accident probe after acknowledging that the Boeing 737 was downed by its forces
World
By Brad Brooks LUBBOCK, Texas (Reuters) - With new coronavirus cases surging in Texas and Florida, officials in both states on Friday ordered bars to close again and imposed tighter restrictions on restaurants, setting back efforts to reopen their economies. Governor Greg Abbott gave bars in Texas until midday Friday to shut, while Florida's Department of Business and Professional Regulation told bars to immediately stop serving alcohol on their premises
World
By Patricia Zengerle WASHINGTON (Reuters) - The U.S. Senate passed legislation on Thursday that would impose mandatory sanctions on people or companies that back efforts by China to restrict Hong Kong's autonomy, pushing back against Beijing's new security law for the city. The measure also includes secondary sanctions on banks that do business with anyone found to be backing any crackdown on the territory's autonomy, potentially cutting them off from American counterparts and limiting access to U.S.