Timeline: Trump aims to end half century of California regulating car pollution
(Reuters) - The Trump administration said on Thursday it was revoking California's power to set its own fuel efficiency laws, a move that could lead to legal battles over environmental policy issues that will affect the auto industry and consumers. Here is a snapshot of California's history of setting car pollution rules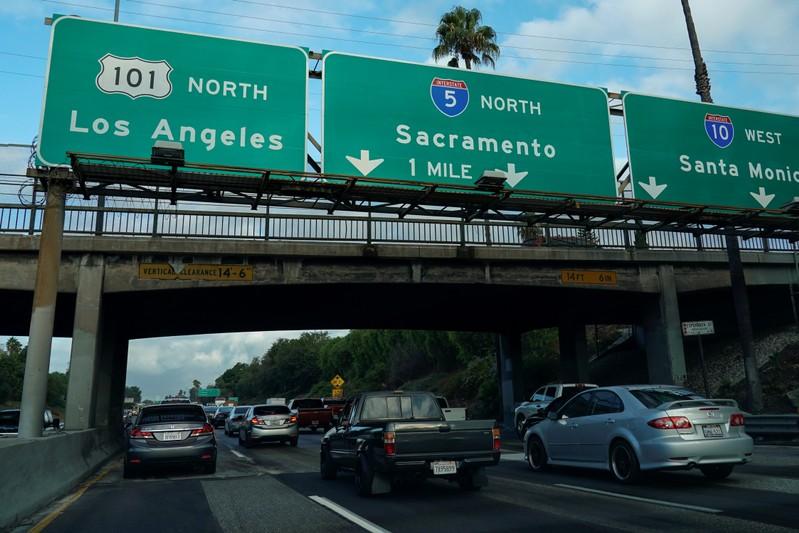 (Reuters) - The Trump administration said on Thursday it was revoking California's power to set its own fuel efficiency laws, a move that could lead to legal battles over environmental policy issues that will affect the auto industry and consumers.
Here is a snapshot of California's history of setting car pollution rules.
1966/67 - California sets the first U.S. rules for car pollution, or tailpipe emissions, after scientists reveal cars causing smog. U.S. Federal Air Quality Act allows California to set emissions standards more stringent than federal levels.
2000s - California adds greenhouse gas emissions to pollutants it regulates for vehicles. Other states follow California.
June 2009 - The Obama administration approves an Environmental Protection Agency waiver, allowing the state to set its own standards for fuel emissions, stricter than the federal limit on fuel efficiency.
August 2018 - The Trump administration proposes a roll-back on the Obama-era fuel efficiency standards, particularly looking to strip California of its power to set its own standard.
July 2019 - California reached an agreement with Ford Motor Co, BMW AG, Volkswagen AG and Honda Motor Co Ltd on fuel efficiency, a deal that bypasses the federal government's attempt to strip California's power.
September 2019 - Trump administration confirms that the Environmental Protection Agency, a federal pollution regulator, will revoke California's power to set its own standards for fuel efficiency.
Source: Government websites, Reuters data
(Reporting by Neha Malara in Bengaluru; Editing by Maju Samuel)
This story has not been edited by Firstpost staff and is generated by auto-feed.
World
BAGHDAD (Reuters) - Rockets hit near U.S. forces and contractors in Iraq on Wednesday, including an air base north of Baghdad and a military base at Baghdad International Airport, the Iraqi army and security officials said. The army reported at least three rockets hit Balad air base, where U.S
World
By Silvia Ognibene and Silvia Aloisi FLORENCE, Italy (Reuters) -Italian police have arrested a Chinese couple accused of running a leather goods business which exploited immigrant workers it employed to make handbags for a Burberry supplier, according to an arrest warrant seen by Reuters. Tax police in Florence said in a statement that the two Chinese nationals were arrested on Wednesday as part of an investigation into alleged labour exploitation and tax fraud and that restrictive measures had been imposed on two other family members, including a ban on them leaving Italy
World
WASHINGTON (Reuters) - The United States on Wednesday blacklisted four Nicaraguans, including a daughter of President Daniel Ortega, as Washington warned it would continue to use diplomatic and economic tools against members of the leftist government engaged in repression. The U.S. State Department called on Ortega to release detained presidential candidates as well as other civil society and opposition leaders arrested over the past week in what Washington called "an increasing wave of repression." "There are costs for those who are complicit in the regime's repression.