Tibetans in exile are trying their hand at entrepreneurship; hope that startups will help preserve culture, heritage
Living away from their homeland, Tibetan entrepreneurs are keen to preserve their cultural heritage, and this is the focus of their startups.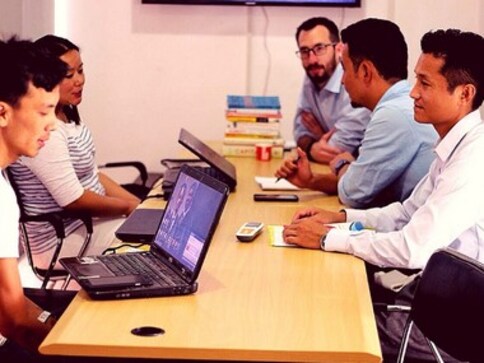 As a youngster growing up in Karnataka, Tenzin Righten, a Tibetan settler, was used to home-cooked Tibetan food. But he soon realised that this privilege of eating Tibetan fare was available only when he visited relatives and friends' homes in the community. Therefore, Righten decided to get into the food business and start a restaurant selling Tibetan food. He took a course in Catering Development Technology and Culinary Art from the Culinary Academy of India, in Hyderabad. Acquiring a formal education was one thing. Finding the right location for his restaurant proved to be a herculean task. "I spent a year looking for the right location that could make Tibetan delicacies available to food lovers in Hyderabad, but did not find the right ingredients to rustle that recipe," he said.
It was during this 'trying out period' that Righten decided to try his luck with the Tibetan Entrepreneurship programme. He shot off an application and was selected. Righten said the entrepreneurship programme fuelled a plan to shift base to Bengaluru, where he opened his retaturant, Tenzin Kitchen, in June 2016, which specialises in Tibetan, Bhutanese, and Chinese food. "I did not not seek any financial support, besides the two lakh rupees I received as seed fund from the Tibetan government in exile," he told Firstpost. Over time, Righten roped in two close friends as partners.
Tenzin Kitchen is expected to break even this year. The 26-year-old has chalked out expansion plans that include setting up a second outlet in Bengaluru.
Another graduate of the entrepreneurship programme trimmed his dream of selling clothes internationally, decided to sell to locals, and, is thriving. Jampa Tendar, who graduated from the Tibetan Entrepreneurship Development Initiative (TEDi) in 2016, founded Keraa Fashions with two partners in 2015. He said the TEDi opened a world of opportunities for him. "The Jindal Centre for Social Innovation & Entrepreneurship (JSiE), which hosts TEDi, not only fine-tuned my business acumen but also helped me upscale the business."
Keraa Fashions focuses on Tibetan fashion by emphasising on conventional design and the aesthetics of Tibetan clothing. As a student in Mussorie, Tendar was privy to Tibetan monasteries in the Himalayan region. He said he realised there was a clear need for a one-stop shop for Tibetan clothes and accessories for monks and fellow Tibetan residents across settlements. "This business opportunity lingered on my mind since then. Instead of giving-way to the conventional job hunt, I wanted to start my own venture and Keraa happened at just the right time."
The 28-year-old started Keraa with an initial investment of Rs 3 lakhs -- he sold his bike for Rs 1 lakh. His co-founders Yeshi Paljor and Lhamo Tashi pooled in Rs 1 lakh each. "We plan to expand and open one more store in a Tibetan settlement near Karnataka. To promote cross-selling and brand outreach, we are also exploring opportunities to tie-up with fellow modern fashion-wear brands in cities like Delhi, Pune and Hyderabad and place our products in their stores," he said.
Entrepreneurship programme for Tibetans in exile
In a bid to encourage entrepreneurship among Tibetan settlers in India, the TEDi, part of a so-called Social and Resource Development Fund (SARD), under the Department of Finance, Central Tibetan Administration, was set up in 2013. The main objective of the initiative is to promote entrepreneurship within the Tibetan community, to foster long-term economic sustainability and self-reliance in the Tibetan diaspora. JSiE and TEDi host a residential pre-incubation programme. Six aspiring and early-stage entrepreneurs are selected from applicants. They camp at the Jindal Global University, in Haryana, for five weeks and participate in workshops, during which period they are mentored. The University has groomed four batches and 14 Tibetans have received training through the programme. The next batch will commence in May.
The pre-incubation programme helps businesses fine-tune their modus operandi so as to reach new customers and markets. The programme supports 10 Tibetan entrepreneurs a year, providing them end-to-end support at all stages of business development. The entrepreneurs are also granted a one-time seed fund of Rs two lakh.
Explaining the programme, Jeremy Wade, Founding Director, Jindal Centre for Social Innovation and Entrepreneurship, OP Jindal Global University , said the programme covers all 39 Tibetan settlements across India and focuses on four key imperatives for budding entrepreneurs -- pre-incubation training; business registration support; seed funding and mentorship.
Away from their homeland, Tibetan entrepreneurs are keen to to preserve their cultural heritage. "Tibetan entrepreneurs can create significant economic and social impact in their communities. Supporting them helps create an economically self-reliant Tibetan community in India, and in turn, helps preserve the unique and compassion-based Tibetan cultural heritage," Wade told Firstpost.
Business
Entrepreneur First has set up similar programs in Singapore and Hong Kong in Asia and India is the third location.
News & Analysis
The feature is not just limited for career advancements, but also for college students, on DIY pages.
Business
Behind the visual distinctiveness of Majnu Ka Tilla lies the story of hundreds of bamboo shacks, tarpaulin roofs and 'Chang', the Tibetan barley wine