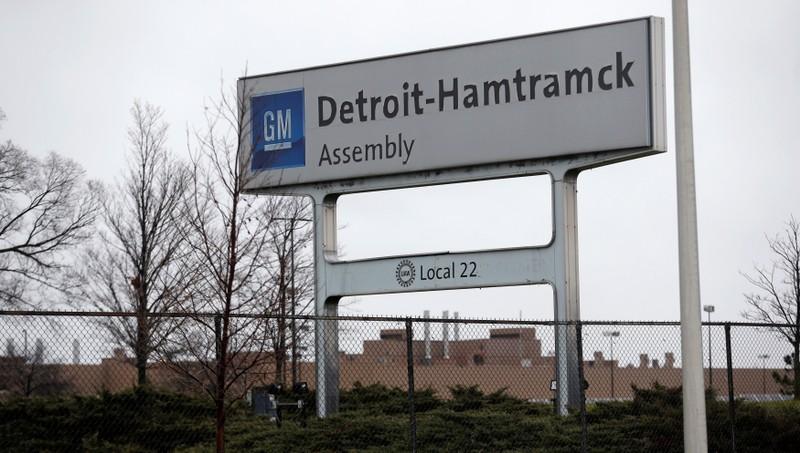 By David Shepardson and Nick Carey
WASHINGTON/DETROIT (Reuters) - General Motors Co on Monday pulled the plug on the Chevrolet Volt hybrid and the Detroit-Hamtramck Assembly plant that builds it, both examples of a costly gamble that is not paying off.
GM's widely touted factory of the future, forced on a town desperate for jobs and hailed decades later by former President Barack Obama, is set to wind down over the next few years, leaving beleaguered Hamtramck wondering what happened.
Detroit Mayor Mike Duggan said at a news conference Monday that he told GM chief executive Mary Barra Monday that "we moved thousands of people out of that neighbourhood ... to create that assembly plant and I felt that the city of Detroit deserved more consideration."
The Detroit-Hamtramck plant stands on 465 acres of land that was once a neighbourhood known as "Poletown."
In 1981, the Michigan Supreme Court approved a decision to allow Detroit to tear down up to 1,500 homes, more than 140 businesses, a hospital and six churches to build the $500 million plant. The Detroit News reported 4,200 people lost their homes as a result.
GM convinced officials in the cities of Detroit and Hamtramck, the state of Michigan - and ultimately the state's highest court - to use eminent domain, a controversial process in which government seizes private land.
Karen Majewski, the mayor of Hamtramck, told Reuters that the GM plant is one of the largest contributors to local property taxes. Empty, she worried the factory will discourage other investments.
"They destroyed homes and churches and local businesses, all to build that plant," Majewski said. "Now that the plant is going to close, people will wonder why that neighbourhood had to be sacrificed in the first place."
COSTLY ECONOMIC DEVELOPMENT GAMBLE
For years after it opened, the Detroit-Hamtramck plant struggled, building one generation of slow-selling models after another.
The precedent the project set also took a blow. In 2004, the Michigan Supreme Court reversed its earlier decision allowing the taking of homes, calling it "a radical departure from fundamental constitutional principles and over a century of this court's eminent domain jurisprudence." The court said it was acting to "protect the people's property rights, and preserve the legitimacy of the judicial branch as the expositor-not creator-of fundamental law."
GM tried to revive the Hamtramck plant in 2008, as it neared financial collapse, by giving it the Chevrolet Volt plug-in hybrid car to build. GM touted the Volt as a symbol of its technological promise, and a reason for the government to step in and rescue the company.
In 2010, then U.S. President Barack Obama visited the plant and even drove a Volt for about 10 feet. Some Republicans and conservative critics pilloried the Volt as the "Obama car."
In the years after the federal bailout of GM, gas prices fell and the Volt did not hit GM's ambitious sales targets. U.S. Volt sales are down 14 percent for the year through October to just 14,897 cars - about one-third the number of Chevrolet Silverado pickups GM sells in a month. Since 2010, GM has sold about 150,000 Volts - about half the capacity of a typical car plant running at full speed.
GM on Monday did not definitively say the Hamtramck plant will be closed but instead called the factory "unallocated," meaning it has no products to build after 2019.
It is possible GM could reach an agreement with the local union to put a vehicle in the plant in talks next year.
(Reporting by David Shepardson; Editing by Nick Zieminski)
This story has not been edited by Firstpost staff and is generated by auto-feed.
Firstpost is now on WhatsApp. For the latest analysis, commentary and news updates, sign up for our WhatsApp services. Just go to Firstpost.com/Whatsapp and hit the Subscribe button.
Updated Date: Nov 27, 2018 04:05:09 IST