There are regrets about not having spent time with family, but I will make up for it now, says Naina Lal Kidwai
Naina Lal Kidwai, chairperson, HSBC India will retire in December after 13-year stint with the bank that she joined first as Vice Chairperson.
Naina Lal Kidwai, chairperson, HSBC India will retire in December after a 13-year stint with the bank that she joined first as Vice Chairperson and Managing Director HSBC Securities and Capital Markets, India before being appointed Group General Manager of the Bank in 2006.
In an exclusive interview with Firstpost, Ms Kidwai shared her thoughts on retirement and her plans for an active life post-retirement.
Excerpts from the interview:
Have you been planning your retirement for some time now?
Retirement has been on the calendar for a few years now. In a sector like where I work, we know a few years before when this will happen. I have been thinking about it for a long time now. The age for retirement is 58 and I completed that in April this year. But the Board wanted me to continue till December. In that sense, it is past my retirement age when I retire in December!
I am not retiring from active duty. I will continue working at the Nestle Board and a few other Boards, which I will disclose in due time.
I am looking forward to my retirement with a sense of excitement as I will now have more time to spend in the not-for-profit sector. My retirement gives me a chance to engage with initiatives in a far more in-depth manner than I have been able to do so far.
What are your plans post retirement?
There are three initiatives that I am closely involved with: Women's empowerment, sanitation and water. I would like to work in the space for women in corporate India. I recently worked on a book aimed at women in the corporate sector. In FICCI, we have started a Water Mission for which we have got support from the government.  I would like to find agencies like the World Bank and corporates who are interested in the sector. I would also like to work with the new CSR (corporate social responsibility) norms to understand how we can work more efficiently in this area.
In the case of sanitation, we are working with NGOs like the Gates Foundation, Water.org among others, and also with several Indian NGOs who are engaged in the sector, besides other players.
I plan to work more on energy efficiency with Global Commission for the Economy and Climate – a global group on energy efficiency. In fact 20 of us –a diverse group of policymakers, business leaders, researchers and others – met with Pope Francis early this year on the issue of environment.
What was your impression of Pope Francis?
He is a very kind man who is engaged with issues that concern the environment. He shook hands with us and walked with us. I took some rosaries with me to have it blessed by him for family and friends. I found him very down to earth. No wonder he is referred to as the People's Pope.
Was excellence a quality that was instilled in you as a child?
My parents inculcated values in my sister and me and encouraged us to be the best in whatever we did. That helped us both excel at what we were passionate about. My sister[Nonita Lal Qureshi] is the country's greatest living golfer.
Did you ever imagine a trail blazing brilliant career for yourself as it turned out to be?
Those are kind words! When you are starting out and making decisions, you do not realise how path breaking they are then. For every move you make, you look over the parapet. Things never sit out as clearly as they seem to when you look at them years later. I am happy to have reached where I have in my career. I have had many offers to go offshore, but I am very happy that I chose to be in India. I have no regrets about that. I was very fortunate to have got the roles that I did at the places that I worked.
What would you consider milestones in your career?
I think the early milestones are more important than what you achieve later because the former is so much harder to reach. I became head of Investment Bank at ANZ Grindlays in 1989 when I was only seven years into the bank and was under 30 years of age. To become the Head at that age was a matter of delight. It established a level of leadership in my career and helped me thereon to get leadership roles in Grindlays and other organisations. Having said that, I must say that none of this would have been possible without the support and help of the many people with whom I worked.
What are the three things you would advise youngsters who want to emulate you?
At the outset, I would say that it is important to enjoy what you do. That goes for any career path that you choose. You have to be passionate about what you do. Unless you are passionate, you will never give your work your best and won't be engaged with it.
Second, the speed at which change is happening is only getting faster. There is a Sanskrit saying by Maha Sthavira Sangharakshita, To know what you do not know is perennial learning. That process of learning is needed for one's career path.
Third, a career is also about personal relationships. Surround yourself with the best team, the best colleagues and dynamic people. They will bring great ideas to the table and as a leader your role is to encourage it.
Are there any regrets about things you could not do as you climbed up the rungs of the career ladder?
Yes, there are some regrets in the area of work-life balance. For the time I could not spend with the family. I could not be with my father when he was ill as I was in Mumbai then. There are moments when I feel I could have spent more time with my husband and daughter. However, these are decisions I chose to make. I hope I can make up for some of them when I retire.
You had mentioned in an interview a few years ago after being promoted as Chairperson of HSBC India, that your husband's reaction to that would be to say you would become `insufferable'. What are his thoughts now on your retirement?
(laughs) Well, he has asked me to promise that I am not going to be around much in the house after retirement and to be busy as I always am! However, I hope to have a little more time with him after retirement. I am happy about that and am looking forward to it. I hope he does too!

Are there any hobbies you would like to indulge in after December?
Yes. It is going to be possible for all that as I will have time to do what I want to do.  I hope to get back to reading a lot more than I could earlier and read more than business journals and books. There are some authors I have been planning to read like Amitav Ghosh and Ramchandra Guha. There are many books on vision of India that I plan to read and also on topics such as water and environment technology. I plan to go back to classical music – Indian and western. I enjoy going to the theatre. As a family we visit a number of wildlife reserves on short breaks through the year. I hope we can have longer trips now.
Will you miss work?
I won't miss my schedule-packed days. What I will miss though are the colleagues in this fine organisation and what they have done for me. My regrets will be to leave them behind. I will find other colleagues in the new areas I will work. Hopefully, I can pull some of my old colleagues to the new areas I will be working.
World
Authorities around the world are on high alert for the fallout from the recent turmoil at banks following the collapse of SVB and Signature Bank in the US and the emergency takeover of Credit Suisse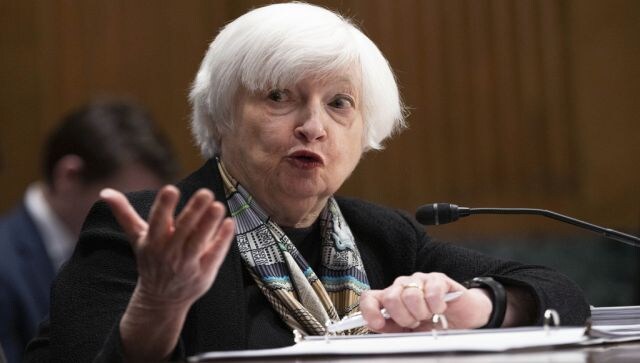 World
Stock markets extended gains with US and European indices closing higher as fears of a financial crisis eased, after the US Federal Reserve and other major central banks kicked off a coordinated effort this week to boost lenders' access to liquidity
World
The 40 branches of Signature Bank will become Flagstar Bank, starting Monday. Flagstar is one of New York Community Bank's subsidiaries