Tesla's Elon Musk reaches deal with SEC over Twitter use
NEW YORK (Reuters) - Tesla Inc Chief Executive Elon Musk has reached a deal with the U.S. Securities and Exchange Commission to settle a dispute over Musk's use of Twitter, according to a court filing on Friday.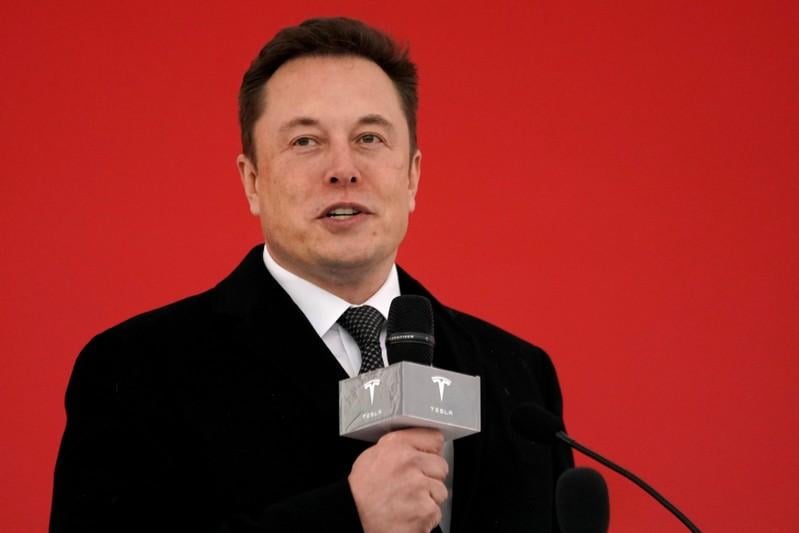 NEW YORK (Reuters) - Tesla Inc Chief Executive Elon Musk has reached a deal with the U.S. Securities and Exchange Commission to settle a dispute over Musk's use of Twitter, according to a court filing on Friday.
Musk has agreed to submit public statements about the company's finances to vetting by its legal counsel, the filing said.
If it is approved by a judge, the deal means the Tesla founder no longer faces the prospect of being held in contempt for violating an earlier settlement with the agency that required him to submit any of his public statements that would be material to investors for prior review.
The new agreement, disclosed in a filing in Manhattan federal court, lays out in more detail exactly what kinds of statements must be reviewed.
Shares of Tesla rose 1.4 percent to $238.50 in after hours trading following disclosure of the agreement, which lifts a cloud that has hung over Musk as Tesla tries to ramp up production of its most important vehicle, the Model 3 sedan, and make a profit at the same time.
The SEC sued Musk last year after he tweeted on Aug. 7 that he had "funding secured" to take Tesla private at $420 per share. The agency said the tweet, which sent the electric automaker's share price up as much as 13.3 percent, violated securities laws. Musk's privatisation plan was at best in an early stage and financing was not in place.
Musk settled the lawsuit, agreeing to step down as chairman and have the company's lawyers pre-approve written communications, including tweets with material information about the company.
In February, the SEC accused Musk of violating that settlement by sending a tweet about Tesla's production that had not been vetted by the company's attorneys, and asked U.S. District Judge Alison Nathan in Manhattan to hold him in contempt.
Musk's lawyers have argued that the tweet did not contain new information that was material to investors, and that Musk did not need pre-approval for all tweets about Tesla under the settlement.
At an April 4 court hearing, a lawyer for the SEC said that if Musk were found in contempt, the agency would ask the judge to require him to submit regular reports about his Twitter use, and to pay a series of progressively higher fines for any future violations.
Nathan declined to rule on the contempt motion at the hearing, instead ordering Musk and Tesla to meet and try to resolve the dispute on their own.
(Reporting by Brendan Pierson in New York; Editing by Chris Reese and Rosalba O'Brien)
This story has not been edited by Firstpost staff and is generated by auto-feed.
World
BAGHDAD (Reuters) - Rockets hit near U.S. forces and contractors in Iraq on Wednesday, including an air base north of Baghdad and a military base at Baghdad International Airport, the Iraqi army and security officials said. The army reported at least three rockets hit Balad air base, where U.S
World
By Silvia Ognibene and Silvia Aloisi FLORENCE, Italy (Reuters) -Italian police have arrested a Chinese couple accused of running a leather goods business which exploited immigrant workers it employed to make handbags for a Burberry supplier, according to an arrest warrant seen by Reuters. Tax police in Florence said in a statement that the two Chinese nationals were arrested on Wednesday as part of an investigation into alleged labour exploitation and tax fraud and that restrictive measures had been imposed on two other family members, including a ban on them leaving Italy
World
WASHINGTON (Reuters) - The United States on Wednesday blacklisted four Nicaraguans, including a daughter of President Daniel Ortega, as Washington warned it would continue to use diplomatic and economic tools against members of the leftist government engaged in repression. The U.S. State Department called on Ortega to release detained presidential candidates as well as other civil society and opposition leaders arrested over the past week in what Washington called "an increasing wave of repression." "There are costs for those who are complicit in the regime's repression.