Tesla says has not received subpoena on Model 3 production
(Reuters) - Tesla Inc has not received a subpoena from the U.S. Department of Justice related to its forecast for Model 3 production, the carmaker said on Friday, after a report https://www.wsj.com/articles/tesla-faces-deepening-criminal-probe-over-whether-it-misstated-production-figures-1540576636?mod=searchresults&page=1&pos=1 that the company was facing a deepening criminal probe about the projections. The company received a voluntary request for documents from the DoJ and was cooperative in responding to it, a Tesla spokesperson said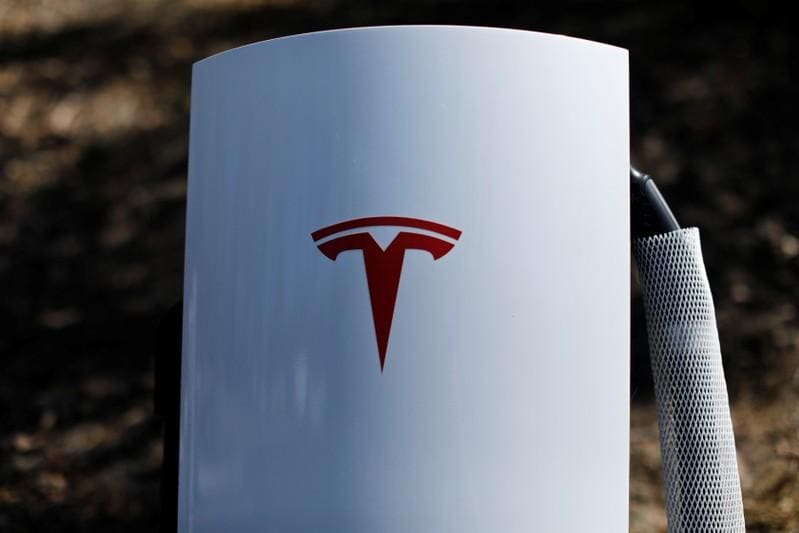 (Reuters) - Tesla Inc has not received a subpoena from the U.S. Department of Justice related to its forecast for Model 3 production, the carmaker said on Friday, after a report https://www.wsj.com/articles/tesla-faces-deepening-criminal-probe-over-whether-it-misstated-production-figures-1540576636?mod=searchresults&page=1&pos=1 that the company was facing a deepening criminal probe about the projections.
The company received a voluntary request for documents from the DoJ and was cooperative in responding to it, a Tesla spokesperson said.
"We have not received a subpoena, a request for testimony, or any other formal process, and there have been no additional document requests about this from the Department of Justice for months," the spokesperson said.
The Federal Bureau of Investigation is examining whether Tesla misstated information about the production of its Model 3 sedans and misled investors about its business going back to early 2017, the Wall Street Journal reported.
The news comes as Tesla Chief Executive Officer Elon Musk faces pressure to deliver consistent production numbers for the Model 3, seen as crucial to its profitability and ability to be a high-volume car manufacturer.
Musk and Tesla have only recently settled with the U.S. Securities and Exchange Commission, which was probing Musk's Aug. 7 tweets about taking Tesla private. The SEC had called his claims "false and misleading" and accused him of fraud last month.
On Wednesday, the company reported strong third-quarter financial results, delivering on Musk's promise to turn the electric car maker profitable as higher production volumes of its new Model 3 began to pay off.
(Reporting by Arjun Panchadar in Bengaluru; Editing by Shounak Dasgupta and Sai Sachin Ravikumar)
This story has not been edited by Firstpost staff and is generated by auto-feed.
Find latest and upcoming tech gadgets online on Tech2 Gadgets. Get technology news, gadgets reviews & ratings. Popular gadgets including laptop, tablet and mobile specifications, features, prices, comparison.
World
By Jeff Mason WASHINGTON (Reuters) - U.S. President Donald Trump, facing the possibility of a cash crunch, said on Tuesday he would spend "whatever it takes" of his own money to finance his 2020 presidential campaign against Democrat Joe Biden if he had to
World
By Lisandra Paraguassu BRASILIA (Reuters) - Brazilian House Speaker Rodrigo Maia said on Tuesday that lawmakers are currently finalizing the text of a bill targeting those that finance "fake news" attacks on social media sites, adding that it could be voted on by the end of this year. The draft of the Brazilian bill was approved in the Senate on June 30, but the lower house created a working group to suggest modifications. Those changes will be finalized in two weeks, Maia said
World
DUBLIN (Reuters) - Ireland plans to allow the reopening of all pubs on Sept. 21, dropping a ban on bars that do not serve food, a senior minister said on Tuesday.