Tesla critic Citron makes U-turn ahead of results
By Jennifer Ablan and Munsif Vengattil NEW YORK (Reuters) - Tesla Inc shares jumped more than 9 percent on Tuesday after long-time critic and short-seller Citron Research said it had a change of heart and is now betting the electric automaker's stock will rise. The firm said in a research note that Tesla's Model 3 sedan is a 'proven hit' and serious competition from other automakers for the plug-in car market has not materialized, marking a sharp reversal from its previous stance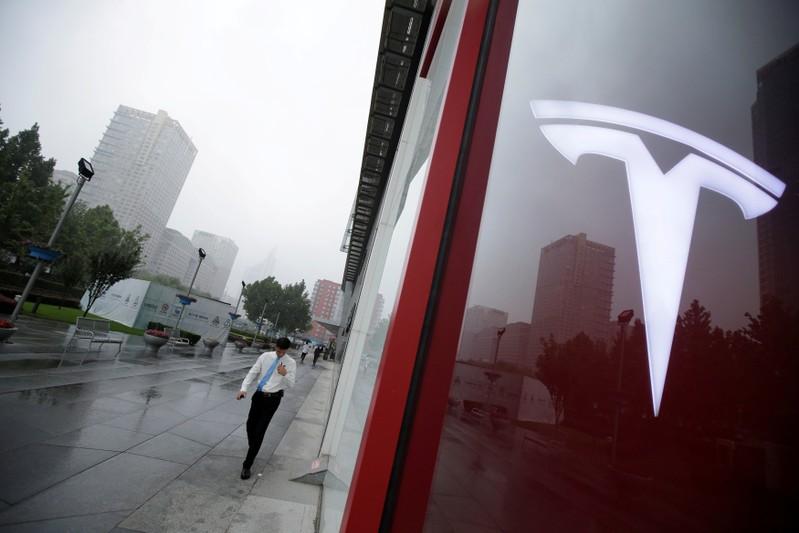 By Jennifer Ablan and Munsif Vengattil
NEW YORK (Reuters) - Tesla Inc shares jumped more than 9 percent on Tuesday after long-time critic and short-seller Citron Research said it had a change of heart and is now betting the electric automaker's stock will rise.
The firm said in a research note that Tesla's Model 3 sedan is a "proven hit" and serious competition from other automakers for the plug-in car market has not materialized, marking a sharp reversal from its previous stance.
Tesla will release third-quarter earnings after the market close on Wednesday, a week earlier than it has typically reported.
Chief Executive Elon Musk has promised a Model 3 ramp-up will help make Tesla profitable in the quarter, and has said the automaker should not have to sell more shares to raise cash.
But a number of Wall Street analysts say the ramp-up, added to other production promises and debt obligations, make some sort of capital raise likely.
Citron's change of opinion came just a month after the Andrew Left-led firm sued Tesla and Musk, saying Musk fraudulently engineered his abandoned plan to take the carmaker private to "burn" short-sellers. Citron said it was not withdrawing its lawsuit against Musk and Tesla.
Left told Reuters: "I would not short this again. I understand that industry better and I think the company just turned the corner."
Tesla announced record quarterly car production earlier this month but warned of major problems with selling cars in China due to new tariffs.
"The numbers coming out of the company are too compelling," Left said.
Tesla shares got another boost during mid-day trading following a tweet by Richard Pearson's Mox Reports, saying "numbers will be blowout."
Investors have been rattled by Musk's abrupt turnaround on his go-private plan and other recent behavior including smoking marijuana on a live web show.
The U.S. Securities and Exchange Commission called Musk's Aug. 7 tweets about financing for a deal "false and misleading" and accused him of fraud last month. Tesla and Musk settled with the regulator by agreeing to pay $20 million each and have Musk step down as chairman for three years.
"While the media has been focused on Elon Musk's eccentric, outlandish and at times offensive behavior, it has failed to notice the legitimate disruption of the auto industry that is currently being dominated by Tesla," Citron said.
(Reporting by Jennifer Ablan in New York, Munsif Vengattil and Supantha Mukherjee in Bengaluru; Editing by Saumyadeb Chakrabarty, Bernard Orr)
This story has not been edited by Firstpost staff and is generated by auto-feed.
Find latest and upcoming tech gadgets online on Tech2 Gadgets. Get technology news, gadgets reviews & ratings. Popular gadgets including laptop, tablet and mobile specifications, features, prices, comparison.
Business
By David Lawder WASHINGTON (Reuters) - U.S. Customs and Border Protection officials have prepared orders to block imports of cotton and tomato products from western China's Xinjiang region over allegations they are produced with forced labor, although a formal announcement has been delayed. The Trump administration announcement of the actions, initially expected on Tuesday, has been put off until later this week because of "scheduling issues," a CBP spokesman said
Business
By Daniel Trotta and Gabriella Borter NEW YORK (Reuters) - As the ruins of New York's World Trade Center smoldered following the September 11 attacks of 2001, skeptics doubted it could ever rise again. Now, as the 19th anniversary of 9/11 approaches, the grand vision set forth after its destruction has largely been realized
Business
By Subrat Patnaik (Reuters) - Tesla Inc shed about $80 billion of its market value on Tuesday, an amount that overshadows the combined value of General Motors Co and Ford Motor Co , after its surprise exclusion from the S&P 500 index. Tesla's shares recorded their worst single-day percentage drop ever and added to the broader sell-off in technology stocks, which have dominated Wall Street's recovery from the coronavirus-driven crash earlier this year. The stock closed 21.06% lower, while fellow electric automaker Nikola Corp jumped more than 40% after General Motors said it was acquiring an 11% stake in the company