Tejas Express food poisoning: Railways' probe report is an eyewash; fix systemic flaws urgently to address the issue
It appears from the flurry of reports in the media and statements of Railways officials that some sort of coverup exercise could be afoot to brush aside the unpleasant incident which occurred on one of India's newly launched luxury trains.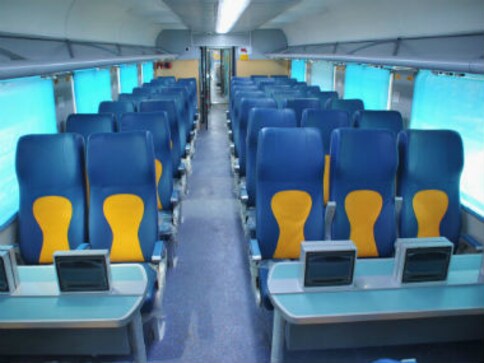 New Delhi: The Indian Railways has blamed the passengers of Tejas Express for falling sick after eating food served on board. Yes, without batting an eyelid, the world's largest transporter has thought it fit to shrug off the embarrassment of having two dozen passengers down with food poisoning by conveniently saying their own doings – and the food that they were carrying – is to blame for the fiasco. According to media reports, some of which quote a report by a three-member Central Railway Enquiry Committee, some children vomiting inside one coach could also be the culprits. Though how would 24 passengers suffer food poisoning if some kids threw up, remains a mystery.
Specially, since the kids who threw up were all in one coach, according to an IRCTC official we spoke to. This official also confirmed that passengers who fell sick were in different coaches, not all were in the same coach as the kids. Besides vomiting children, the Railways also wants to pin the blame on some fish that a group of Kolkatans was reportedly carrying, which stank, lead the kids to vomit and thereby somehow induced food poisoning in two dozen passengers.
This DNA piece is headlined "Not bad eggs or other food items, Hilsa caused food poisoning on Tejas Express" and goes on to say that in the report (on the food poisoning incident), the Central Railway has asserted "there was nothing wrong with the breakfast served to passengers. It has found that smell from stale fish had caused some children to vomit, triggering a similar response from other passengers. Some were taken ill after they consumed the fish." It is not clear if the paper was in possession of the report or the entire piece has been strung together on source-based information. It is also not clear why anyone would carry stale fish, more than a fortnight old.
The Hindu says the samples collected for testing after the food poisoning incident were all packaged food items including soup powder, cake and mango punch. "However, the Railway authorities didn't test the sample of the omelette that reportedly had a foul smell, as per its own inquiry report." Why the omlettes or eggs were not tested is not known. The Hindu report goes on to add from the enquiry report of the Railways that "a few passengers complained of slightly different smell from omelette served to them. Quality of omelette may be ensured while serving."
It appears from the flurry of reports in the media and statements of Railways officials that some sort of cover-up exercise could be afoot to brush aside the unpleasant incident which occurred on one of India's newly launched luxury trains. Despite several attempts, officials of the Central Railways could not be reached for a copy of the enquiry report.
This Outlook story quotes a PTI report to say that the enquiry report also included the statement of a doctor, Sanjay R Nimbalkar, who attended to the ill passengers. The doctor said he had food on board and found no quality issues. "The PTI independently spoke to Dr. Nimbalkar who confirmed he had found no problem with the quality of the food -- bread, egg omelet, mango drink, tea, coffee and mineral water".
Anyway, a coverup, if indeed it is underway, speaks ill of the way the Railways is tackling systemic problems. Blaming some passengers for carrying fish, another bunch of kids for throwing up do nothing to address the sub-standard catering practices rampant across the Railways. Not all omlettes would have been bad, not all food stuff may be from the same production batch and speaking to 20 passengers to make a report doesn't seem to be a large enough sample size when at least 10 times this number of passengers were on board.
Remember when the stampede at the Elphinstone Raod footover bridge in Mumbai killed at least 23 people in September this year, the Railways had similarly blamed everything and everyone but itself. That time, the culprits were heavy rain, crowd and confusion, not the inordinate delay in sanctioning works to widen the bridge.
On the Railways' catering scenario, a scathing audit report by the Comptroller & Auditor General had noted earlier this year that foodstuff "unfit for human consumption" was being sold at 26 stations/trains spread across the country. The audit had found unpurified water being used to make beverages. It had also found rats and cockroaches in the pantries, uncovered food lying around and much more. The CAG audit had found contaminated, recycled and shelf-life expired foodstuff, unauthorised brands of water bottles and much more being sold in trains and at stations. These shocking findings of the 'Performance audit on Catering Services Reports in Indian Railways' by CAG, were laid in Parliament during the monsoon session.
But as the Tejas Express incident and its followup show, the Railways is reluctant to correct anomalies. Many social media users found the Railways' attitude in this particular incident not just baffling but also berated it for not taking adequate corrective action.
BIGGEST JOKE this Govt. has pulled! #Railways, #Caterers not guiltyBut passengers guilty of food poisoning! #Tejas Express #Indian Railways pic.twitter.com/vYeCTuDPzC

— Rian (@Lapogrian) October 17, 2017
Vikas of Indian Railway known as #Tejas . pic.twitter.com/wM3ixxgzyk — Shafaq Khan (@onlyshafaq) October 16, 2017
This user not only tweeted a cartoon but also punned on 'vikas'
Have some shame, Railways! https://t.co/yrW2ThWWKD

— Tanushree V (@tanushreevenkat) October 17, 2017
This user said "Have some shame, Railways!"
Find latest and upcoming tech gadgets online on Tech2 Gadgets. Get technology news, gadgets reviews & ratings. Popular gadgets including laptop, tablet and mobile specifications, features, prices, comparison.