TCS Q4 results: Co's path is different from Infosys', but both have to tackle digital disruption
In Silicon Valley slang, TCS is now "pivoting" – a term used by startups to shift their business models. So is Infosys.
Natarajan Chandrasekharan, chairman of Tata Sons Ltd, must feel like a star batsman who has just been named the captain of the team, only to face a rash lbw appeal and a nasty bouncer in his first over at the crease.
Tata Consultancy Services (TCS), the company whose chairmanship took him to the height of the salt-to-software conglomerate last February, has reported results that are below par and missed analyst estimates in the latest quarter. Revenues in fact slipped marginally quarter on quarter. To make things worse, TCS slipped behind Mukesh Ambani-led Reliance Industries Ltd as India's most valued company in terms of market capitalisation.
As I rode to my hotel on the Chennai-Trichy high to catch the TCS results, all I could see on the way were signs of a software and automobile boom, from office parks to eateries to jewellery malls. In such a backdrop, the numbers from India's leading software company, now led by Rajesh Gopinathan, are one big reality check on the industry itself. Coming days after a tepid show and outlook from Infosys, the No.2 player in the industry, it is time to ask some sobering questions.
In a way, the TCS results and RIL's surge are interconnected in a technological shift. Stock markets tend to price the future potential. As of now RIL's big bet on digital connectivity through its Jio brand has made the markets sit up. On the other hand, the very same digital disruption is making old-world giants who gave fat, juicy contracts to companies such as TCS and Infosys re-think their businesses in a manner that is not easy to predict like in the good old days.
TCS and Infosys are going somewhat different ways after decades doing similar stuff – executing software projects and maintenance for high-profile clients. CEO Vishal Sikka seems to be bringing in a product DNA into Infosys, while TCS is still service-centric (despite its 478 patents) and also has a larger global footprint, employing people from 130 nationalities and having subsidiaries in 40-odd countries.
Both companies, however, have to tackle digital disruption. TCS revenues have slipped in the latest quarter with old industries like banking, financial services and insurance (BFSI) and retail dragging down growth. Gopinathan says BFSI is not going through structural changes unlike retail, but that is hard to believe in an age where new technologies including investment advisor bots and blockchain are changing things. But he does admit projects are getting smaller.
TCS saw its revenues from the digital segment grow 29 percent in 2017 and that is where its future lies. "Digital" in the IT services industry is used to describe the adoption of and adaptation to sweeping changes  coming in the wake of metamorphic things like the smartphone boom, big data, analytics, cloud computing and social media and the way they are transforming businesses. Hand-holding customers across industries in doing this is something TCS is out to do. TCS, with 387,000-plus employees is also nearly twice as big in headcount compared with Infosys that has 200,000 employees. They are being re-trained in a big way. TCS continues to hire, and that is certainly a positive sign.
In Silicon Valley slang, TCS is now "pivoting" – a term used by startups to shift their business models. So is Infosys. But TCS's digital transformation bet seems more decisive as a service story. Both companies also face common uncertainties from a stronger rupee and Donald Trump's protectionist policies in the US. A lot would depend on how the 'pivoting' shapes up in the fiscal year that started this month.
Both companies are now shifting from "growing up pains" to "pains of change." In cricketing terms that would be the equivalent of Test batsmen used to digging in for long innings learning the art of making quick knocks in the frenetic world of T20 matches. Like batsmen who literally pivot to make room for strokes, Infosys and TCS need to display some more footwork in the new era.
(The author is a senior journalist. He tweets as @madversity)
Arts & Culture
The idea in these polarizing times is that if enough people start talking, they'll find common ground or at least realize that they don't need to be in warring camps because they vote for different people, said Mizell Stewart, Gannett's vice president of news performance, talent and partnerships.
News & Analysis
Users will also options to choose from different payment methods including e-wallets, UPI, credit and debit cards and so on.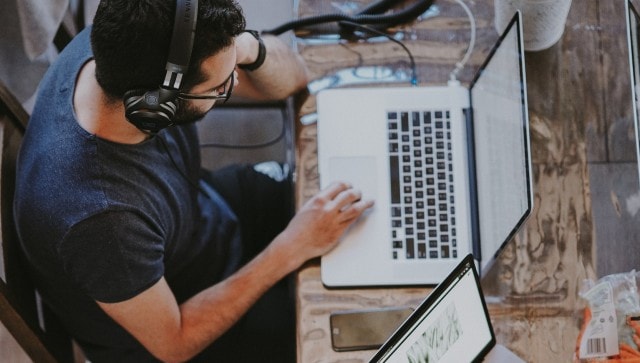 India
Based on average employee costs of $25,000 per annum for India-based resources and $50,000 for US resources, the move will release around $100 billion in salaries and associated expenses