Taxi strike targeting Uber brings chaos to Spanish cities
MADRID (Reuters) - Spanish taxi drivers blocked major city streets including Barcelona's Gran Via and Madrid's Castellana on Monday in a protest to pressure the government to curb licences to online ride-hailing services such as Uber. Union representatives were due to meet officials of Prime Minister Pedro Sanchez's government later in the day to try to resolve the dispute, in which taxi drivers have choked main roads and snarled airports, bus and train stations since Saturday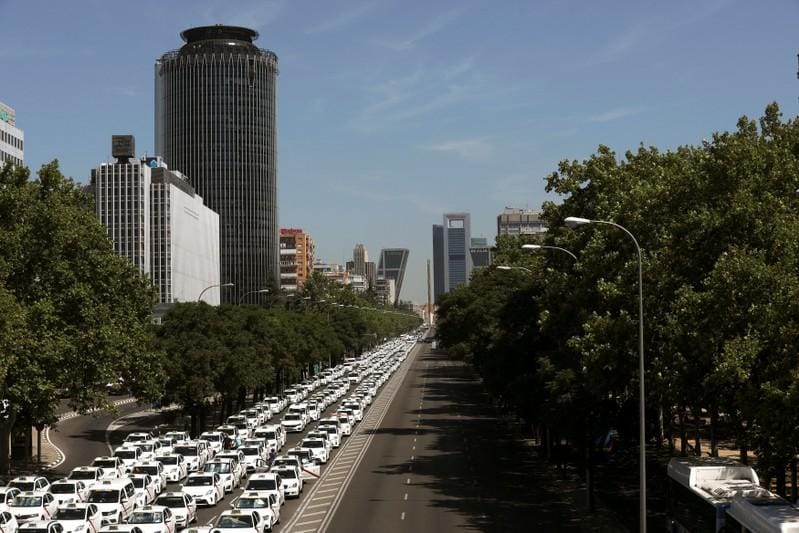 MADRID (Reuters) - Spanish taxi drivers blocked major city streets including Barcelona's Gran Via and Madrid's Castellana on Monday in a protest to pressure the government to curb licences to online ride-hailing services such as Uber.
Union representatives were due to meet officials of Prime Minister Pedro Sanchez's government later in the day to try to resolve the dispute, in which taxi drivers have choked main roads and snarled airports, bus and train stations since Saturday.
Along with counterparts in many other European countries, Spain's taxi drivers say that ride-hailing apps have made it impossible to compete.
"Uber and Cabify are putting the viability of the taxi sector and 130,000 jobs at risk...The union considers this unfair competition intolerable," the UGT union said in a statement.
Union representatives say the current law of one ride-hailing licence for every 30 taxi licences is not being respected and want an end to the practise of transferring ride-hailing permits between drivers.
With backers including Goldman Sachs and BlackRock and valued at more than $70 billion, Uber has faced protests, bans and restrictions around the world as it challenges traditional taxi operators, angering some unions.
London cab drivers are examining the possibility of bringing a class action suit against Uber after the mobile app was granted a temporary licence renewal to operate in the British capital.
(Reporting by Paul Day; Editing by Mark Heinrich)
This story has not been edited by Firstpost staff and is generated by auto-feed.
Find latest and upcoming tech gadgets online on Tech2 Gadgets. Get technology news, gadgets reviews & ratings. Popular gadgets including laptop, tablet and mobile specifications, features, prices, comparison.
World
By Andy Sullivan (Reuters) - Wednesday night's matchup between Vice President Mike Pence and Democratic challenger Senator Kamala Harris unfolded largely free of the chaos that marred last week's debate between President Donald Trump and former Vice President Joe Biden. Here are a few standout moments from the debate: PACKING THE COURT?
World
WASHINGTON (Reuters) - The United States on Thursday slapped fresh sanctions on Iran's financial sector, targeting 18 Iranian banks in an effort to further shut Iran out of the global banking system as Washington ramps up pressure on Tehran weeks ahead of the U.S. election. In an announcement posted on its website, the U.S
Business
ZURICH (Reuters) - Swiss drugs and diagnostics group Roche is shipping supplies from Germany to help Britain's National Health Service (NHS) fill gaps caused by a logistics glitch at a Roche warehouse in southern England, it said on Thursday. Roche, a main supplier of COVID-19 and other diagnostic tests to the NHS, told UK customers on Wednesday that a switch from an old warehouse to a new automated distribution centre had caused an unforeseen technical issue that hit processing capacity. "We are confident that the plans we have put in place will deliver significant improvements by the weekend to the supply of the tests affected by these logistical issues," Roche said on Thursday, reiterating its timetable from Wednesday.