Tata Motors a 'failed company'? Shareholders raise uncomfortable questions at AGM
Tata Motors has lined up about Rs 4,000 crore capex this fiscal.
Mumbai: Shareholders of Tata Motors today vented their "disappointment" over the poor financial and operational performances of the auto major, with one of them going to the extent of calling it a "failed company."
A large number of shareholders raised some uncomfortable questions to the management on the companys finances, quality of products, loss-making subsidiaries as well as poor dividend payouts at the 72nd AGM this evening.
Replying to their concerns, chairman N Chandrasekaran admitted that there is a need to ensure timely launch of new models and putting in money, where the returns are justified.
He, however, evaded a direct response to a query on the fate of the company's biggest drag, the Nano small car, which was the talk of the world when it was launched.
Since its heydays for some years after the launch in 2010, the demand for the Nano has been in doldrums months after months. The Nano now sells low three digits, though the company has set up a dedicated 3 lakh units per annum capacity plant for the car at Sanand in Gujarat. This is a far cry from its peak when it used to sell over 6,000 units a month.
"It is not about switching one car on or one car off. We can take a decision on this car will be stopped or that car will be stopped. We are too small, we need to take a concerted decision on future," he told the shareholders, who questioned the future of the passenger car business in general and the Nano in particular.
But he admitted that Tata Motors has to increase its volume and revenue share in the passenger car segment, which currently accounts for only 3-4 percent or at about Rs 9,000 crore of the consolidated income.
"If we take a decision on one platform or another all the time, it's going to be very difficult. We need decisions across the platform and whatever platform that we are committed to," he said hinting that it is a long road to turn around.
Underlining the need for timely launches, he said every delay costs additional effort, management focus, among others.
Economies of scale are very important, he said, adding "Our last few launches have gone down very well, still the volumes will have to pick up, so we will need more volumes."
He also promised to act on the many loss-making subsidiaries, "which dont" make sense for the business."
"We will also look at whole supply chain," he said.
On dividends, he said, "I really think we will turn around so that we can be a dividend paying company."
Tata Motors has lined up about Rs 4,000 crore capex this fiscal, adding, "We are looking at every capex in great detail as we need to put money where returns are justified."
Chandrasekaran said after the stake sale in Tata Technologies, Tata Motors will continue to have a share of 42 per cent and the company will use a part of the Rs 1,200-crore proceeds to pare some debt.
He also dismissed as "baseless" the media reports that Tata Motors group chief executive Guenter Butschek and he are not getting along. He said there is no conflict between them.
On the crown jewel JLR, Chandrasekaran said the British arm is delivering an exceptional performance, adding "to me it is an iconic company and results are exceptional."
Admitting that JLR is facing challenges from two Mercedes and BMW, who sell over 2 million vehicles per annum, he said, "JLR is aggressively pushing volumes and crossed 6 lakh last year. If it has to continue to perform and to take on these competition and grow in double-digits, that requires innovation, product launches, capital."
Attributing the lower dividend payout from JLR this year to higher capex, Chandrasekaran said, "The dividend has been fixed at 150 million pounds. But we can argue that it must be 175 or 200 million. But I want to correct the perception that people think JLR is not giving back, that is not correct."
He further said that JLR is on a very aggressive growth plan and it needs to continue. "JLR will be investing close to 4.2-4.5 billion pounds out of this close to 1.2 billion pounds will go into the Slovakia plant," he said.
On the criticism about higher salary to the JLR chief Ralph Speth, he said this is not high at all.
"If you compare it with similar companies and the companies I mentioned, it is an appropriate package, in fact the salary is on a lower side. I hope that shareholders will support me. We pay him roughly about 7 million pounds."
Meanwhile, ousted chairman Cyrus Mistry continued to find fault with the annual reports of Tata Group companies and on 22 August picked that of Tata Motors saying the report neglected the key areas of concern he had expressed when he was the chairman.
"In my various communications, I had highlighted areas of concern and potential conflicts backed with documents. I had highlighted the practice of lending without adequate risk assessment, particularly in the Nano and small commercial vehicle segments. This caused huge losses to the tune of Rs 4,000 crore in Tata Motors and Tata Motor Finance," Mistry said in a statement.
The company was also witnessing steep volume cuts in M&HCVs that dropped 35 percent. This indicates a further drop in the market share in this segment, which is the main source of revenue for the operations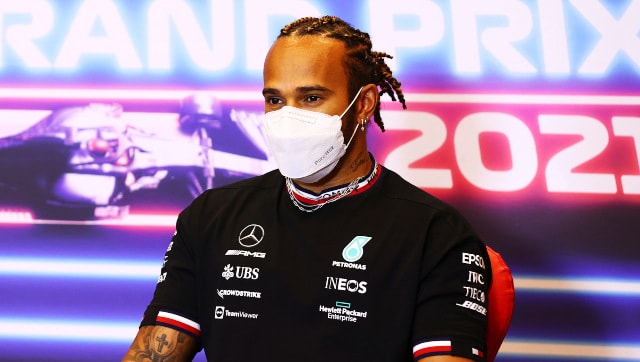 Sports
Verstappen accused seven-time world champion Hamilton of being "dangerous, disrespectful and unsportsmanlike" following their collision at Silverstone on Sunday.
Sports
Earlier, 23-year-old Verstappen said he remained unhappy with Hamilton despite clearing the air with the Briton during a phone call following their spectacular crash.
Sports
The team has been fuming since contact between Verstappen and Hamilton on the first lap of the British Grand Prix caused Verstappen to crash hard into a barrier.