Tata-Mistry feud: Three incidents that lead to Cyrus' ouster from Tata Sons
Before the board meeting on 24 October 2016, in which Cyrus Mistry was removed, he was asked four times to step down. He refused on all the occasions, say sources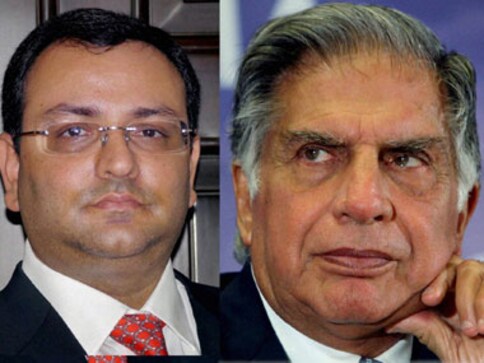 Three incidents that happened over almost a year resulted in Cyrus Mistry's unceremonious ouster from Tata Sons, resulting in a slugfest between Ratan N Tata, then chairman emeritus and now interim chairman, and Mistry himself. The feud, which is being played out in the media now, is termed as arguably one of the biggest in the corporate India in the recent times.
The first trigger of discontent, claim sources within the Bombay House in Mumbai, revolved around Mistry's Irish citizenship which he had not renounced despite repeated requests from Tata.
Tata felt Tata Sons must be steered by a completely Indian identity and even impressed upon Mistry about why the conglomerate had opted not to offer the top job to American investment banker and businessman John Thain during the lengthy selection process in 2012.
Then came the second dust-up when it was revealed to the chairman emeritus an estimated Rs 2,926.35 crore was paid to Shapoorji Paloonji & Co for a host of civil work, including construction of TCS buildings, assignments in Tata Motors, Indian Hotels, Indian Rotorcraft Limited, Tata Housing and Tata Advance Systems. In some ways, many at the Bombay House felt it could even constitute a conflict of interest because Shapoorji Paloonji is owned by Mistry's family and should not have benefitted from Tata contracts.
The third and final dust-up happened when the supremacy of Tata Sons board was violated by the Group Executive Council (GEC) set up by Mistry who pushed five members of the GEC to supervise the CEOs of the individual group companies.
The Tata Trusts controls more than 66 percent of Tata Sons and are represented on its board by Ratan Tata. Historically, the chairman of the trusts and Tata Sons board has been the same person. Mistry was an exception.
It seemed to some that a new parallel trust structure was being created which would erode the power of the trusts and its functioning. Individual companies were being asked to form their own foundations for the different philanthropic works that they are engaged in. This was in direct conflict with the Tata Trusts which monitor such activities like the one run by mountaineer Bachendri Pal, and the Tata Football Academy (TFA) and so on.
"There was a single line of communication with the board through the chairman vide the GEC, at times, it seemed draconian because all powers rested with him," said the sources. Mistry ensured that he was the sole Tata Sons' nominee to each of the group's operating companies. This means that he had controlled both the information and operational flow.
Other areas of conflict
The sources said there were other serious issues of governance, especially one revolving around Welspun. Mistry, it is reliably learnt, had a series of meetings with Welspun officials since talks began in November 2015 to acquire its assets. On 22 April 2016, Mistry signed a term sheet with Welspun but did not disclose it to the Tata Sons board until 22 May 2016, not even during a March 2016 presentation on Tata Power made to the Tata Sons board on energy issues.
"The May 2016 email offered additional information to directors but did not seek approval," said the sources.
On 13 May 2016 (two weeks later), Mistry emailed a note at 9:19 PM to the board saying that Tata Power was examining acquisition opportunity in the renewable energy sector. Note didn't seek approval of the board or call for discussion but simply offered to provide further information if required. Vijay Singh, a director of Tata Sons, commented on the email saying that it was a "step in the right direction" but it wasn't a formal approval of the acquisition. Noshir Soonawalla, former vice chairman Tata Sons, said that it should be structured properly and not captured downstream in a small company.
Interestingly, Tata Power paid out a premium of 30 percent from which the first creditor paid was Shapoorji Paloonji, a company directly related to Mistry. Director's commissions were paid later as per Tatas' practices since the non-executive directors did not receive any salary but were paid a commission as per their specific contributions.
Many frictions
The process of Mistry's ouster continued for a little over a month, almost all directors seeking time with him to explain why it was important for him to step down and allow someone else to steer the group's businesses.
Mistry disagreed but eventually agreed to meet RK Krishna Kumar, former Tata Sons director and confidant of Ratan Tata. The meeting was held at Krishna Kumar's residence where it was pointed out that Mistry was "fiddling" with the culture of the 130-yr-old company.
In August 2016, soon after the trouble had started, Mistry turned up with a single-page note on his self appraisal and read from it but never shared it with the board and neither circulated it nor appended it to the minutes. The decision did not go down well with the directors.
The chairman emeritus felt that Mistry didn't respect the board and take care of his fiduciary responsibility. In private conversations, Tata even said that this becomes evident with the letter Mistry issued immediately after his removal where Mistry skirted his own responsibilities as a member of the board and representative of shareholders. Historically, the chairman of the Tata Trusts and Tata Sons had always been the same but the AoA of Tata Sons had to be specially amended to make way for a chairman who was not the chairman of the trusts.
Interestingly, Mistry had been on Tata Sons' board since 2006. In 2010, he had circulated among the board members a note outlining how the group should be managed. It was on the basis of this letter he was made deputy chairman in 2011 for a year until he took over as chairman in 2012.
"So then why claim that he had no idea of the old decisions that were made while he was privy to all decisions and participated in decision-making process as part of the board," asked a Tata Sons insider referring to Mistry's letter to the board written following his ouster.
On the much-debated issue of Sivasankaran's cash, it was ironically the chairman's office that had recommended the case to Tata Investment Board/ company. The loan case was referred to the board. Mistry had even said that he "would go with Ratan Tata's wisdom since I do not understand the sector".
In December 2012, Tata stepped down after the conclusion of the Air Asia deal and with the full assent of the board. All dues were paid and the loan was settled by the board. Hence, it would be logical to conclude that Mistry had been privy to the case. But he still claimed he was not privy to the decision. Even if he was not, how come Mistry didn't object until then, ask sources within the Bombay House.
There were other issues of mis-governance that caused frictions. Among them was an alleged multi-million dollar endowment made to Yale from the house of Tatas. Many have pointed out that it could be a case of impropriety because it was around the same time Mistry's son joined Yale.
The final showdown
Before the board meeting on 24 October 2016, in which Mistry was removed, he was asked four times to step down. He refused on all the occasions. It was on that day morning, Tata himself and Nitin Nohria, one of the Tata Sons directors, walked into Mistry's expansive room, asking him to resign. The board meeting was just 15 minutes away.
Tata and Nohria said they were giving him (Mistry) an opportunity to step down because they were planning to move a resolution to that effect before the board. They even pointed out that his contract would anyway end in March 2017 (with the close of 2016-17). Mistry's confidants say the otherwise cool man himself turned to steel and firmly refused, only to be sacked in the meeting that followed. The rest is history.
Now that the Tatas are getting ready for a series of extraordinary general meetings this month, corporate cognoscenti in Mumbai say the ground is getting ready for the second round of fireworks between the two.
The war of words, with both sides getting their own backers, quota of critics, and boosting their ring fencing tactics, has already rattled India. Tata, currently out of the country, hasn't publicly displayed his list of friends, but Mistry has. One of his die-hard loyalists, Nusli Wadia has threatened to sue Tata Sons after he was removed from the board of Tata Steel. Wadia, chairman of Bombay Dyeing, has even dropped a planned tour of Africa to watch giant guerrillas so that he could back Mistry.
Earlier, both Tata and Mistry had visited the Indian Capital, and met, among others, Prime Minister Narendra Modi, and a host of other ministers. Interestingly, members of Delhi's power club, it is learnt, have sympathised with Tata. Many ministers and top bureaucrats were surprised to see Mistry complain about the same person who took him around on introductory tours with members of the Cabinet and some of the world leaders.
It appears evident that the government would not rock a conglomerate as big as the Tata group, which contributes as much as 4 percent of India's gross domestic product (GDP).
"Tatas are Indian bridge builders with the world. The British PM drives a car owned by an Indian. It's a matter of pride for the nation. Conglomerates are not run on quarterly balance sheets but long-term vision," a senior BJP functionary said.
Some support for Tatas came from the Tata Motors union in Jamshedpur during the meetings on 10 and 11 of November. "The union offered unconditional support without any demand of wage hike, as reported," claimed a trade union leader.
A senior and well regarded banker, part of a large financial institution, has privately told people that there is no question of them voting against the Tatas. At the worst, they will abstain; at the best they will vote with Tata Sons.
It is reliably learnt that one of the largest banks in India has put together a deck of shareholders – who owns controlling stakes in Tata companies - and which way they are likely to vote and it seems all roads point towards Tata Sons board decision (of Mistry's removal) winning the day.
Whether it will actually happen, will be seen at the EGMs, which are sure to a few messy battles.
India
Wilson, 50, has 26 years of aviation industry expertise across both full service and low-cost airlines
India
A user from Punjab wrote that Ratan Tata inspires others to be like him and called him a legend. The pocket-friendly Tata Nano car was launched in 2008 and Ratan Tata had even shared a throwback picture of the car, a few days ago
India
Tata Nano was first introduced at an auto fair on 10 January 2008 and hit the market in 2009. The basic model was billed close to 1 lakh at the initial phase