Tata Group's change at the helm: A look at men who presided over Bombay House in the past
Here is a look back at the chairmen of the Tata Group
In a sudden and dramatic turn of events, Cyrus Mistry was sacked as Chairman of India's largest conglomerate Tata Group and replaced by his predecessor Ratan Tata in the interim, a development that can trigger a confrontation between the single-largest shareholder and the company's founding family. As the initial confounded bout of jitters subsided, media reports and tittle-tattle in business circles are debating whether the move was illegal, or if it stinks of a colonial feudal mindset and the bearing it will have on the future of one of India's oldest multiational companies.
In the immediate aftermath, however, the sprawling $67 billion conglomerate is searching for a successor, and it plans to do so in the next four months. So, here's a look back at the elaborate history of the five chairmen in the group's 143-year history.
Jamsetji Nusserwanji Tata (1868-1904) — Jamsetji Tata laid the foundation of the group that was to become a sprawling multinational conglomerate — that today has over 6,00,000 employees and revenue over $100 billion in the past financial year. Born in a small town in Guajarat, Jamsetji hailed from a family of Parsi priests. However, he soon recognised his true calling — business — and set-off to try his fortunes. He trained at the Elphinstone College in Mumbai and established a trading company in 1894 at the age of 29, with a capital of Rs 21,000.
He then setup several textile mills in India. In 1877, the famous Empress mill in Nagpur came into existence, which went on to become the seed that sprouted the present day Tata group.
He also set up The Indian Hotels Company and built the Taj Mahal Palace and Tower, India's first luxury hotel, which opened in 1903. He also established the JN Tata Endowment to encourage Indian scholars to take up higher studies. It was the first of many philanthropic trusts by the Tata Group, which today controls 65.8 percent of the shares of Tata Sons, the group's holding company, according to the group's website.
Sir Dorab Tata (1904-1932) — According to the Tata Group's website, Jamsetji Tata envisioned for the Tata group to spearhead three things in India: generating hydroelectric power, creating a world-class educational institution and setting up an iron and steel company. The latter was fulfilled by his son Sir Dorab Tata, who established the Tata Iron and Steel Company (now Tata Steel) in 1907.
The same year he also set up its first office overseas, Tata Ltd in London. He built the Tata Oil Mills Company to make soaps, detergents and cooking oils, which was sold in 1984 to the company now called Hindustan Unilever. According to the Tata Groups website, at the time of Jamsetji's death, the fledgling Tata Group owned three textile mills and the Taj Mahal Hotel in Bombay.
Under Sir Dorab's stewardship were added an integrated steel plant — then the largest single industrial unit in the British Empire — three electric power companies, a large edible oil and soap company, two cement companies, one of India's leading insurance companies, and an aviation unit.
Born on 27 August, 1859, Dorabji was schooled in England, and graduated from the St Xaviers college in Mumbai. A keen sports lover, he had steered India's entry into the world of international sports by choosing and financing four athletes and two wrestlers for the Olympic Games of Antwerp in 1920, even before India had an Olympic association. Sir Dorabji Tata was the first Chairman of the Olympic Association in India. He sponsored the first Olympic contingent that went to Paris in 1924.
On the occassion of his 157th birth anniversary, the Managing Director of Tata Steels recalled a particularly touching incident from his lifetime, highlighting that not only an astute businessman but Dorabji was a compassionate employer as well. He said that when steel prices tumbled after World War I and Tata Steel was not in a position to pay its workers, Sir Dorabji pledged all his personal assets and his wife's jewellery to obtain a loan to disburse salaries.
Sir Nowroji Saklatwala (1932-1938) — As opposed to the common misconception that he was the first Chairman outside the Tata family, Sir Nowroji Saklatwala was indeed related to the Tata's on his mother's side —which explains a different last name — and arguably the last chairman to serve who was from Jamsetji Tata's bloodline. He was Jamset Tata's nephew as also pointed out by Mohan Guruswamy, an economist, former bureaucrat and head of a privately owned thinktank.
However, although he was Jamsetji's sister's son, he started off as an apprentice at one of the Tata mills and slowly rose through the ranks. However, his work had earned him enough recognition, for him to be appointed the group's leader, after the sudden demise of Sir Dorab Tata. He however, could not stay long at the helm of the group  and died of a heart attack after a brief stint at the top.
Jehangir Ratanji Dadabhoy Tata (1932-1991) — Jehangir Ratanji Tata, popularly known as JRD, was born in Paris in 1904. Unlike the common belief, JRD was not directly related to the original Tata family. His father RD Tata was related to Jamsetji Tata and was also a business partner in the Tata Groups. JRD entered the Tatas as an unpaid apprentice in December 1925 and went on to become the the longest-serving chairman of the group. He was fascinated by flying since childhood, and it was this childhood passion that marked his tenure apart from others. According to the the Tata Group website, the first flight in the history of Indian aviation lifted off from Drigh Road in Karachi with JRD at the controls of a Puss Moth. He was also one of the first few Indians to be given a commercial flying license.
In 1932, he founded Tata Aviation Service (now state-owned Air India) and later headed the publicly owned air carrier even after it was nationalised. Also founded Tata Chemicals (1939), Tata Motors and Tata Industries (both 1945), Voltas (1954), Tata Tea (1962), Tata Consultancy Services (1968) and Titan Industries (1984) during his tenure.
Ratan Tata (1991-2012; Oct 2016- present) — He founded Tata Teleservices and also designed and launched the Indica, India's first indigenously developed car. Under his reign, the group acquired VSNL, India's top international telecom service provider. He took Tata Consultancy Services public in 2004 and designed and launched the Nano, the world's cheapest car, in 2008.
The journey, though long, wasn't a smooth sail for him. Ratan Tata was a controversial choice at the beginning. His predecessor JRD had given considerable autonomy to the various Tata Group companies, and according to an article in Livemint, it was strongly suspected that one of these leaders will succeed JRD.
"In my personal view, when JRD saw this scramble among the company chiefs to succeed him and the unpleasant innuendos that surfaced, he may have appointed someone who understood the Tata ethos, which was always very important to him; and, perhaps, he thought Ratan Tata was someone who could uphold this ethos," Historian and author Gita Piramal is quoted as saying in Livemint. 
But Ratan very much became the face of Tata Groups in the years that followed.
He led the acquisitions of Anglo-Dutch steelmaker Corus, British luxury auto brands Jaguar and Land Rover and British tea firm Tetley. He also formed a joint venture between the Tata group and American International Group before he retired at 75 in 2012. However, according to a report in Rediff, a reluctant board of the group had already revised its constitution twice to retain Ratan. Once, when Tata turned 65 in 2002, he was to resign and retire but the board insisted he stayed on as non-executive chairman, which gave him a five year extension. Then again when he reached the threshold of 70, the board quickly upped the age of retirement to 75, when he finally retired.
Cyrus Mistry (2012-2016): The 48-year-old was the shortest serving chairman of the Tata groups. He succeeded Ratan Tata and became the sixth chairman of the group, but was sacked on 24 October. Some of his decisions apparently did not go down well with the group's preceding policies. An article in Financial Express speculates that Mistry's attempt to restructure the group were largely unpopular with the board.
Mistry took over from Ratan Tata at a time when some of the main companies of the group were facing tough operating environments, and his major challenge was to turn around the group's international steel business and to consolidate other businesses. He is the son of Pallonji Mistry, the largest single stake holder (18.35 percent) in the Tata Sons.
With inputs from agencies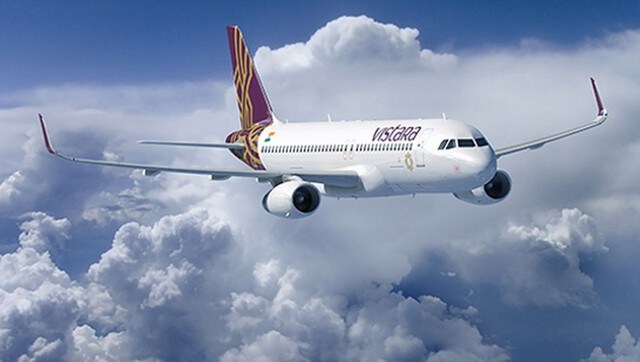 Business
Vistara is a 51:49 joint venture airline between Tata Sons and Singapore Airlines. Vinod Kannan is set to take over as Vistara's CEO from 1 January, 2022
Business
The stake sale process, which begun on January 2020, faced delays due to the COVID-19 pandemic
India
The photo showed a man holding a black umbrella while a dog sat close to him. The image showed a Starbucks cafe behind the man as he waited for the rain to subside.