Strategists cut Nikkei forecasts, see no upside this year - Reuters poll
By Hideyuki Sano TOKYO (Reuters) - Japanese stock prices will likely remain well below pre-coronavirus pandemic peaks until at least the end of next year, a Reuters poll showed on Thursday. The median estimate of 23 analysts and fund managers polled May 12-26 put the Nikkei benchmark at 21,000 at the end of 2020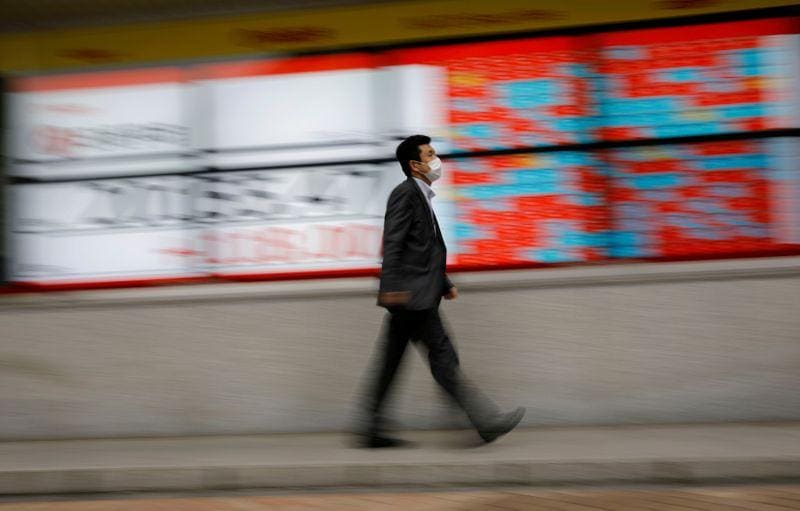 By Hideyuki Sano
TOKYO (Reuters) - Japanese stock prices will likely remain well below pre- Coronavirus
pandemic peaks until at least the end of next year, a Reuters poll showed on Thursday.
The median estimate of 23 analysts and fund managers polled May 12-26 put the Nikkei benchmark <.N225> at 21,000 at the end of 2020.
That would be 2.0% below the index's Wednesday close of 21,419.23 and almost 15% below a February Reuters poll that forecast the year-end index at 24,650.
The median forecast in the May poll keeps the index at 21,000 through to the end of June next year before it rises to 22,050 by the end of 2021. That is still well below a peak of 24,116 before the pandemic.
Uncertainty generated by the pandemic resulted in a wide range of 2020 end-year forecasts, from 16,000 to 28,000.
"If there is a second wave of infections, markets could falter again but our basic scenario is a sustained rally in share prices," said Hiroshi Watanabe, senior economist at Sony Financial.
The Nikkei has been recovering after a more than 32% slide from a peak in January to as low as 16,358 in March, a trough last seen in November 2016.
The Japanese government this week lifted a state of emergency imposed to stop the spread of COVID-19
as the rate of new infections has fallen, allowing for a gradual recovery of economic activity. The domestic economy is expected to contract nearly 6% this financial year, almost as much as it did in 2009. [ECILT/JP]
Hisashi Iwama, senior portfolio manager at Asset Management One, said he could not rule out the Nikkei testing its March low.
"If we have not found effective treatments for the novel coronavirus
, in the autumn and winter, we could see the second wave of coronavirus
as well as regular flu, causing chaos in hospitals and re-introduction of social restrictions," he said.
(Reporting by Hideyuki Sano and Eimi Yamamitsu; additional polling by Mumal Rathore, Khushboo Mittal and Sumanto Mondal in Bengaluru; editing by Jane Wardell)
This story has not been edited by Firstpost staff and is generated by auto-feed.
Business
By Lucia Mutikani WASHINGTON (Reuters) - U.S. consumer confidence jumped to a 14-month high in April as increased vaccinations against COVID-19 and additional fiscal stimulus allowed for more services businesses to reopen, boosting demand and hiring by companies. The upbeat survey from the Conference Board on Tuesday, which also showed a strong increase in vacation plans, suggested the economy continued to power ahead early in the second quarter after what appears to have been robust growth in the first three months of the year, believed by many economists to have been the second strongest since 2003.
Business
(Reuters) - The space race between the world's two richest men went into hyperdrive on Tuesday after Tesla chief Elon Musk took a swipe at Jeff Bezos' attempt to challenge a major NASA contract. The two billionaires, who have been trying to launch long-range orbital rockets, were competing for a coveted contract from the government to build a spaceship to deliver astronauts to the moon as early as 2024. Musk won.
Business
By Shivani Kumaresan and Noel Randewich (Reuters) - The S&P 500 and Nasdaq closed at record highs on Monday, fueled by Tesla Inc and other heavyweight growth stocks ahead of a deluge of earnings reports this week. The Nasdaq's record high close confirmed the end of an 11% correction in the index that began after its previous record high close on Feb.