Stop quibbling, PAHAL has scythed subsidy bill, but glitches remain
Clearly technology has its limits – it works when humans handling it do it efficiently or without crooked intent; but it is not too intimidating a bar for those determined to game the system.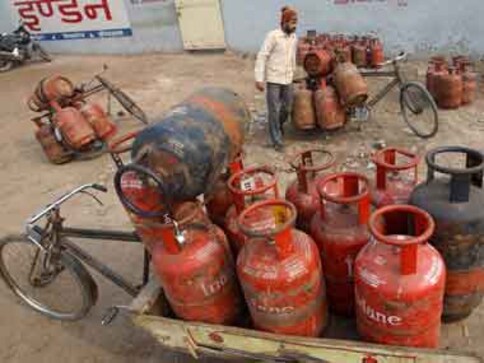 So, how much money did the government save by implementing direct benefit transfer (DBT) in cooking gas – the PAHAL scheme – in 2015-16? Is it Rs 9,211 crore, as the Ministry of Petroleum and Natural Gas claims? Or Rs 5,107 crore as the oil marketing companies (OMCs) estimate? Or Rs 4,813 crore, as the Comptroller and Auditor General (CAG) suggests in its report on the implementation of the scheme?
Should that matter, really?
It's not as if the Ministry of Petroleum has caused any loss to the exchequer by quoting the higher figure. It's really all about how the saving was calculated. The Ministry assumed all those who were not part of PAHAL (and hence not entitled to subsidy) would have consumed 12 cylinders a year; the CAG went by the national average consumption of 6.27 cylinders. The OMCs went by the 6.27 usage figures, but considered the subsidy rate of 2014-15; this threw up a higher level of savings because global oil prices had come down sharply in 2015-16. The CAG estimation corrected both these problems and came to a lower figure. There is nothing more to it.
These quibbles aside, is a saving of Rs 4,813 crore something to be scoffed at?
Yet another figure that is thrown up to belittle the success of PAHAL relates to the contribution of falling oil prices. The CAG report notes that the actual subsidy payout in the April-December 2015 period was Rs 12,084 crore against Rs 35,400 crore in the April-December 2014 period – a reduction of Rs 23,316 crore. But only Rs 1,763 crore of this is due to reduced offtake of cylinders, the report points out; a significant Rs 21,552 crore was on account of reduced subsidy rate due to lower oil prices.
But once again, is a reduction of Rs 1,763 crore in the subsidy bill something to be dismissed as insignificant?
Splitting hairs over the extent of savings on account of PAHAL does not take away from the main point – that PAHAL has scythed the subsidy bill. No more proof of concept is required.
The fiscal savings story may be validated, but the leakage/diversion elimination story, unfortunately, is not.
The CAG report found that the sale of non-subsidised domestic LPG cylinders had shot up after the implementation of PAHAL. As many as 8,023 domestic consumers used up more than 24 cylinders a year in 2015-16, more than double of 3,070 consumers who did so in 2014-15. Now since subsidy is available for only 12 cylinders a year and the rest have to be bought at market prices, on the face of it, PAHAL appears to have checked diversion of subsidised cylinders.
But that, according to the CAG report, maybe too pat an explanation. There is still, it points out, quite a large price differential between non-subsidised domestic LPG and LPG for commercial use. A commercial cylinder costs at least Rs 233.20 more than a non-subsidised domestic cylinder. In contrast, the price difference between a subsidised and non-subsidised domestic cylinder is only Rs 99.86. So there could still be a risk of domestic cylinders being diverted for commercial use. The CAG is not going out on a limb and saying this is happening but is red-flagging the issue.
How is this possible, given Aadhaar-based subsidy delivery and weeding out of duplicate accounts, one may well ask?
This is where PAHAL does not seem to have helped. The CAG found multiple LPG connections with the same Aadhaar number or same bank account as well as duplicate connections with the same name and address.
In the case of Hindustan Petroleum Corporation Ltd (HPCL), the CAG audit found 1400 LPG connections linked with 700 Aadhaar numbers – a clear case of duplication. Half of these were active consumers. There were also 14,918 consumer IDs lined with 6,614 bank accounts and IFSC numbers. In the case of Indian Oil Corporation (IOC), there were 43,323 LPG consumer IDs linked with 21,504 bank accounts and IFSC numbers.  The CAG audit also threw up cases of multiple connections having the same Aadhaar number across different OMCs - 74,180 LPG consumer IDs linked to 37,090 Aadhaar numbers.
Across OMCs, the CAG audit also found 15,885 consumers with the same name and same address (indicating duplicate connections) with 34,729 LPG connections linked to them. As a result of these various kinds of duplications, the audit found that 8,707 consumers across OMCs had availed of subsidy for more than 12 cylinders in 2015-16, though to PAHAL's credit this is way below the figure of 37,499 consumers who availed of more than 12 subsidised cylinders in 2014-15 (remember that PAHAL kicked off only in November 2014).
The CAG audit also threw up cases of distributors not linking the Aadhaar numbers of consumers with their LPG connection IDs as well as incorrect seeding, 55,407 LPG connections in the names of minors (which is not allowed).
Clearly technology has its limits – it works when humans handling it do it efficiently or without crooked intent; but it is not too intimidating a bar for those determined to game the system. But it could equally be argued that the Aadhar-based de-duplication system has helped bring these discrepancies to light.
The CAG report on PAHAL, far from being a damning indictment of the scheme as detractors would like to portray it, actually shows that it has helped in generating considerable savings. The government now needs to fix the other problems it has highlighted so that the savings – no matter how they are calculated – can be even higher.