Now Zomato faces heat as HSBC slashes startup's billion dollar valuation by half
Zomato Media Pvt Ltd has now been valued at $500 million by HSBC Securities & Capital Markets (India) Pvt Ltd
Technology startups seem to be slowly losing their edge after enjoying billion dollar valuations till last year. With high-profile private equity funds and other investors slashing their investment valuations in the big Indian startups, the latest to face the markdown has been the restaurant-discovery platform Zomato.
According to media reports, HSBC's brokerage arm has now cut the valuation of Zomato, a move that comes close on the heels of valuation downgrade in e-commerce player Flipkart some time back.
HSBC has cited concerns surrounding Zomato's advertisement-heavy business model, growing competition in the food ordering space and money-losing international operations for the lower valuation, according to a report in Mint.
Zomato Media Pvt Ltd has now been valued at $500 million by HSBC Securities & Capital Markets (India) Pvt Ltd, about half the valuation at which the restaurant search firm raised its last round of funding in September.
However, Zomato's largest shareholders Info Edge (India) has disagreed with HSBC's contention, saying the restaurant listings company will become profitable "very soon".
"We respectfully disagree with several of the points raised by the HSBC report," Mint quoted Sanjeev Bikhchandani, founder and executive vice-chairman of Info Edge, in a telephone interview.
InfoEdge holds nearly 50 percent in the Gurgaon-based Zomato and also runs web sites like Naukri.com, 99acres and Jeevansathi, among others.
HSBC, in its 19 April report, initiating coverage of Info Edge (India), said that except for its job website Naukri.com, other businesses in the portfolio do not look promising.
"We do a DCF (discounted cash flow) and value the (Zomato) business at about 50% lower to the $1 billion valuation," HSBC analyst Rajiv Sharma said in the note to clients. "Zomato is present in 23 markets so early on and none is profitable, implies that to address both the investments in last mile delivery and losses in international operations fund raising will be a continuous phenomenon, suggesting current valuations don't make much sense," the report said.
In the same report, HSBC also lowered the valuation of another InfoEdge investee company, PolicyBazaar, by 10 percent from the current $200 million.
However, Zomato has disagreed saying, "We've not raised any financing round since the last one to have a valuation reset. Our investors are as bullish about Zomato as they were before. We are growing fast and are on course to become profitable as a company very soon. Beyond this, we do not want to comment on valuation markdown speculation of third parties," said Times of India quoting the company's spokesperson.
Zomato raised $60 million in fresh capital in September 2015, largely from Singapore's Temasek Holdings Pte and existing investor Vy Capital, valuing the company at about a billion dollars. The company, in which Info Edge owns about 47%, has raised about $225 million since inception in 2008.
Food technology start-ups in the country have suffered due to a slowdown in funding, with some either closing down or getting acquired after failing to raise capital, Mint report said. In January, Zomato too shut operations in four cities—Lucknow, Kochi, Indore and Coimbatore.
Last week, two more foreign mutual funds marked down the value of their holdings in India's biggest ecommerce firm Flipkart.
Valic Co has marked down the value of its Flipkart holding by 29.4 percent to $82 a share as of February, from $135.8 a share in August, according to its regulatory filing with the Securities and Exchange Commission, The Hindu said.
Another fund owned by Fidelity has marked down the value of its holding in Flipkart by 39.6 per cent to $82 a share in February, down from $135.8 a share in August.
Find latest and upcoming tech gadgets online on Tech2 Gadgets. Get technology news, gadgets reviews & ratings. Popular gadgets including laptop, tablet and mobile specifications, features, prices, comparison.
News & Analysis
All the new smart TVs will be available for purchase on 15 October during the Flipkart Big Billion Days sale.
News & Analysis
Sales and deals, this year, are slightly more interesting with the launch of Apple's online store in India.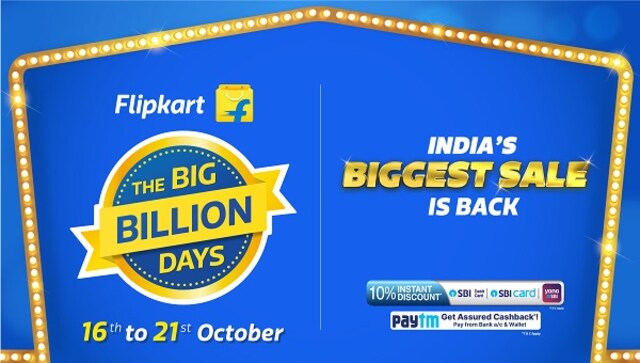 Brands
The Big Billion Days Sale goes live on Flipkart on October 16 until October 21 with Flipkart Plus customers getting early access starting 15th Oct, 12 noon.