India's robust start-up culture is thriving thanks to 72 percent of its founders at less than 35 years and the sector creating a whopping 80,000 jobs in the country in 2014-15.
E-commerce will continue to be the focus in the future too, with more than 50 percent of 1,200 startups born in 2015 focussing on e-commerce, consumer services and aggregators. This was revealed in the key highlights of the second edition of the start-up report titled "Start-up India – Momentous Rise of the Indian Start-up Ecosystem" released yesterday on the side-lines of NASSCOM Product Conclave 2015 in Bengaluru.
The report was launched by R Chandrashekhar, President, NASSCOM, Ravi Gururaj, Chairman, NASSCOM Product Council and Rajat Tandon, Vice President, NASSCOM 10 K start-up program.
According to the NASSCOM-Zinov report, the Indian technology start-ups landscape has seen a tremendous growth in the emergence of innovative start-ups and creative entrepreneurs. In terms of providing a conducive ecosystem for the start-ups to thrive, India has moved up to third position and has emerged the fastest growing base of start-ups worldwide.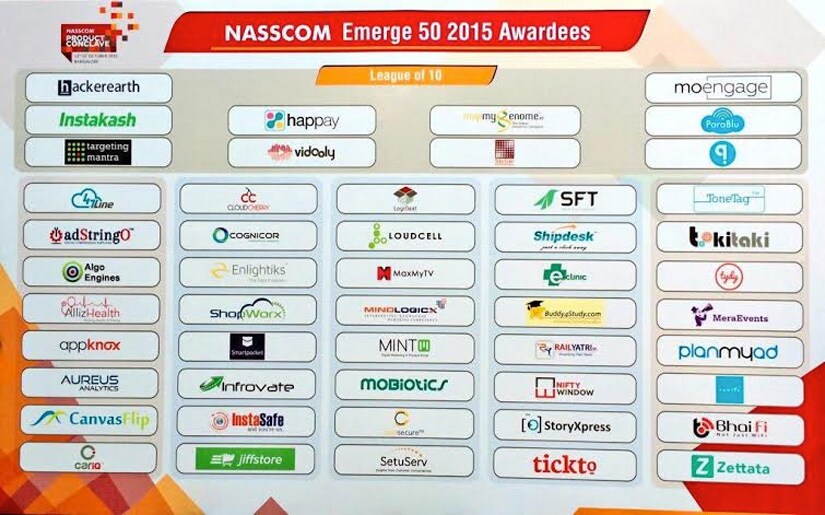 India is one amongst the first five largest startup communities in the world with the number of start-ups crossing 4,200, a growth of 40 per cent, by the end of 2015.
Nasscom's Emerge 50 Awardees for 2015 from the GenNext - Microsoft Ventures accelerator has four from the Reliance stable:  CarIQ and LogiNext from the first batch and InstaKash and Algo Engines from the second batch.
The key highlights of the report are:
More than 50 percent of the 1200 startups focus on e-com, consumer services and aggregators
 Nine percent female founders and co-founders in startup ecosystem
Number of accelerators grew by 40 percent from 80 in 2014 to 110 in 2015
Total Funding in 2015 has seen a phenomenal growth of 125 percent over 2014
Number of PE/VCs investment has grown 100 percent over 2014
 80,000 jobs created by startups
With 100 per cent growth in number of private equity, venture capitalists, angel investors along with a 125 per cent growth in funding over last year, Indian start-up ecosystem has risen to the next level. The total funding in the India based start-ups is estimated to be nearly $5 billion by 2015. Various central and state government start-up initiatives are further supporting this progressive phase of start-ups in India.
The maturing Indian start-up ecosystem is now contributing to the Indian economy in many ways, said R Chandrashekhar, President, NASSCOM. "Apart from positively impacting the lifestyles of citizens involved, start-ups are now creating innovative technology solutions that are addressing the key social problems that India is facing and creating significant growth opportunities for every stakeholders. To enable the next stage of growth for these start-ups, NASSCOM will work closely with the government to ensure ease of doing business, by simplifying procedures and create a conducive environment for these start-ups to grow."
The report also highlights certain ways and means to make starting up further easy in India. NASSCOM has recommended easing the rules and regulation for registration of a business in India, funding, and simplifying compliance procedures by minimising licences/ permits/ approvals/ tax for start-ups. Removal of angel tax, simplifying norms for capital raising, enabling easier exit for entrepreneurs and requisite changes in the credit guarantee for loans to start-ups are few recommendations that will further enhance a smoother functioning of the start-ups in India.
Stakeholders across the ecosystem must also come together to create market access by way of guidance in regulatory requirements for project participations and specialised training for start-ups working in innovative areas. Steps must be taken to create an even more conducive environment by facilitating incubation, IPR, and innovation norms and also encourage academia-industry tie-up and collaborate to develop the right kind of talent and capabilities that will propel the growth further.
Another important aspect will be to encourage and recognise these start-ups for the innovation and rapid growth by sharing their success stories on a national-level and awarding at relevant Indian and global platforms to help India build a reputation of a startup-friendly nation.
Acknowledging the  government policies aimed at improving the overall start-up ecosystem, Ravi Gururaj, Chairman, NASSCOM Product Council, said  the Nasscom-government partnership was helping foster an entrepreneurial culture. Nasscom has a partnership with the governments for start-up warehouses to create a micro-ecosystem where start-ups and entrepreneurs can work together, share their learnings and best practices with each other.
Rapid growth of Indian startups has created significant growth opportunities for every stakeholder within the ecosystem. Further, start-ups are providing an exciting work culture along with attractive financial benefits to attract new and retain existing talent. This maturing start-up ecosystem is contributing to the Indian economy in multiple ways.  There is a need to regularly nurture the startup ecosystem through regulations, branding, collaboration, mentorship and funding to stay ahead of disruptive growth.
The report identifies the current scale and size of the startup landscape, factors that are impacting the growth of the overall ecosystem and steps that need to be taken to make the environment more conducive for start-ups. It analyses the existing scenario and evolving trends across the various dimensions that define the Indian startup ecosystem, and measure India's position as a global startup hub that is becoming attractive for investors, startups, & corporate.
(Disclosure: Firstpost is part of Network18 Media & Investment Limited which is owned by Reliance Industries Limited.)
Updated Date: Oct 14, 2015 11:32:34 IST