Startup Sipwise goes pan-India with energy drinks, herb coolers; closes Rs 1 cr in cumulative revenues
Sipwise plans to come out with a drink to cure hangovers next year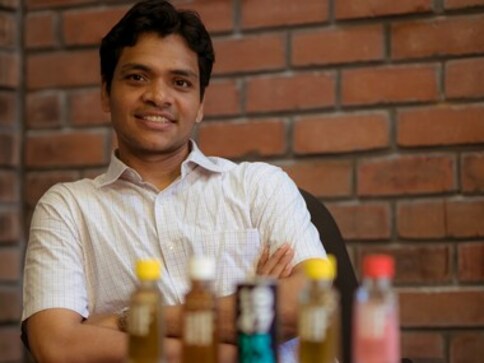 Joining the burgeoning health drinks markets in India with startup Sipwise Beverages in 2015, entrepreneur Harish Mohan is now expanding his market with a pan-India presence. The company went commercial in May 2017.
Presently, it offers three brands: What!f, a cold beverage format; and a herbal range of coolers besides another brand, 1947 -- an energy drink made from natural caffeine extracted from tea with a proprietary fibre called inulin. "We are among 3 companies in the world to do this," said Mohan. What!f 200 ml costs Rs 40 and a 200 ml 1947 for Rs 99.
As a student at Duke University, Mohan came across an affordable range of health drinks in the US. This sparked the need to create something similar in the Indian market. Given that the Indian youth is also increasingly becoming health-conscious helped.
The beverage market is divided into two sections: alcoholic and non-alcoholic beverages. The non-alcoholic beverages include carbonated and non-carbonated beverages. The non-carbonated non-alcoholic segments such as juices, bottled water, energy drinks, ready-to-drink tea and coffee, flavoured milk, malted drinks and other drinks. The carbonated drinks are cola, lime-lemon, orange- flavoured drinks, etc.
According to "India Carbonated Drinks Market Overview", carbonated or aerated drinks account for more than 40 percent of the total non-alcoholic beverages market in India.
The market size of health and energy drinks is estimated to be around Rs 5,000 crore in India by 2020. The future belongs to energy drinks, believes Mohan. But he realised that the first-movers had the advantage in the market and continued to lead. "Brands that have managed to succeed were first-movers and synonymous with energy drinks, and mineral water. I want to create equivalent products and categories," he said.
Mohan enrolled at the Indian School of Business at Hyderabad to hone his strategic skills. "It took us 2-2.5 years to get the right drink. We source natural ingredients and make drinks," he says. "The green tea, the first drink off their stable does not give off a bitter aftertaste like green teas usually do," says Mohan adding the green tea was first tested with corporate employees in Mumbai and then launched commercially.
The drinks are available in PET bottles. "I wanted to use only PET bottles for my drinks," he says, of his strategy. After many trials, he found a manufacturer in Pune.
The brand is currently available in Bangalore, Mumbai, Pune and Goa at Godrej Nature's Basket, Hyper City, Star Bazaar, Big Basket, Grofers and Barista. It now plans to be present in other metro and 10 tier 1 cities in the next year. The company boasts of an ambitious retail strategy with plans to grow its footprint across various e-commerce marketplaces.
Sipwise is funded through internal accruals from the parent company Scientific Remedies, a company in the pet food and pet healthcare segment in India.  The startup has been able to earn cumulative revenues of Rs one crore since its launch in May 2017, said Mohan and plans to break even in year 3 or 4 of operations," he said.
There are many healthy drinks, organic and otherwise, in this niche market in the country. How does Sipwise view the competition? "I look at competition from multiple perspectives--- it helps to grow a category further; when there are more brands consumers have better options. It is good for the market," he said.
Sipwise plans to come out with a drink to cure hangovers next year.