The concept of 'start-up' has caught up across the globe with India being a frontrunner in terms of the number that appears to be registered. Zomato, Flipkart, Snapdeal, Ola, OYO etc. are all household names today mainly due to successful fructification of new ideas in our daily lives.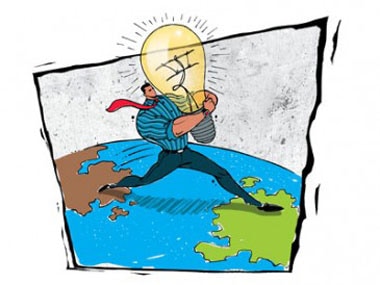 This is a clear manifestation of the talent pool in the country where young entrepreneurs prefer to start a venture of their own rather than settle for a conventional job. In a way this is a vindication of the educational institutions that are able to instill self confidence in the students which could be management or engineering or even ordinary universities.
The government has come out with a laudable scheme that seeks to not just encourage more entrepreneurs to get into the mould of start-ups but also support through administrative reforms as well as finance. The latter is significant because compared to other campaigns which addresses the former this one focuses also on the funding aspect.
The major deterrent for anyone in the country starting a venture is the plethora of procedures that have to be complied with to do business, which is reiterated by the relatively low rating we get from the World Bank in this context. This has been eased significantly by diluting the rules to self-declaration on labour and environment, keeping them away from checks and scrutiny for three years and provision of an easy exit route to address the issue of bankruptcy.
The financial package includes creating a corpus of Rs 10,000 crore fund as well as a credit guarantee scheme for Rs 500 crore on an annual basis which is iced with tax holidays for three years and low capital gains tax for venture capitalists investing in these enterprises.
A favourable patent regime has been promised where the cost of registering the same will also come down with 80% rebate. The package also talks about future listing of these companies which is where the big money lies. All such successful ventures do manage to get a listing on the bourses when the true value of the enterprise is extracted.
As far as the government is concerned, it has done everything that is required to provide a field to entrepreneurs. Two major benefits from this scheme would be the generation of employment where more people choose this route. These start-ups have the potential to create even more jobs as is evidenced by the success of several ventures in the country where the staff strength could rise from a couple of hundreds to thousands depending on the line of business.
The second is the generation of new ideas, which is required at the grass route level. So far we have always had a top down approach when it comes to growth models which may not be linked strongly to the requirements at the base level. All start up ideas germinate at the micro level and then try and scale up when they work.
Therefore, one can expect a flurry of such new ideas in areas like retail, pooling of resources like cars, office space, crowd funding etc. Intuitively one can smell the role to be played by technology to make these ventures happen. This would on its own create strong backward linkages with the backend where mobile handsets, telecom service providers, providers of Internet services, laptops etc. would derive primary benefits in terms of demand. Further, systems for facilitating payment and delivery would have to be tied up – the latter if there is retail interface, which in turn will provide a boost to the financial and services sectors. This is the good part of the story.
Are there any apprehensions in this storyline? The first is the definition of a start-up which has to be stated clearly as the benefits being provided by the government could be tempting to several aspiring entrepreneurs. Ideally a start-up should be chasing a new idea which may or may not have been tested earlier. There has to be clarity here as it has tax implications for the government too.
Second, while start-ups appear to be an enticing idea, the mortality rate has been high across the world. This is due to several reasons which could range from intrinsic nature of the product or service being discussed to scalability. Often these enterprises cannot be scaled up to generate profits and on their own become loss making.
While the proposed approach of the government facilitates an exit route, there would be funds involved from the financial sector that will bear the brunt. With the credit guarantee fund in place, the government's budget could get strained in case these numbers mount. While there is no reason to be pessimistic, given that the mortality rate varies between 50-80% within the first 3 years, one should be prepared for the same.
Third, while a corpus of Rs 10,000 crore has been built the exact deployment would be a challenge as the organization or fund set up to deploy the same would have to do a due diligence of these new ventures which will require a different approach considering that most of these activities may not have been tested. This could lead to adverse selection of projects which is always a challenge with any such new venture.
The Start-up India project is a definitely more focused than the other efforts of the government like Make in India or Digital India or Swach Bharat as it not just lays down ground rules but also provides both a finance channel as well as enabling environment specifically to encourage the same.
A question that can be posed in this context however is that if we are willing to give benefits relating to say labour, environment, tax (holiday and capital gains), can we expect the Budget for FY17 to also let the same spirit prevail when it comes to existing industry as there is need a for a big push to investment in manufacturing which has been playing hide and seek so far waiting for the government to pull the trigger on capex?
The author is chief economist, CARE Ratings. Views are personal
Firstpost is now on WhatsApp. For the latest analysis, commentary and news updates, sign up for our WhatsApp services. Just go to Firstpost.com/Whatsapp and hit the Subscribe button.
Updated Date: Jan 18, 2016 17:07:18 IST