S&P 500 e Dow a livelli record su pacchetto stimolo, ottimismo su vaccini
(Reuters) -L'S&P 500 e il Dow trattano intorno livelli record tra scambi volatili, con la prospettiva che gli aiuti fiscali alimenteranno una ripresa economica guidata dal vaccino a sostenere il sentiment negli ultimi giorni dell'anno. ** Il Nasdaq, tuttavia, perde terreno penalizzato da realizzi su alcuni dei nomi leader del mercato come Apple e Tesla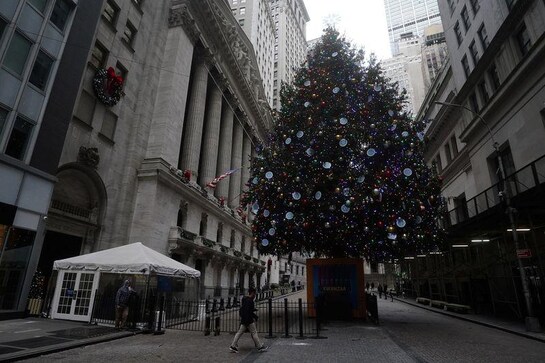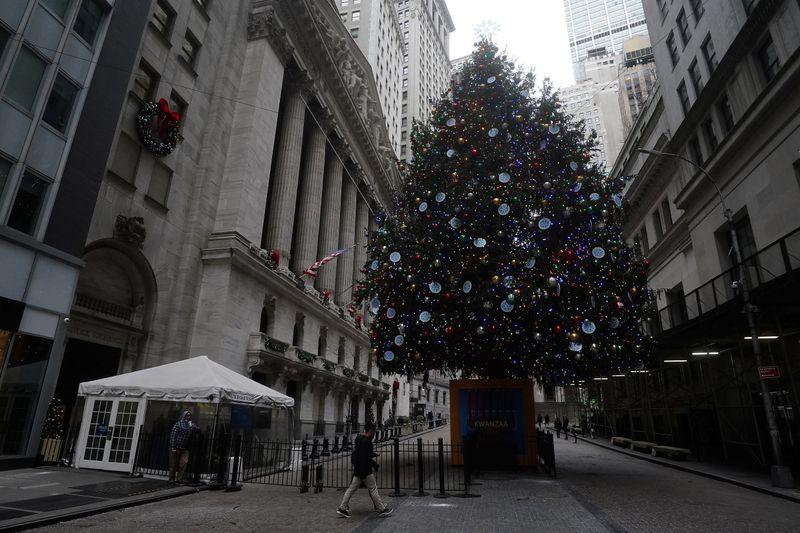 (Reuters) -L'S&P 500 e il Dow trattano intorno livelli record tra scambi volatili, con la prospettiva che gli aiuti fiscali alimenteranno una ripresa economica guidata dal vaccino a sostenere il sentiment negli ultimi giorni dell'anno.
** Il Nasdaq, tuttavia, perde terreno penalizzato da realizzi su alcuni dei nomi leader del mercato come Apple e Tesla.
** Alle 17,30 circa, il Dow Jones Industrial Average è piatto, a 30.403,42, l'S&P 500 guadagna lo 0,11%, a 3.739,35, mentre il Nasdaq Composite <. IXIC> perde lo 0,13%, a 12.882,42.
** I tre principali indici di Wall Street hanno aperto la sessione a nuovi massimi per la seconda volta consecutiva dopo che il presidente Donald Trump ha firmato il disegno di legge sul pacchetto di aiuti da 2.300 miliardi di dollari, ripristinando i sussidi di disoccupazione per milioni di americani ed evitando uno shutdown del governo federale.
** Mentre la Camera dei Rappresentanti Usa a guida democratica ha votato per soddisfare la richiesta del presidente Donald Trump di aumentare i sussidi anti- COVID-19
da 600 a 2.000 dollari, oggi la misura dovrà affrontare un percorso difficile al Senato a maggioranza repubblicana.
** "Questo pacchetto di stimoli rappresenta un ponte economico fino alla vaccinazione completa... È una cosa molto buona per l'economia, per le persone in difficoltà e per il mercato azionario", ha detto Thomas Hayes di Great Hill Capital Llc a New York.
** Nel frattempo, più di 2 milioni di americani sono stati vaccinati, aiutando gli investitori a ignorare l'ondata di infezioni che ha superato i 19 milioni, con la California, uno dei principali focolai negli Stati Uniti, che probabilmente estenderà le rigide misure di restrizione.
** Tra i singoli titoli, SNAP, proprietario di Snapchat, guadagna il 7,5% dopo che Goldman Sachs ha aumentato il prezzo obiettivo sul titolo sulle prospettive di crescita positive sui ricavi.
((Tradotto da Redazione Danzica, in redazione a Milano Sabina Suzzi, alice.schillaci@thomsonreuters.com, +48587696614))
This story has not been edited by Firstpost staff and is generated by auto-feed.
Find latest and upcoming tech gadgets online on Tech2 Gadgets. Get technology news, gadgets reviews & ratings. Popular gadgets including laptop, tablet and mobile specifications, features, prices, comparison.
World
By William James LONDON (Reuters) -British Prime Minister Boris Johnson said on Sunday tougher lockdown restrictions were probably on the way as COVID-19 cases keep rising, but that schools were safe and children should continue to attend where permitted. COVID-19 cases in Britain are at record levels and the increase in numbers is fuelled by a new and more transmissible variant of the virus
World
By Maher Nazeh BAGHDAD (Reuters) - Tens of thousands of supporters of Iranian-backed Iraqi paramilitary groups chanted anti-American slogans in central Baghdad on Sunday to mark the anniversary of the U.S. killing of Iranian general Qassem Soleimani and an Iraqi militia commander.
World
By Nathan Layne and Joseph Ax CUTHBERT, Ga. (Reuters) -Control of the U.S. Senate – and with it, the likely fate of President-elect Joe Biden's legislative agenda – will be on the ballot on Tuesday when voters in Georgia decide twin runoff elections