S&P 500 closes at record high, even as EPS growth stagnates
By Noel Randewich and Stephen Culp (Reuters) - Wall Street set a record high on Tuesday, confirming that a decade-old bull market is still kicking following a slump late last year, even as corporate earnings stagnate and the U.S.-China trade dispute drags on. The widely followed S&P 500 marked its highest ever close, beating its previous record closing high on Sept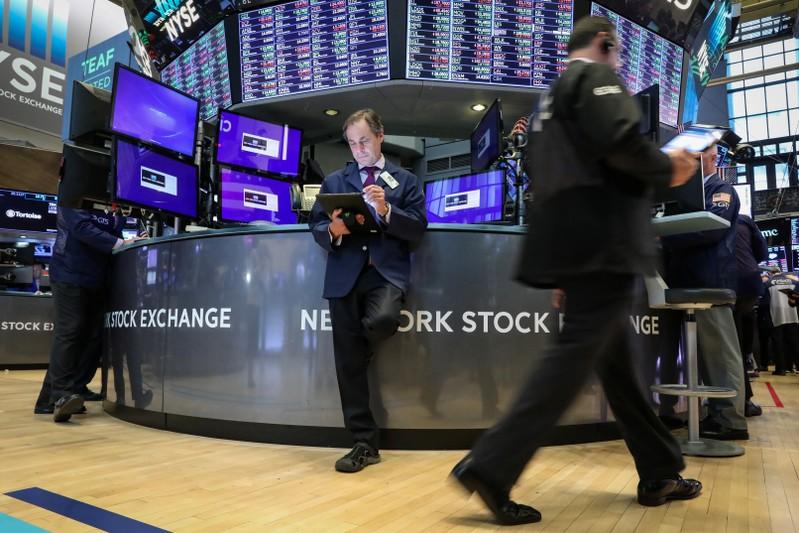 By Noel Randewich and Stephen Culp
(Reuters) - Wall Street set a record high on Tuesday, confirming that a decade-old bull market is still kicking following a slump late last year, even as corporate earnings stagnate and the U.S.-China trade dispute drags on.
The widely followed S&P 500 marked its highest ever close, beating its previous record closing high on Sept. 20, and the Nasdaq beat its Aug. 29 all-time closing high.
The S&P 500 has rallied 25% from Dec. 24, reversing a steep selloff caused by fears of higher interest rates and uncertainty around U.S. President Donald Trump's trade war with Beijing. Dec. 24 marked the bottom of last year's selloff.
The S&P 500 has slightly underperformed European stocks over the same time period.
(Graphic: S&P 500 vs. world indices Image link: https://tmsnrt.rs/2W3escq).
But as the S&P 500 has recovered, corporate earnings growth has slowed, and even shrunk, following a surge last year on the back of deep U.S.corporate tax cuts. Analysts on average expect earnings per share for the quarter to fall 1.3% year over year, according to I/B/E/S data from Refinitiv.
(Graphic: Q1 earnings expectations link: https://tmsnrt.rs/2W65kUo).
While expectations for first-quarter EPS have improved over the past three weeks, forecasts for full 2019 EPS growth have become less optimistic, now at 3.0% growth, down from 3.3% at the start of the month. That is partly due to uncertainty related to global trade.
(Graphic: S&P 500 2019 earnings expectations link: https://tmsnrt.rs/2W4aRe7).
Higher stock prices and expectations for slower earnings growth have pushed forward price/earnings multiples back up to the levels that worried some investors the last time Wall Street peaked. The S&P 500's forward PE stands at almost 17, up from 14 at the start of the year, according to Datastream.
(Graphic: S&P 500 forward P/E Image link: https://tmsnrt.rs/2W1xtvZ).
Since the S&P 500's September high, utilities have been the top performing S&P sector, up 9%, followed by consumer services and real estate, both up 7%.
(Graphic: S&P 500 sectors link: https://tmsnrt.rs/2IEn0Ue).
Buoyed by bets about the upcoming rollout of 5G telecommunications infrastructure, chipmaker Xilinx has been the top-performing S&P 500 stock since Sept. 20, up 74%, while CenturyLink's 47% loss has made the telecoms service provider the worst performer.
(Graphic: S&P 500 top performers link: https://tmsnrt.rs/2ICbNDo).
(Graphic: S&P 500 bottom performers link: https://tmsnrt.rs/2IzHFZz).
Among the top 10 performers since Sept. 20, only Twitter has a forward PE that has declined during that time.
(Graphic: Forward PEs of top S&P 500 stocks link: https://tmsnrt.rs/2W0QfUd).
With the Federal Reserve widely viewed as "on pause" after hiking interest rate four times last year, the 10-year U.S. Treasury yield has dropped to 2.6% from highs of over 3.2% last November.
(Graphic: S&P 500 and 10-year Treasury yield Image link: https://tmsnrt.rs/2W4gLfh).
(Reporting by Noel Randewich in San Francisco and Stephen Culp in New York; Editing by Alden Bentley and Leslie Adler)
This story has not been edited by Firstpost staff and is generated by auto-feed.
Find latest and upcoming tech gadgets online on Tech2 Gadgets. Get technology news, gadgets reviews & ratings. Popular gadgets including laptop, tablet and mobile specifications, features, prices, comparison.
Business
By Diptendu Lahiri (Reuters) - Gold prices surged to their highest since October 2012 on Tuesday, driven by a weakness in the U.S. dollar and widespread monetary stimulus packages by central banks as a jump in coronavirus cases dents the economic outlook
Business
By David Shepardson WASHINGTON (Reuters) - India's ministry of civil aviation said on Tuesday it was considering allowing some international carrier flights to resume after Washington accused India of "unfair and discriminatory practices." The Indian ministry said in a statement posted on Twitter that as "we move from controlled and managed aviation evacuation of our citizens in different parts of the world and foreign nationals from India, we are now looking at the possibility of establishing bilateral arrangements." The U.S. Transportation Department issued an order Monday to require Indian air carriers to apply for authorization prior to conducting charter flights beginning in 30 days. The department sought "to restore a level playing field for U.S.
Business
By Devik Jain and Medha Singh (Reuters) - Wall Street's three major indexes rose on Tuesday as improving economic data and the prospect of more stimulus bolstered hopes of a swift recovery, while a jump in technology shares powered the Nasdaq to another record high. White House advisor Larry Kudlow said tax rebates and direct mail checks are on the table in the next coronavirus relief bill.